Ambush Skid Houses
STRYKER DARKHOUSE SKID HOUSE
MSRP: Starting at $8,690
Built on the same legendary skid house frame as the Stryker and Slayer, the new Ambush Stryker Darkhouse is a premier spearing house. Sometimes called a spear shack, the new Stryker is completely blacked out on the inside and purpose-built for spearing. Weighing only 620 pounds, the Stryker Darkhouse will provide years of reliable use. Compete with a large spearing hole measuring 54″ x 22″, you will be able to see the fish you are spearing. Just like the other skid houses in the Ambush lineup, the same skid house accessories will work in the new Stryker Darkhouse.
NO-WOOD CONSTRUCTION
SEAMLESS DURABOND™ PANEL SYSTEM
All ALUMINUM FRAME
STRONG WELDED CHASSIS
TOW FROM EITHER DIRECTION
FINISHED FIBERGLASS INTERIOR
GEL COAT FIBERGLASS EXTERIOR
SLIP-RESISTANT COMPOSITE FLOOR
BLACKED OUT INTERIOR
WINDOWLESS WALLS
INCLUDED STANDARD: BATTERY TRAY, INTERIOR LIGHT, PORCH LIGHT & TOWBAR
OPTIONAL BENCH & HEATER
OPTIONAL PVC KIT – WHEN ORDERED, A STRIP OF PVC IS ADDED TO THE CEILING ABOVE THE FISHING HOLE FOR HANGING DECOYS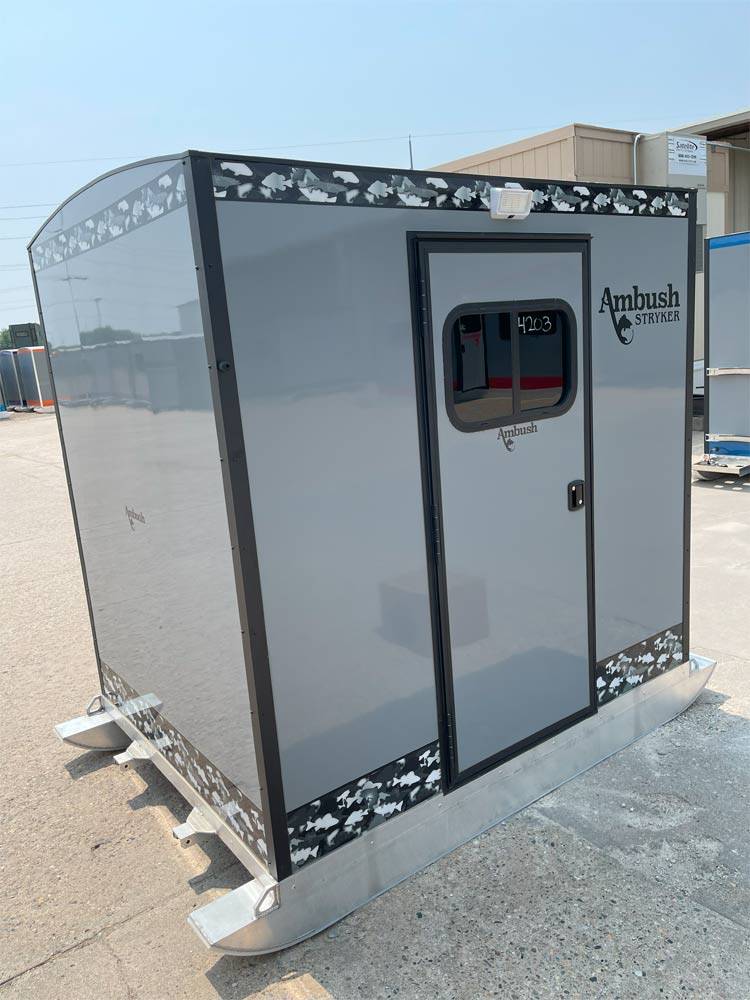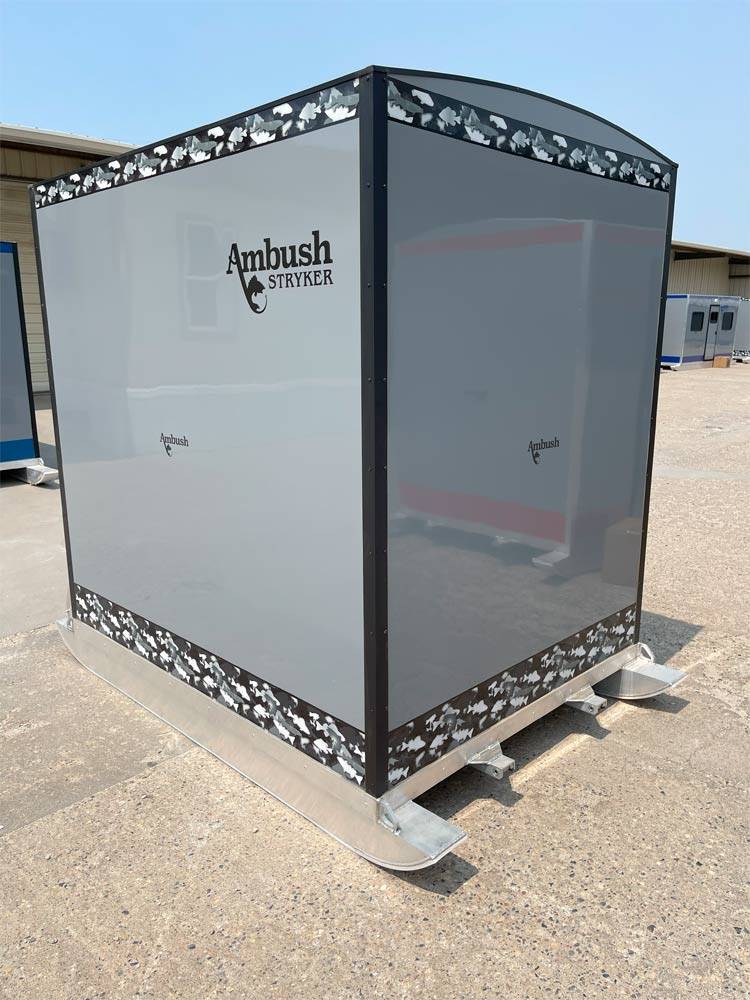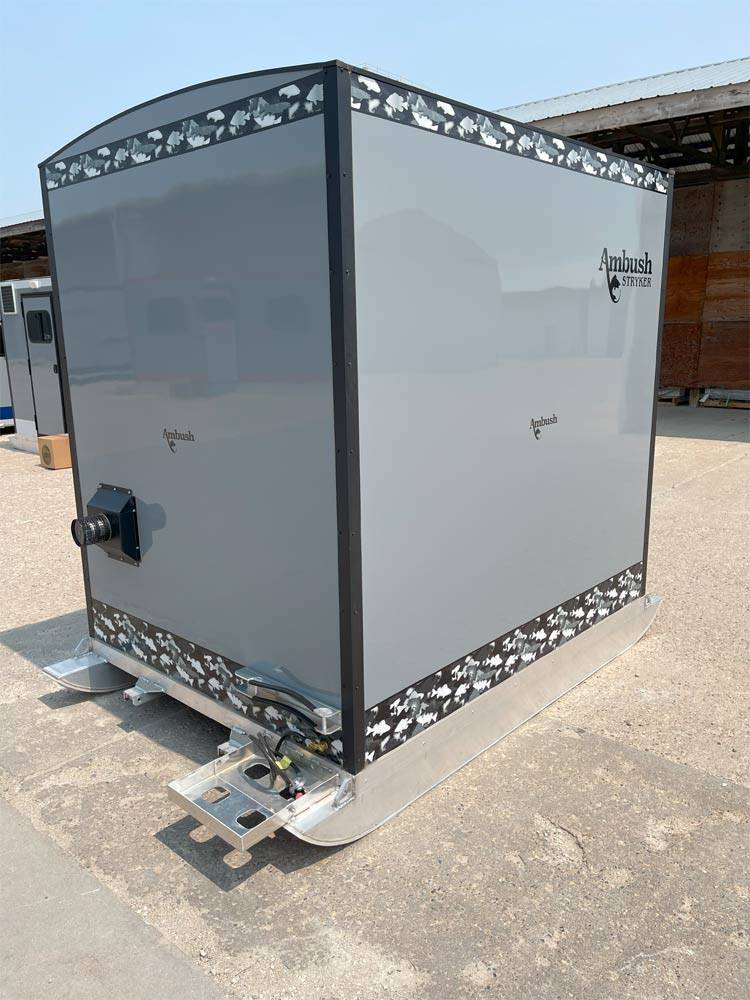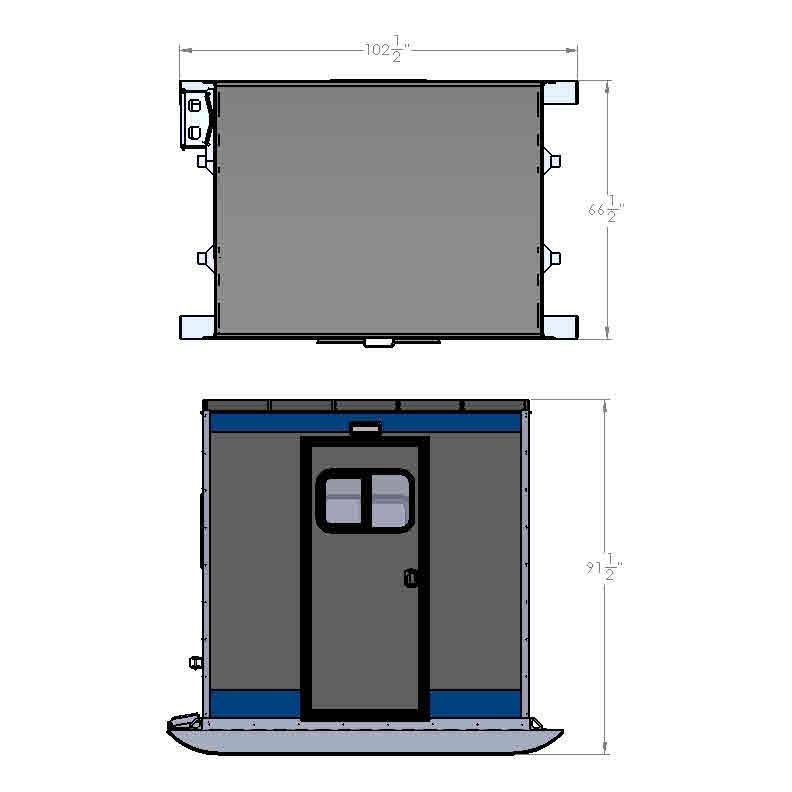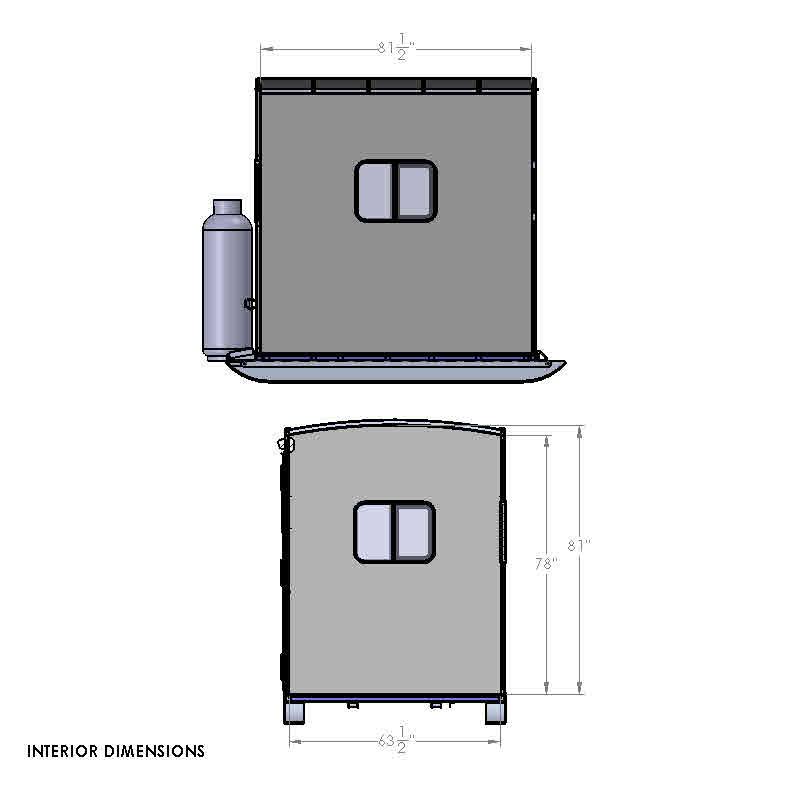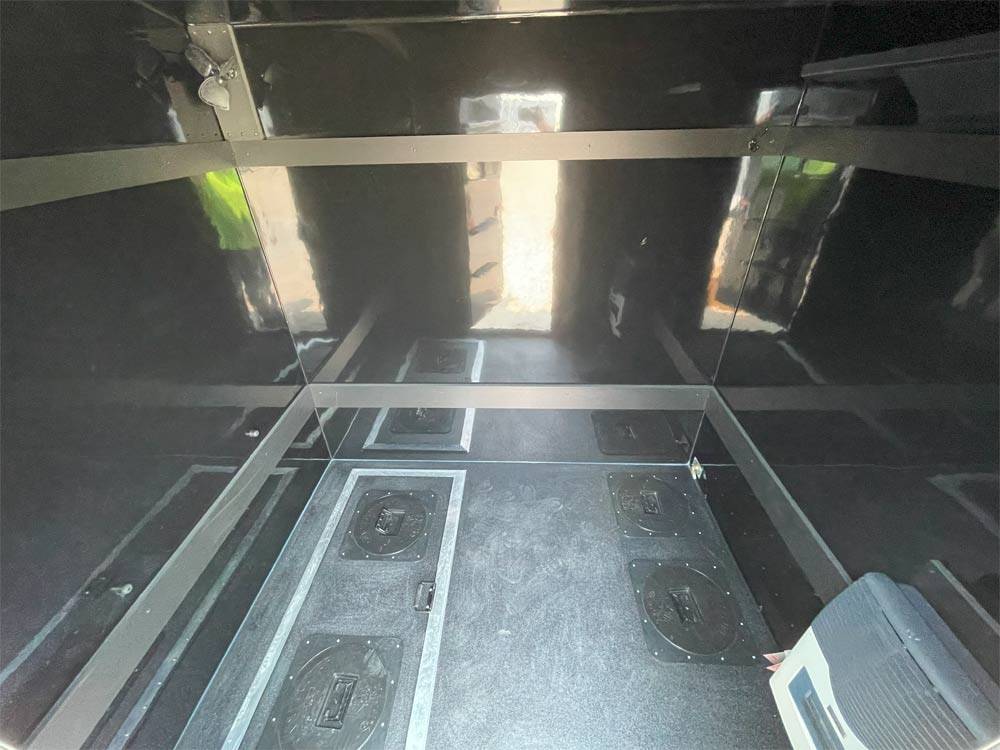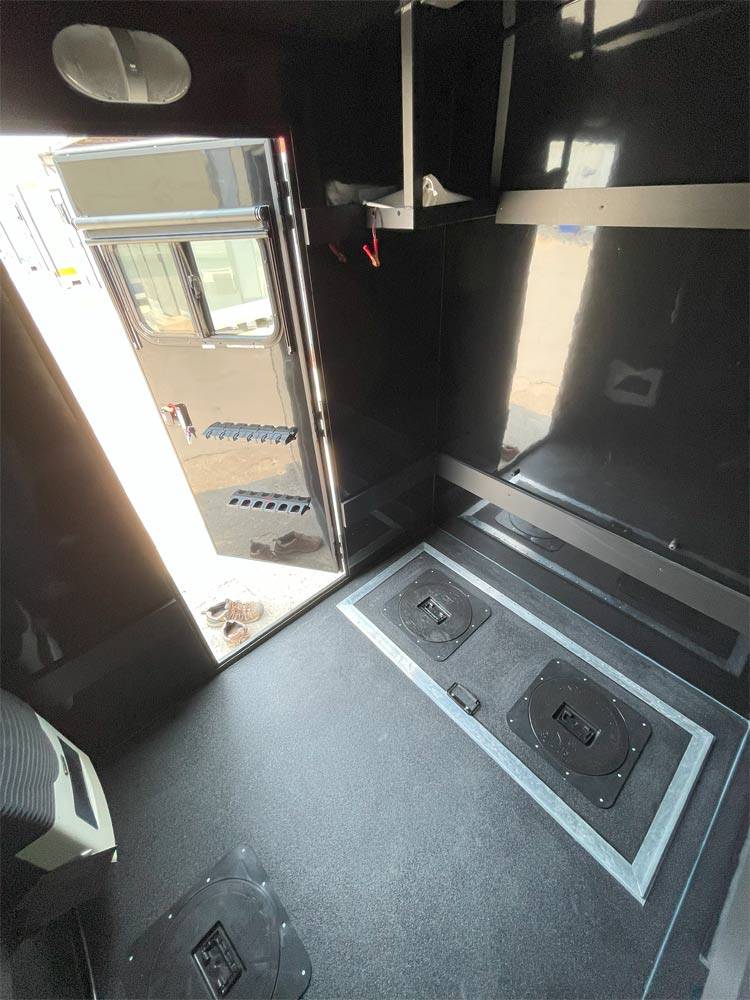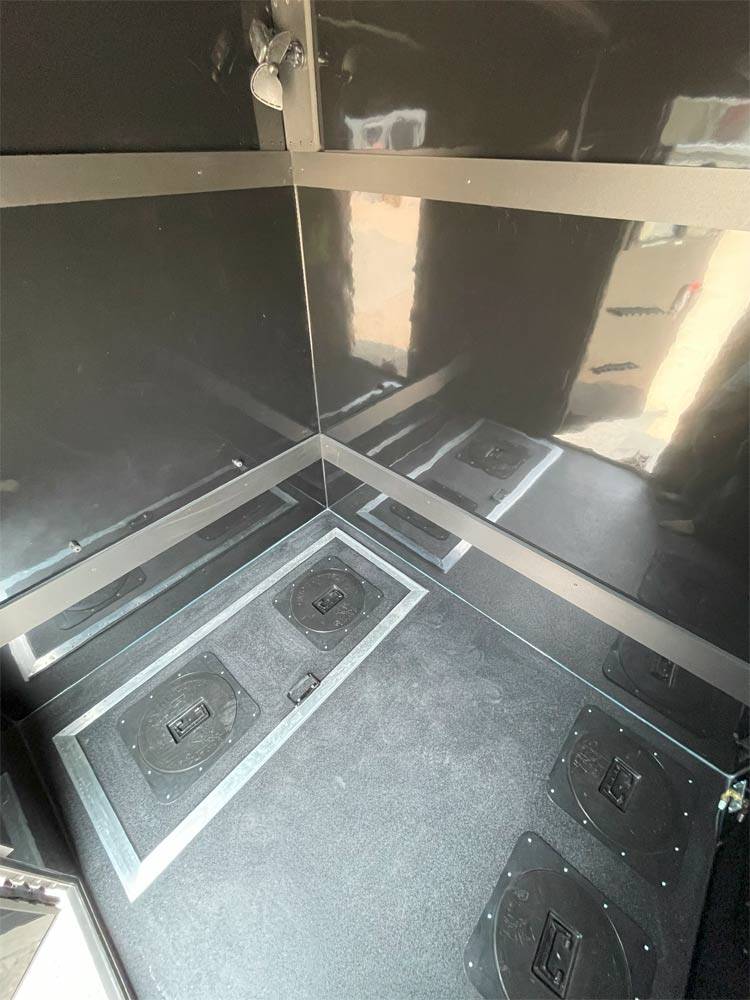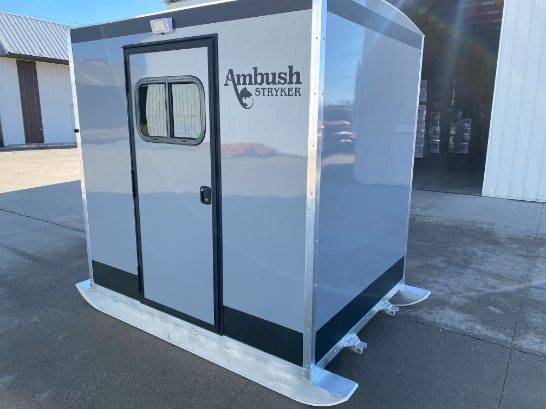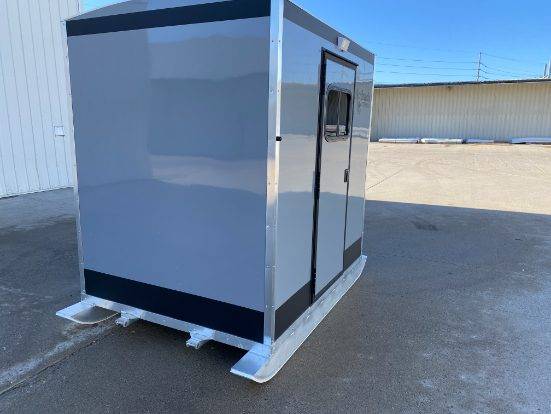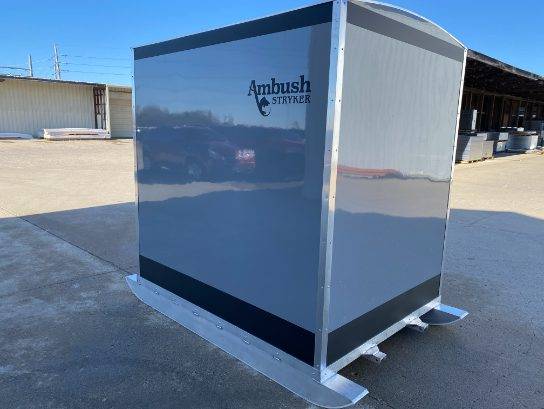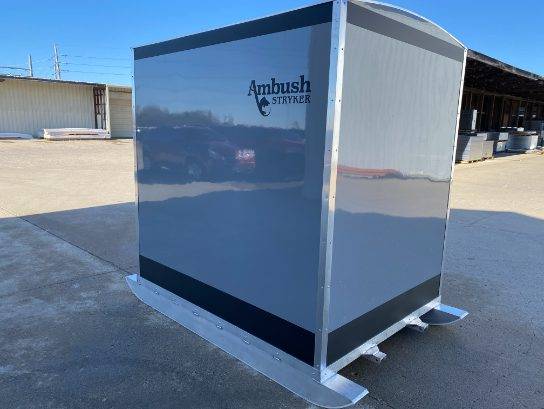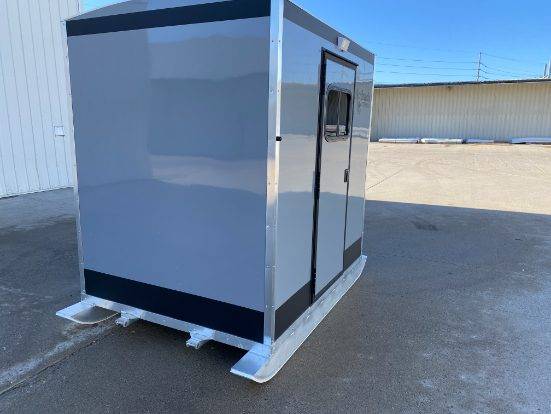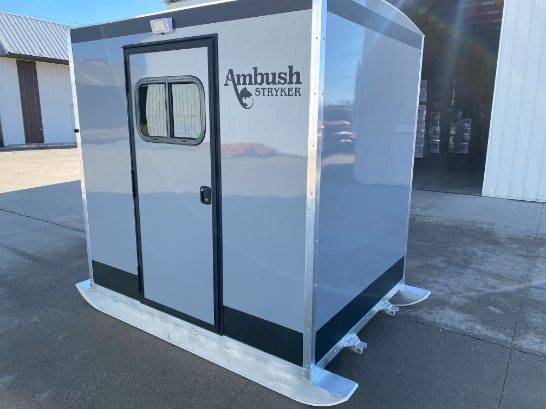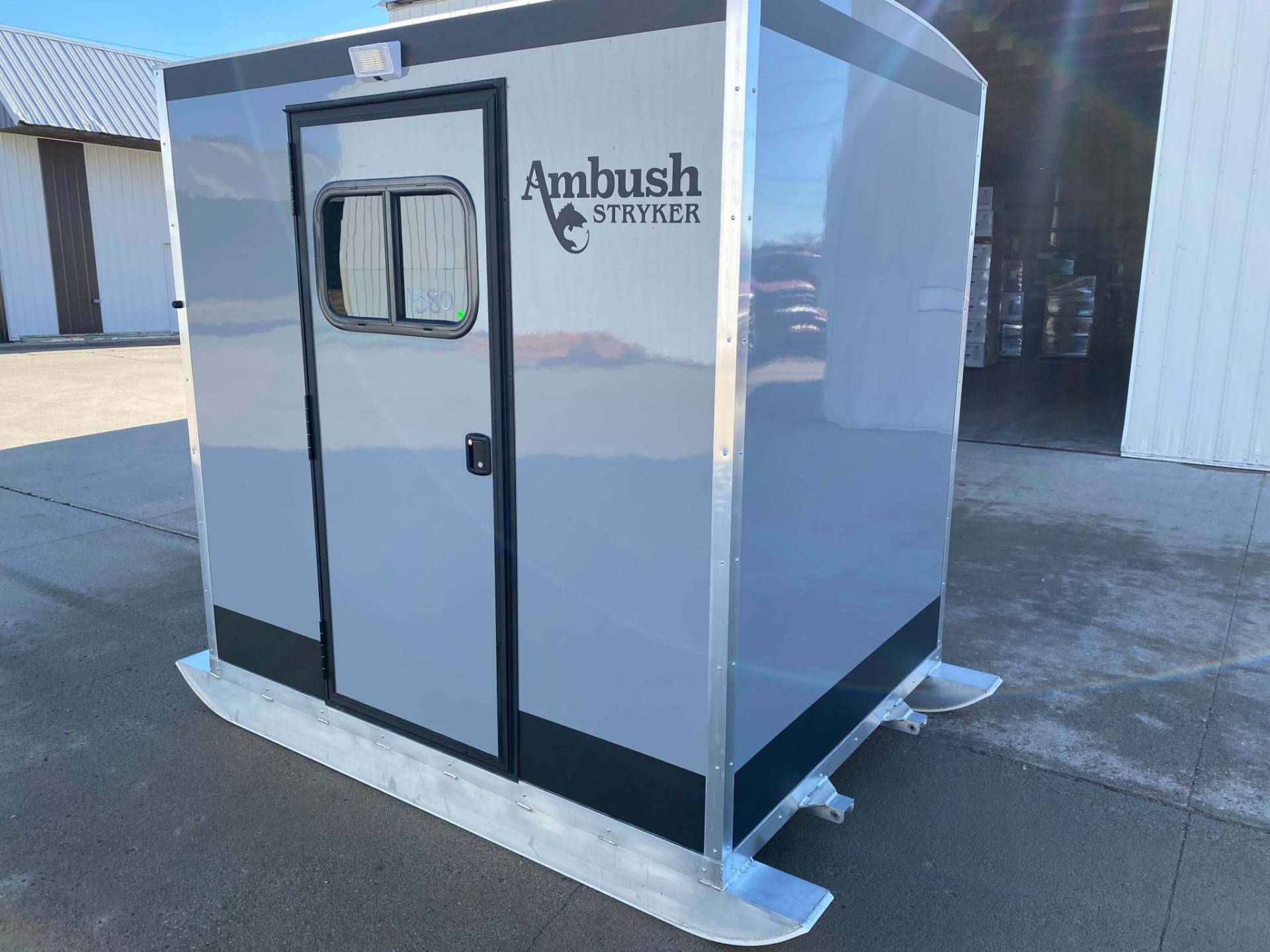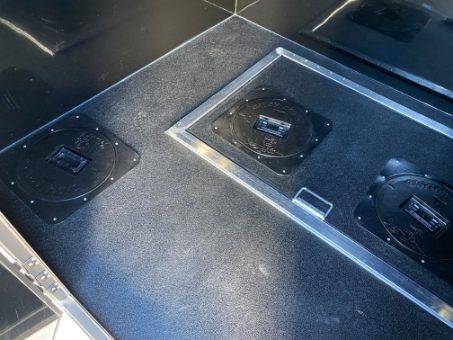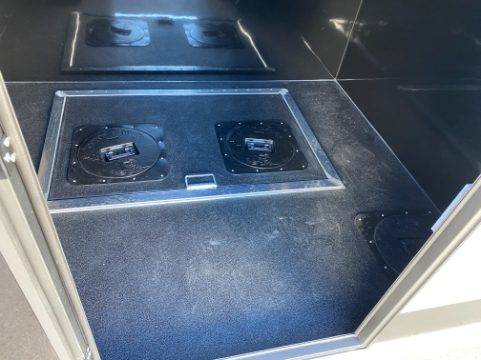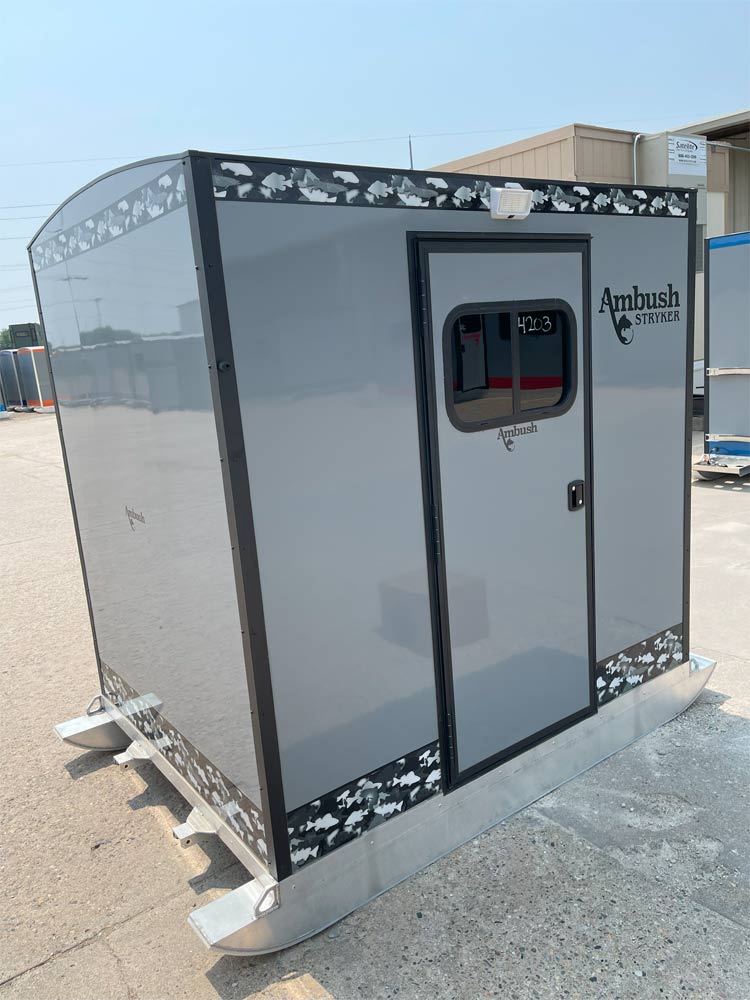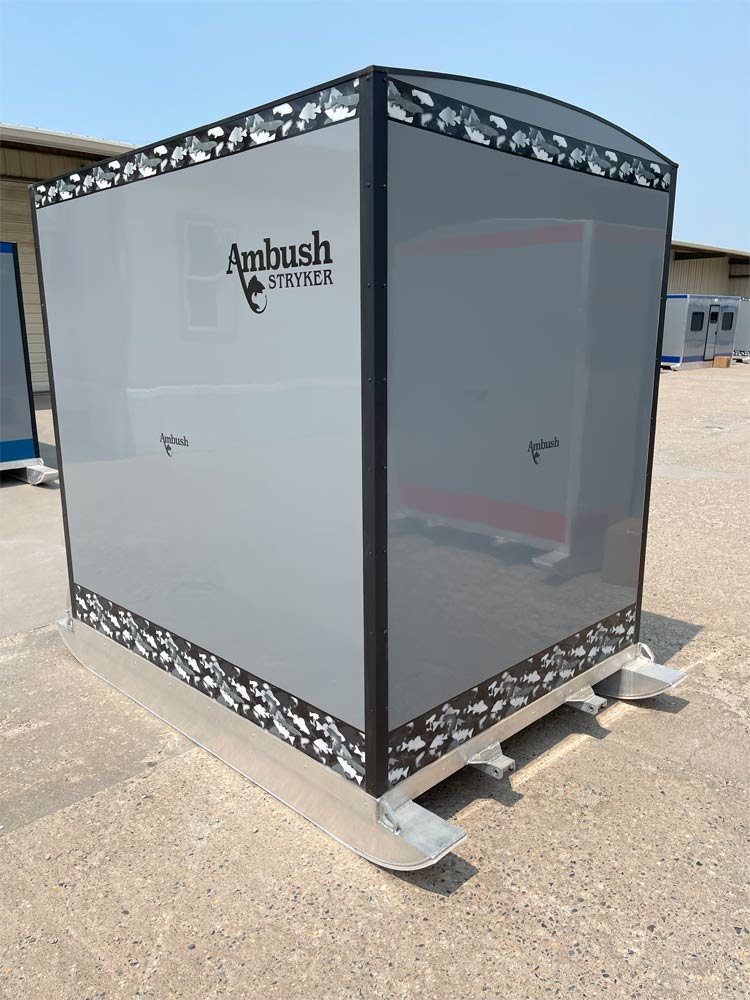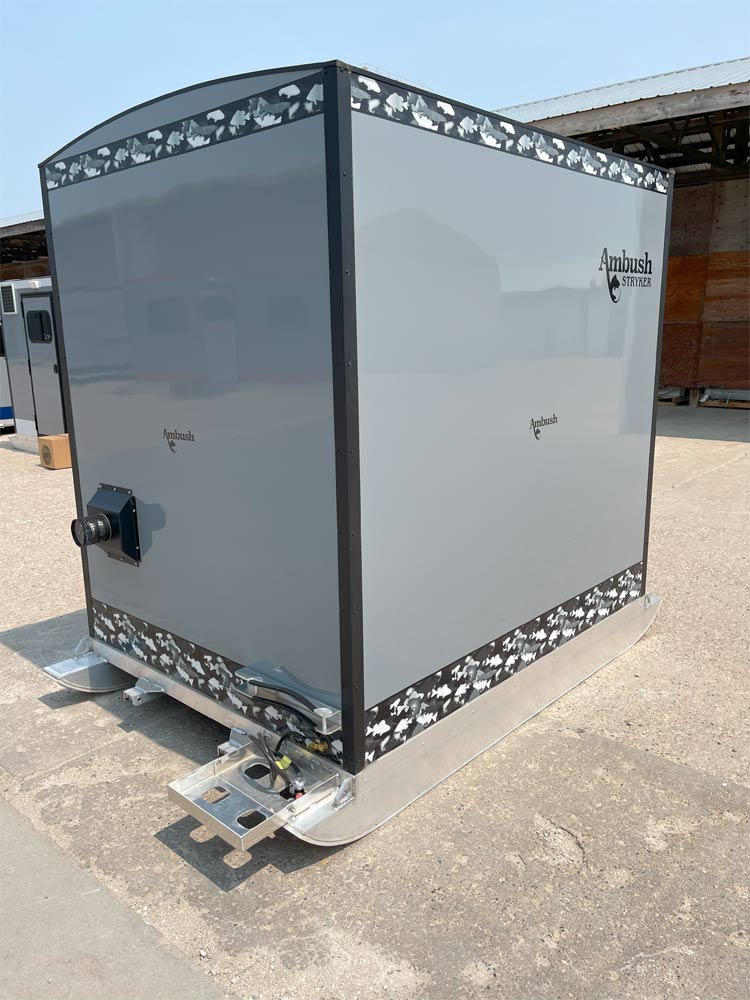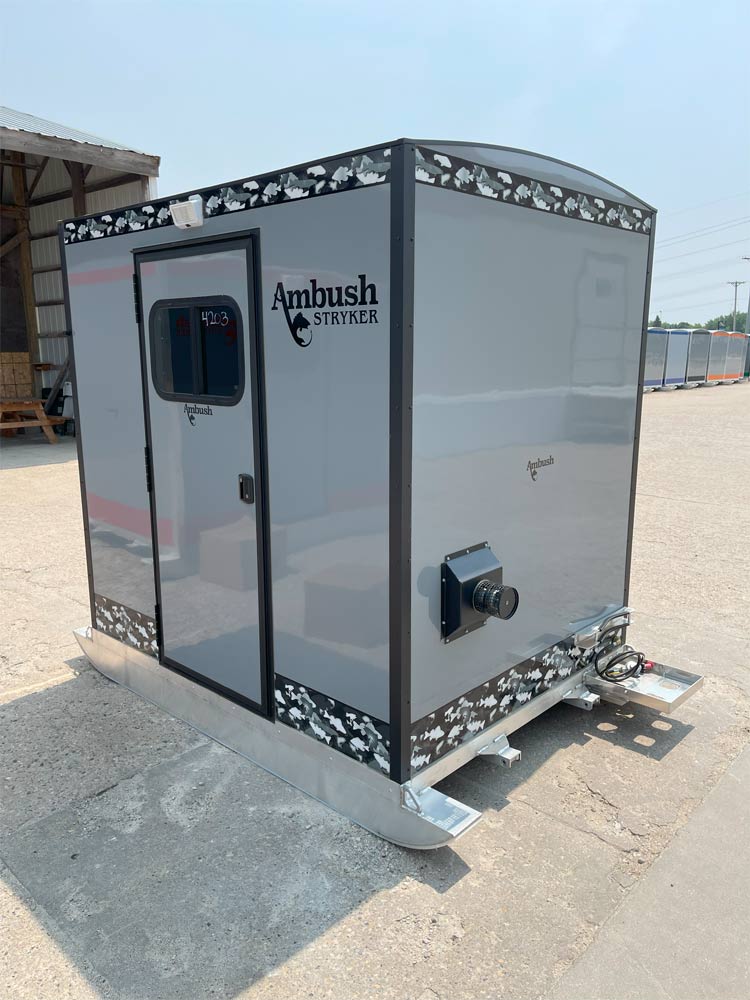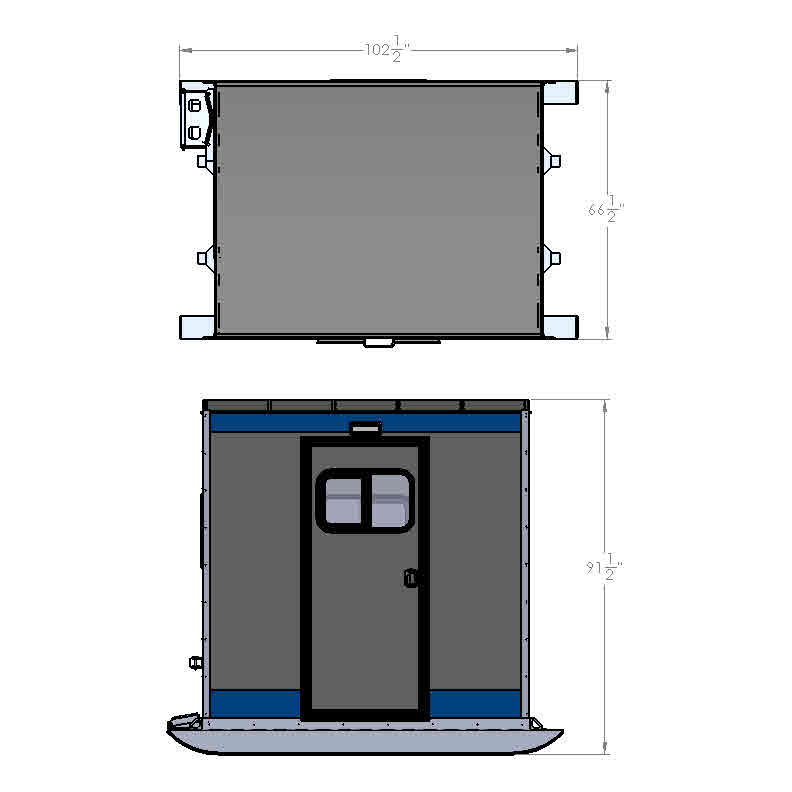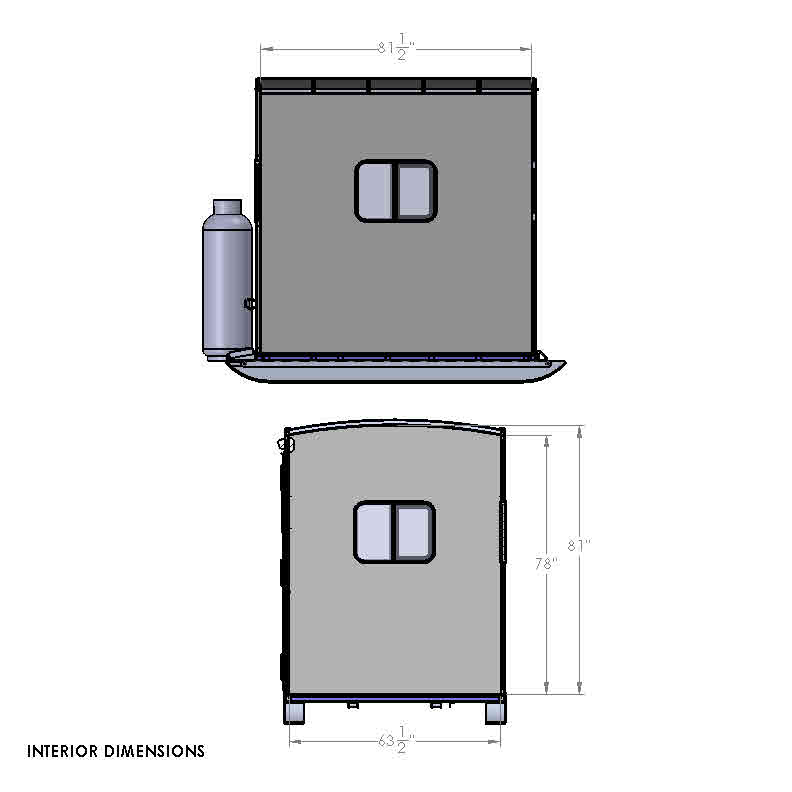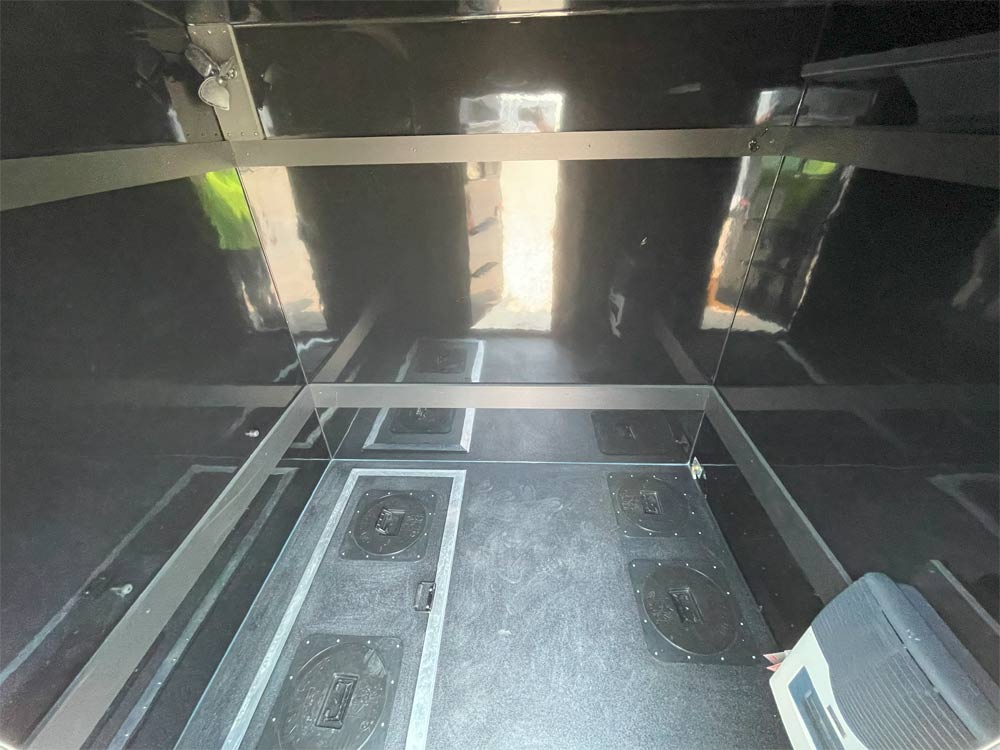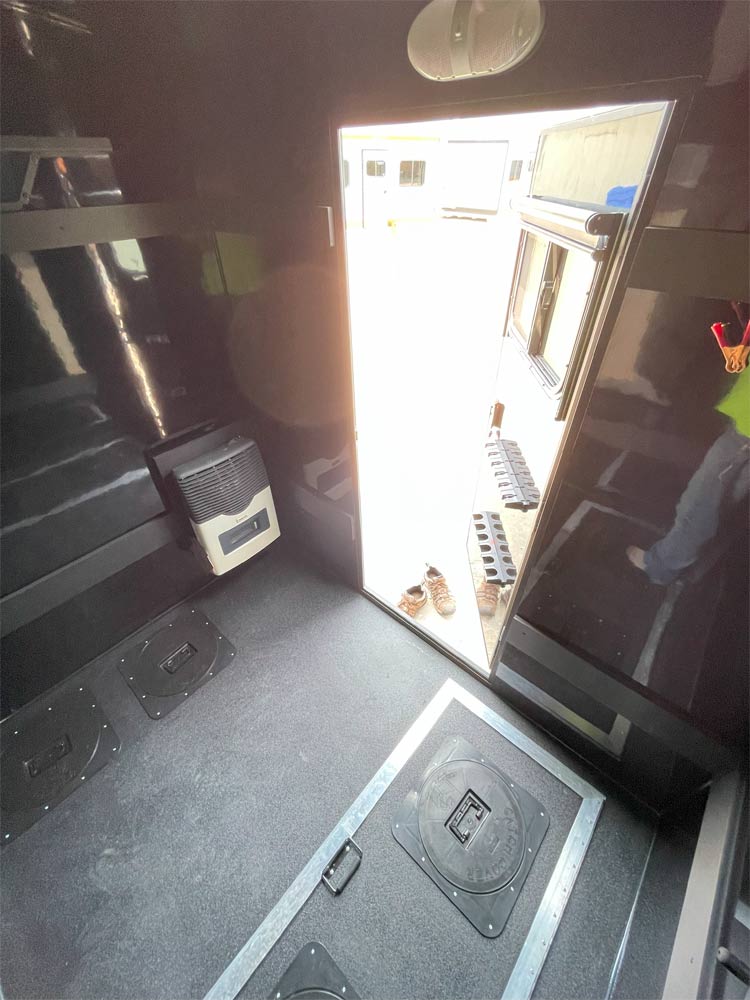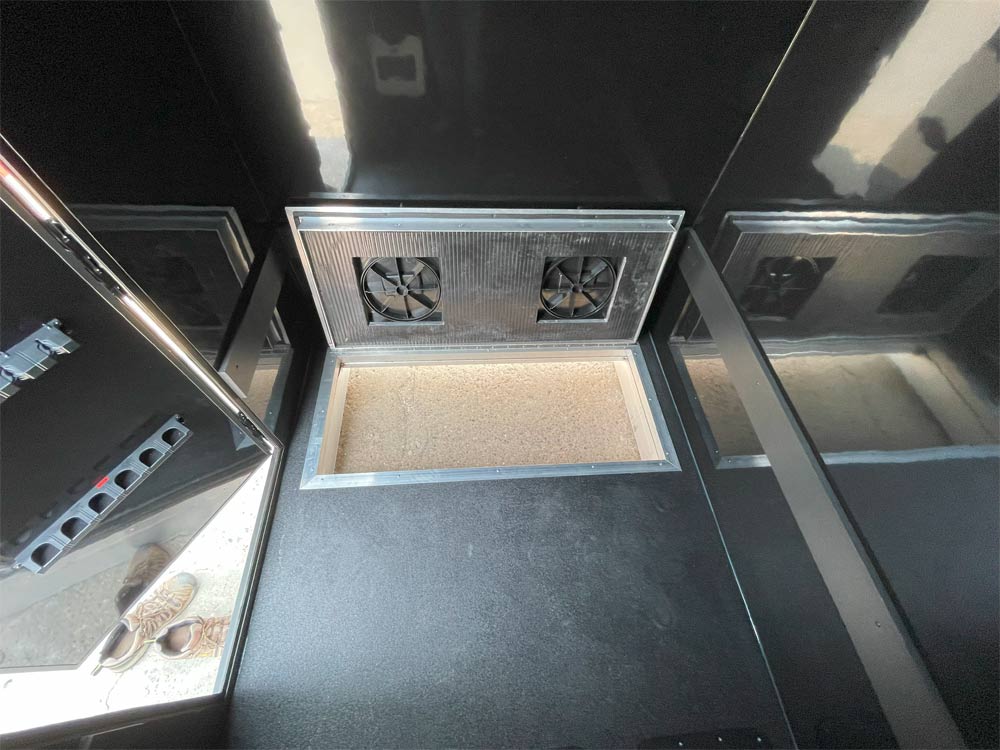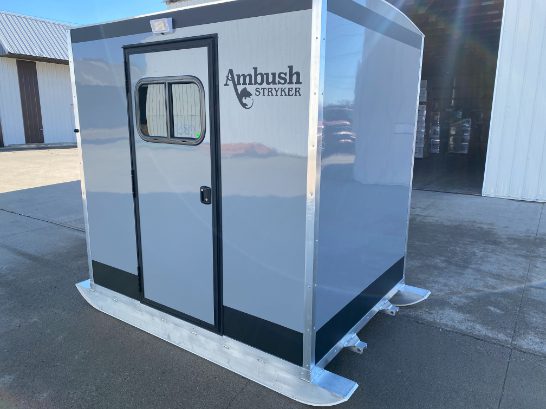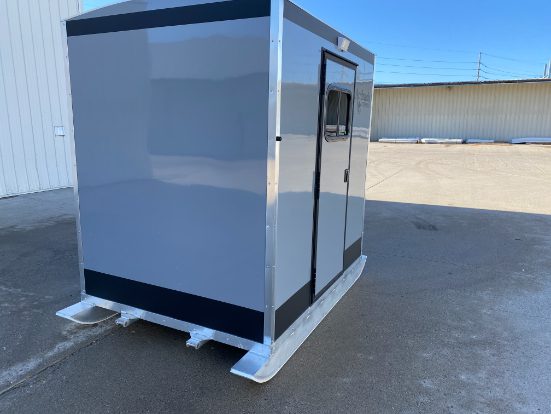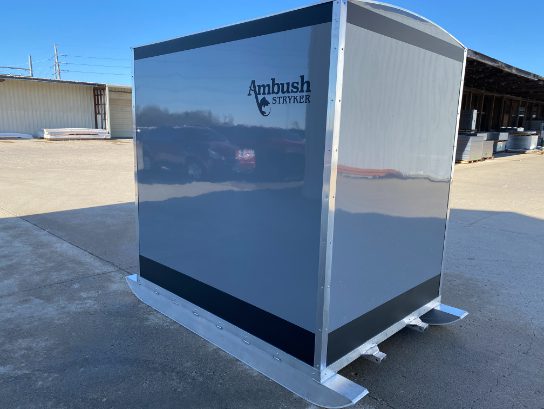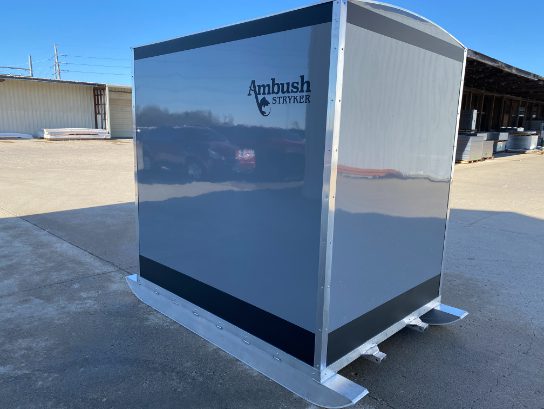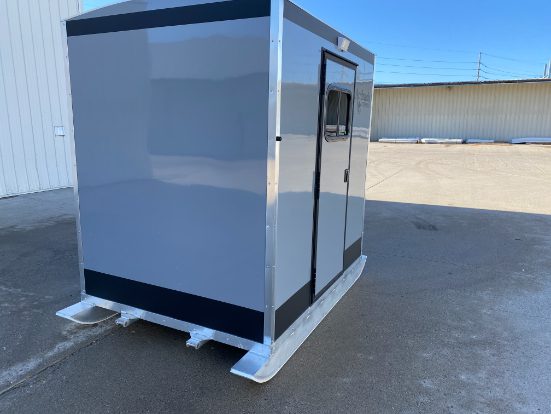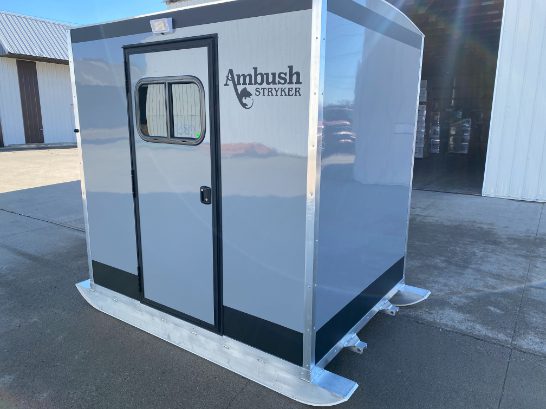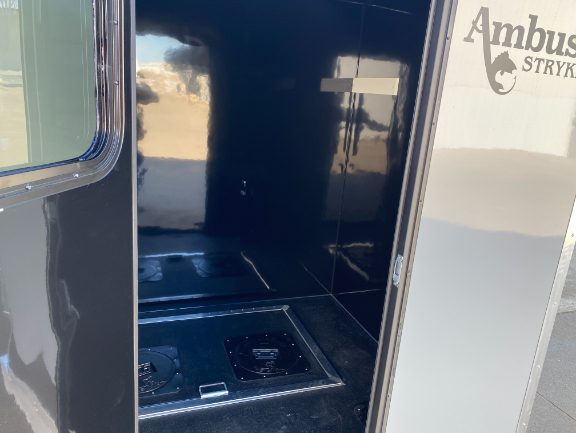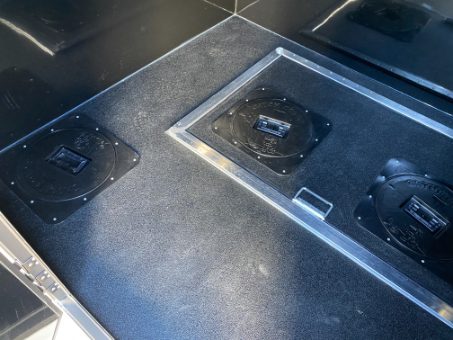 Upgrade your flooring in your skid house to the unique and durable AquaTraction Flooring.
Adds a visually stunning floor to your skid house
Slip-resistant
Stain resistant
Premium comfort
Highly Durable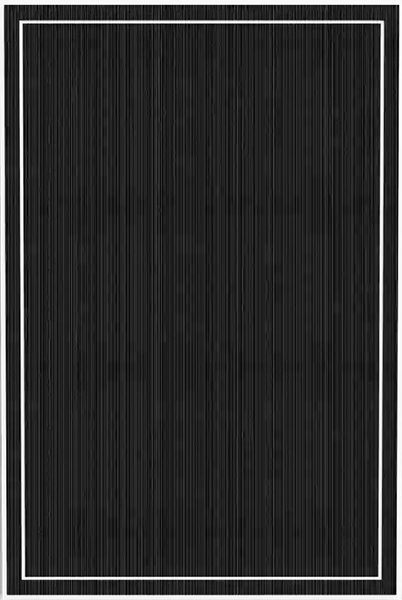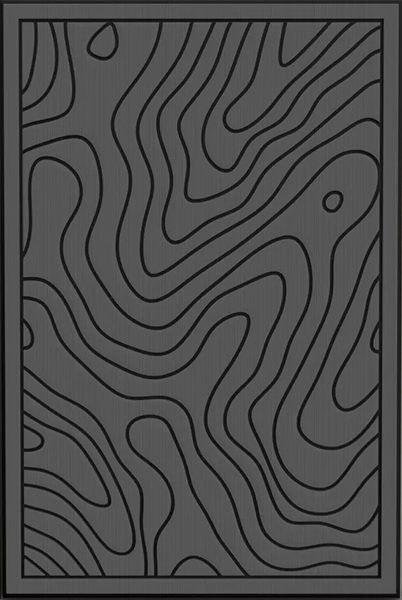 Available configuration options and pricing may vary. Contact your nearest dealer for details.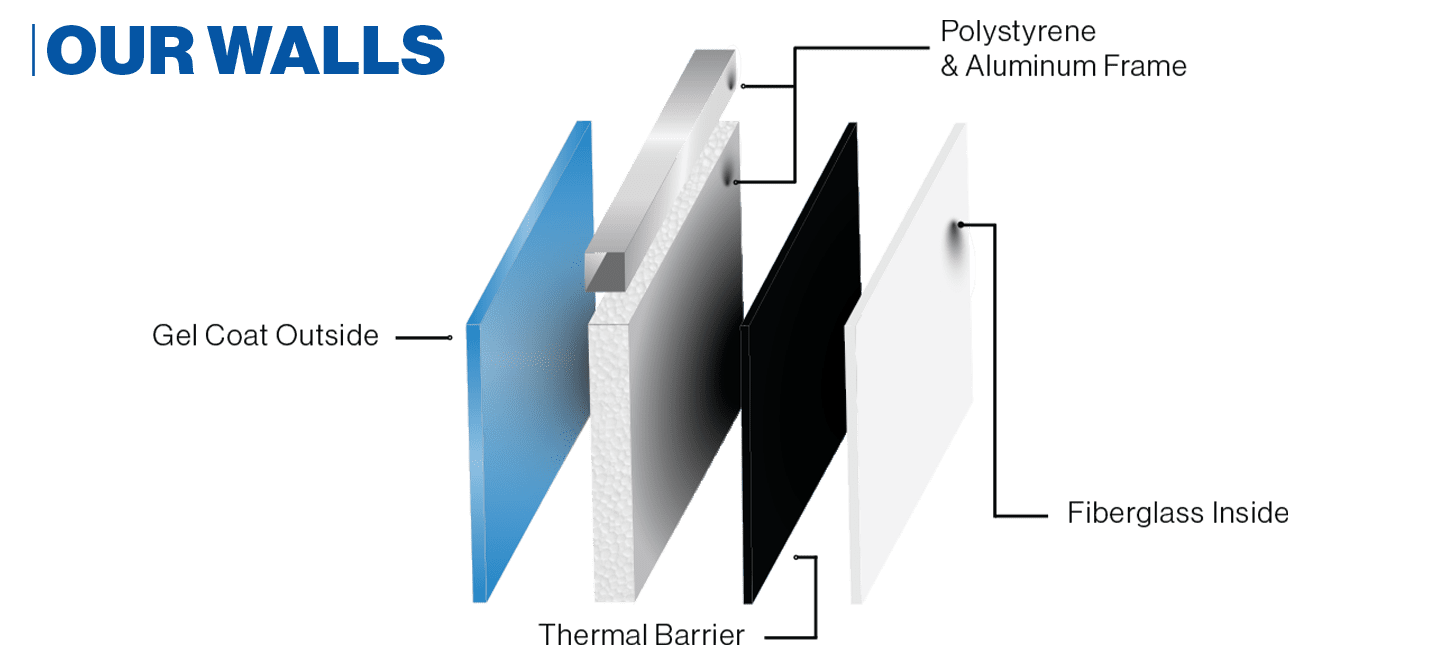 Insulation
When insulating our skid houses, we use a fiberglass coating for the interior of the skid house, with a thermal barrier and polystyrene & aluminum frame, encapsulated with a gel coat to the exterior of the skid house to keep you warm inside.
Flooring
In our top-line skid houses, we include slip resistant composite flooring insulated with 1/2″ high density foam, ultra-rigid fiberglass reinforcing panel, Polystyrene and Aluminum frame, enclosed with corrugated plastic outside layering. Our windows are RV style sliding windows with screens, and our doors are 30″ wide, made with an Aluminum Frame, Insulated, and  with Automotive Grade Weather Sealing.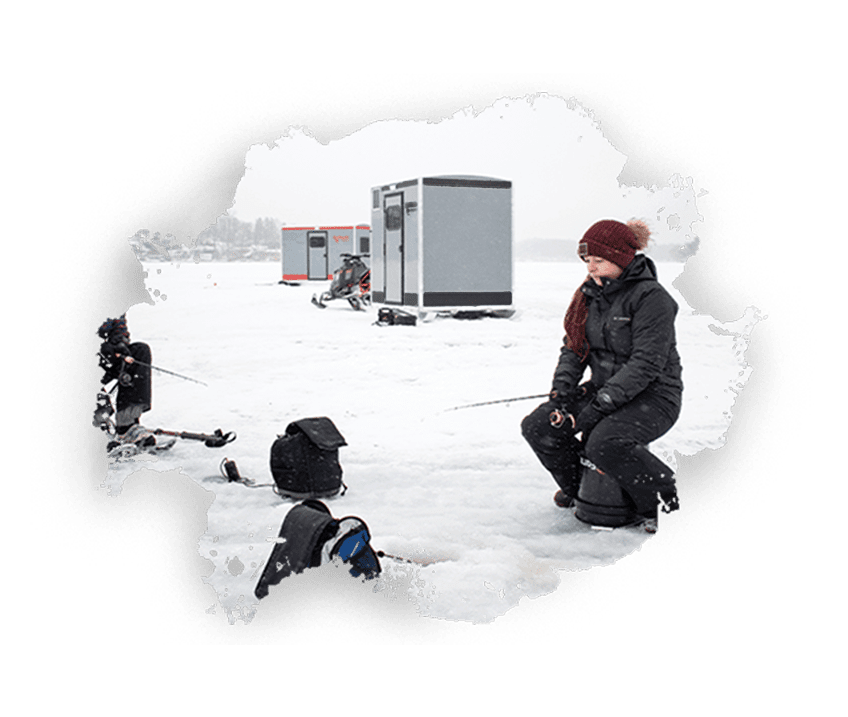 Why Ambush?
Ambush products create memories for multiple generations by allowing you to spend more time "out there". All Ambush products feature strong welded frames, laminated panels with hard fastened corners and accessories making the Ambush Skid house extremely durable and resilient to transportation to and from the ice or from lake to lake. Peace of mind is delivered with every Ambush Skid House.
"We've Got Your Back" 5 Year Product Warranty
Ambush Outdoor Products warrants Ambush Skid Houses against functional defects in material or workmanship for a total period of 5 years as described below.
WHAT IS COVERED.
This warranty applies exclusively to the door, windows, side panels, roof and floor when used in the intended manner.
WHO IS COVERED.
This warranty extends only to the original purchaser of the Ambush Skid House.
WHAT AMBUSH WILL DO.
If parts covered by this warranty incur a functional defect within the period of coverage, Ambush will provide replacement parts, or at its option, provide the material and instruction for restoration.
HOW TO OBTAIN COVERAGE.
Notify Ambush Outdoor Products at 866-259-265 for warranty resolution. Ambush may require inspection or other verification that goods are defective.
WHAT IS NOT COVERED.
This warranty does not cover damage or failure contributed to or caused by:  Mishandling, misuse, use of incompatible solvents or other damaging chemicals, vandalism or accident. In no event shall Ambush be liable for incidental or consequential damages.
See a Phantom Series Blind Today!
We have Ambush Dealers across the country that are happy to help you find the perfect blind(s) for your needs. Type in your address or zipcode below to see a list of Ambush Dealers near you.