At Ambush Skid Houses, our commitment to "Fishing First" isn't just a catchphrase – it's the driving force behind every design and innovation we bring to the market. We understand that to create the best ice fishing skid houses and wheel houses, we must put the needs of anglers at the forefront. So, what exactly does "Fishing First" mean to us, and how does it shape our products? Let's dive in and explore the core principles of "Fishing First".
Putting Anglers First
"Fishing First" means that we are not just manufacturers; we are users of our own products. We are avid anglers who know the ins and outs of ice fishing, and we apply that knowledge to craft skid houses that deliver the ultimate fishing experience. Our passion for fishing drives us to continually improve our skid houses, making them more fishable and efficient with each iteration.
Optimizing Hole Locations
One crucial aspect of "Fishing First" is optimizing hole locations. We understand that the right hole placement can make or break a successful ice fishing outing. That's why we meticulously design our skid houses to provide easy access to strategically positioned fishing holes, ensuring you have the best chance of success on the ice.
Eliminating Wood to Prevent Rot
Wooden components can be vulnerable to rot and decay, which is why our skid houses are proudly built without wood. By removing this potential weak point from our designs, we ensure that your Ambush skid house will stand the test of time, season after season.
Prioritizing Ruggedness
Ice fishing can be a demanding pursuit, often subjecting your equipment to harsh conditions. Ambush skid houses are designed to be rugged and durable, capable of withstanding the challenges of ice fishing adventures in any weather.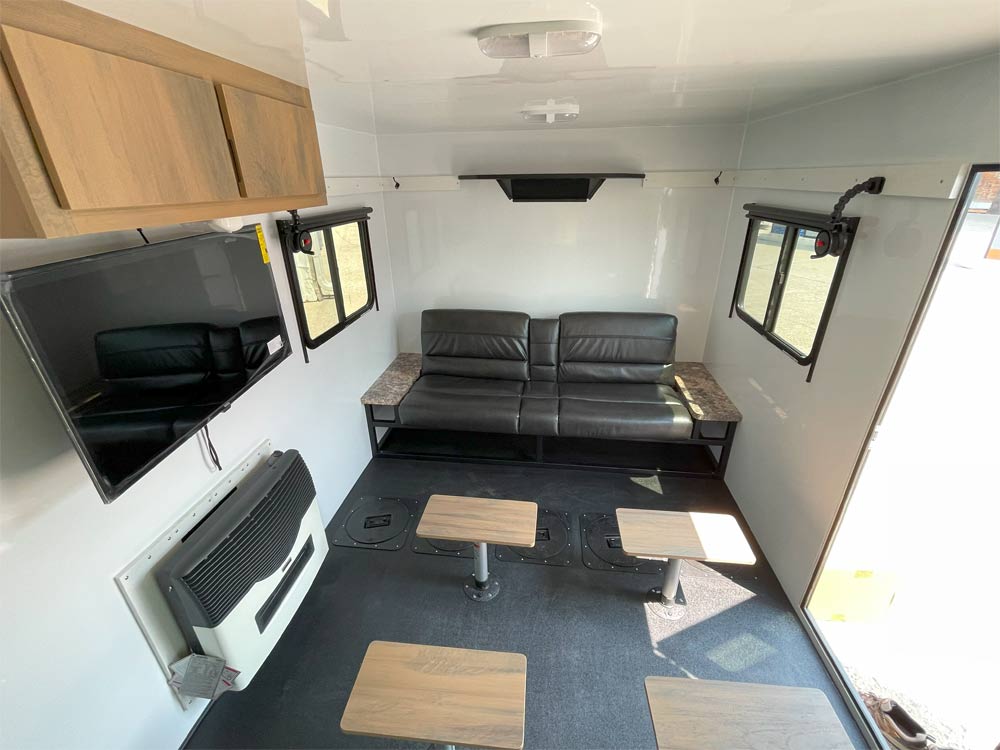 Thoughtful Pedestal Locations
Our commitment to "Fishing First" extends to every detail, including pedestal locations. We carefully consider where fish locator or sonar pedestals are placed to provide anglers with maximum comfort and convenience during those long hours on the ice.
Versatile Floor Plans and Layout
We understand that every angler has unique preferences when it comes to the layout of their skid house. That's why Ambush offers a range of floor plans and layouts, allowing you to choose the setup that best suits your fishing style.
Efficient Heater Placement
Staying warm and comfortable on the ice is essential, which is why our skid houses feature efficient heater placements that ensure even heat distribution throughout the space.
Embracing Open Floor Plans
Open floor plans are a hallmark of Ambush skid houses. These designs provide flexibility and ample space for maneuvering, making it easier to fish, relax, and socialize with fellow anglers.
Efficient Mobility for Hole Hopping
Ice fishing often requires moving from spot to spot to find the most productive fishing areas, which is why Ambush skid houses are both lightweight and designed for nimble hole hopping. Whether you're hole hopping or exploring different locations, our skid houses offer the nimbleness you need to quickly and efficiently move your setup to follow the action.  There's no need to tear down, pack up and move.  With an Ambush Ice Fishing setup, you simply walk outside, get in your tow vehicle and move.  When you get to your destination, you are all set up.  Just drill your holes.
Thoughtful Furnishings
We understand that the details matter. That's why we provide thoughtful furnishings that enhance your ice fishing experience, from comfortable seating to practical storage solutions.
Durable Materials Built to Last a Lifetime
Every component of our skid houses is crafted from durable materials built to withstand the rigors of ice fishing. We want your Ambush skid house to be an investment that lasts a lifetime.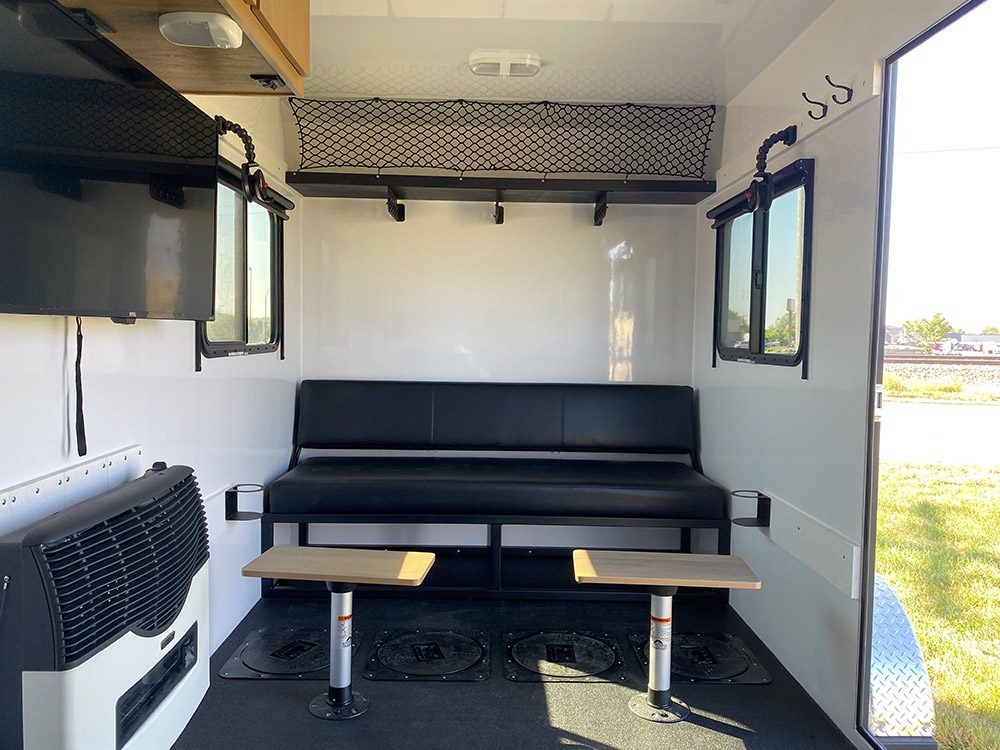 Every Detail Considered
From hole placement to the convenience of power washing your skid house, every detail has been considered. We leave no stone unturned in our pursuit of the ultimate ice fishing experience.
At Ambush Skid Houses, "Fishing First" is not just a slogan; it's our commitment to anglers everywhere. We are anglers first and manufacturers second, and that passion for fishing drives us to create the most fishable and efficient skid houses on the market. When you choose Ambush, you're choosing a partner in your ice fishing adventures, dedicated to ensuring your success and satisfaction on the ice. Experience the "Fishing First" difference with Ambush Skid Houses today.
Want to learn more about fish houses? Click here.