Ambush Wheel Houses
EXPLORER ULTRA PREMIUM WHEEL HOUSE
MSRP: Starting at $24,750
Like all Ambush ice fishing houses, the Explorer Wheel House has a fishing first design. Built with no wood and prioritized hole locations, the Explorer is easy to clean, easy to move, and engineered and manufactured to withstand hard use. It utilizes a proven GS Trailer lowering chassis with proven greaseless axles. The manual crank lowering mechanism is easy to operate, with no hydraulics that can go bad. The Explorer comes with the same great insulated walls and a durable aluminum frame, so you can make lasting memories for years to come.
NO-WOOD CONSTRUCTION
SEAMLESS DURABOND™ PANEL SYSTEM
All ALUMINUM FRAME
DURABLE WHEELS
FINISHED FIBERGLASS INTERIOR
GEL COAT FIBERGLASS EXTERIOR
MULTIPLE FLOOR LAYOUTS
SLIP-RESISTANT COMPOSITE FLOOR
5 WINDOWS STANDARD. DOOR, 2 WINDOWS ON DOOR WALL & 2 ON BACK WALL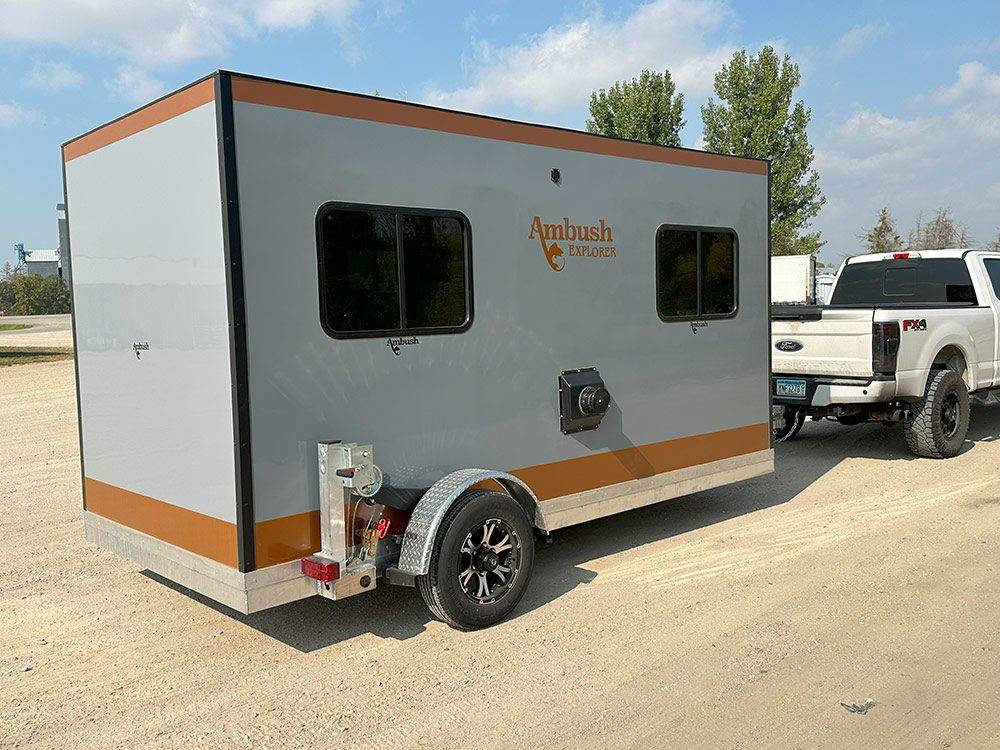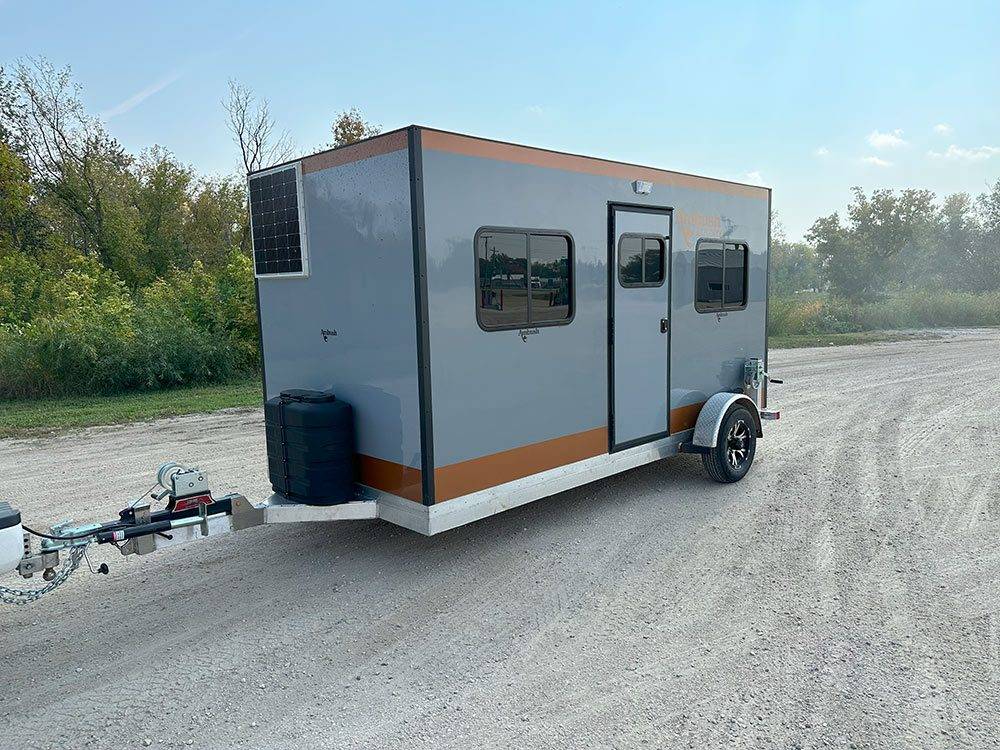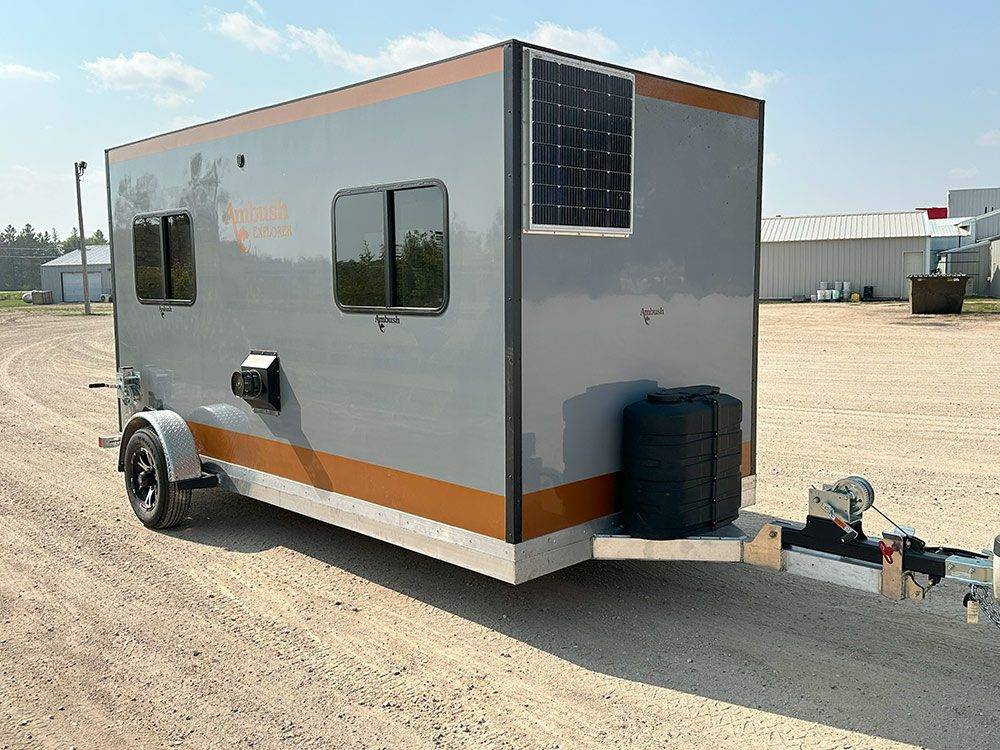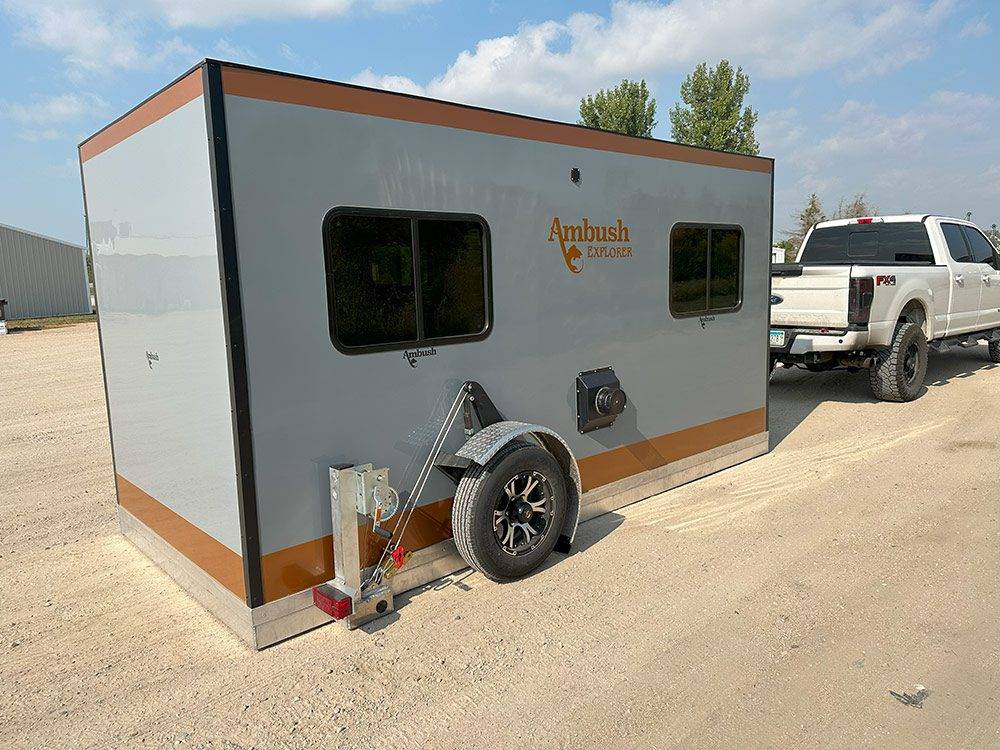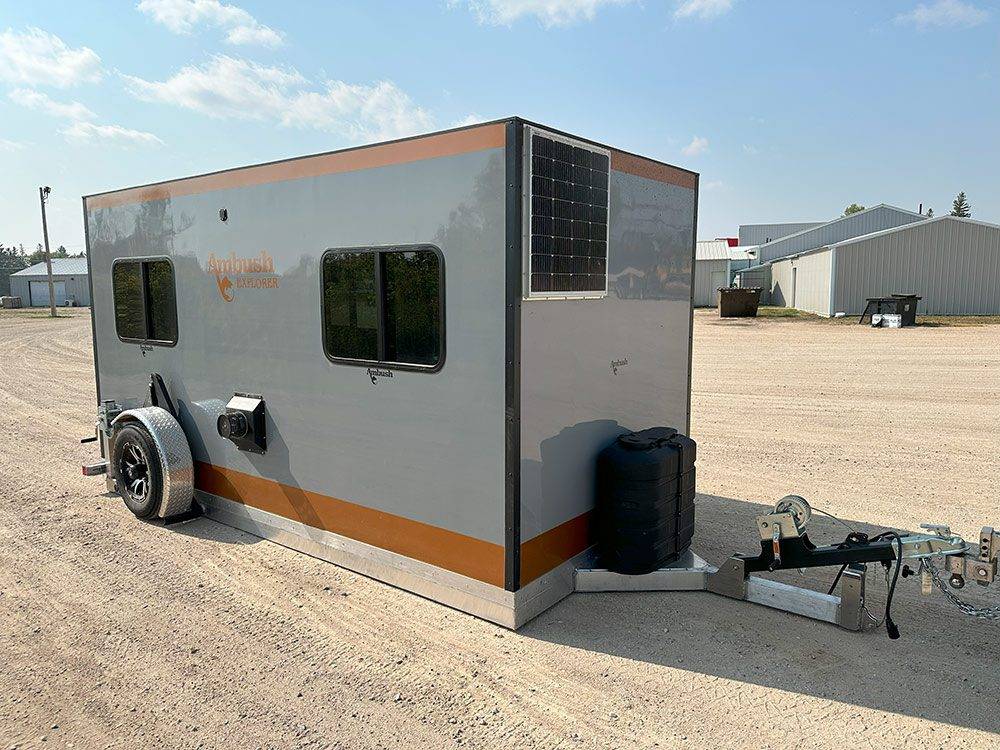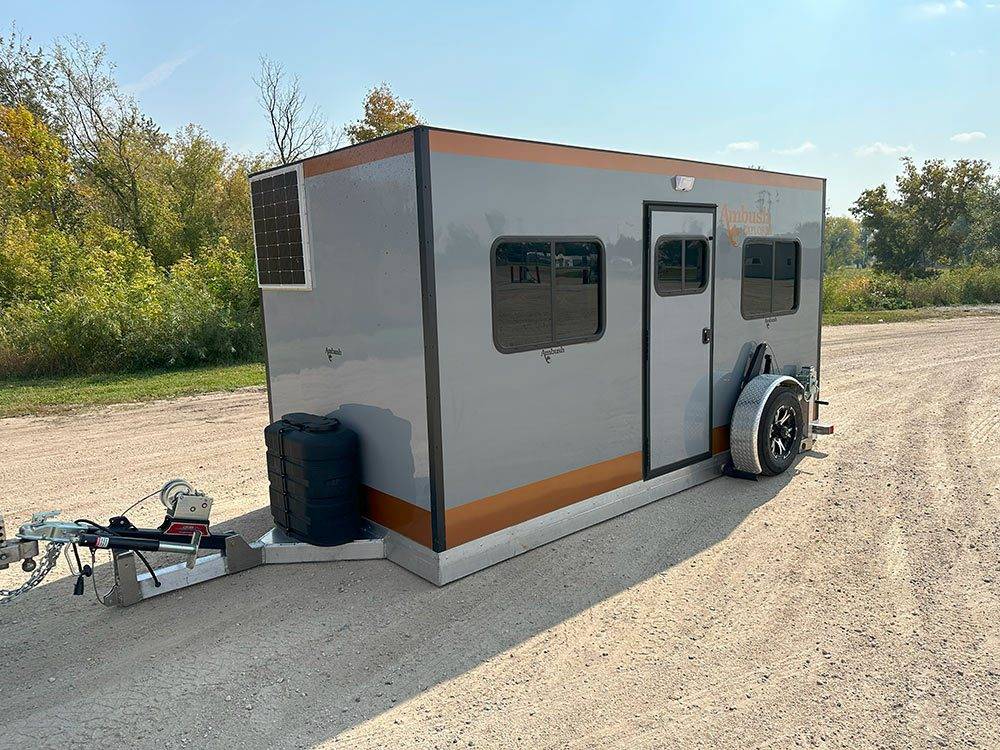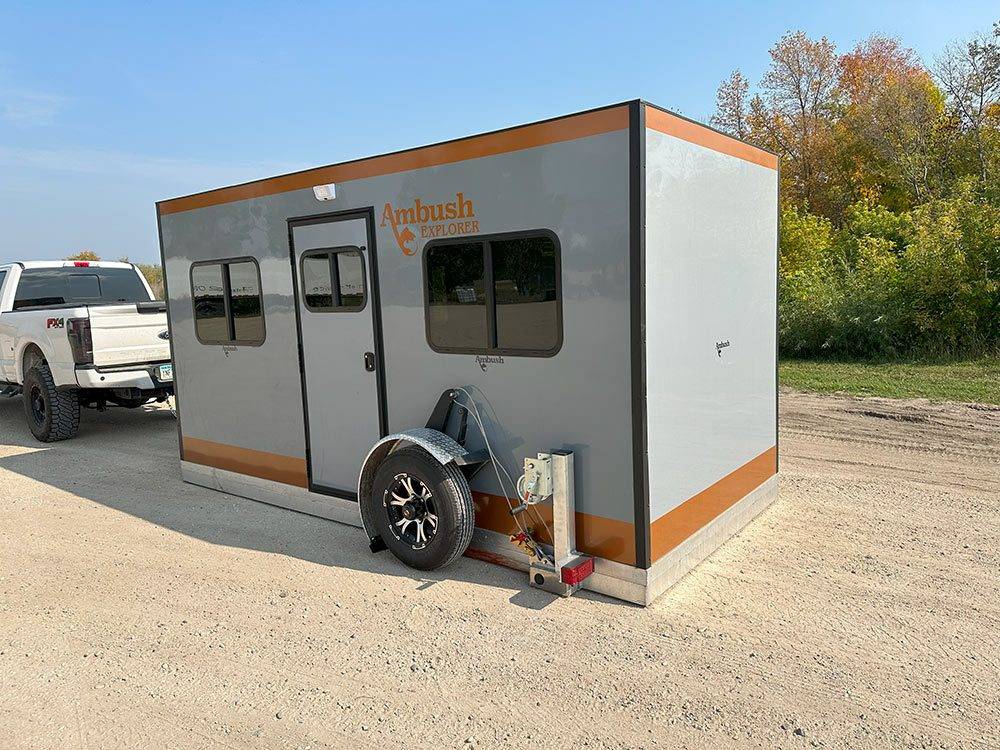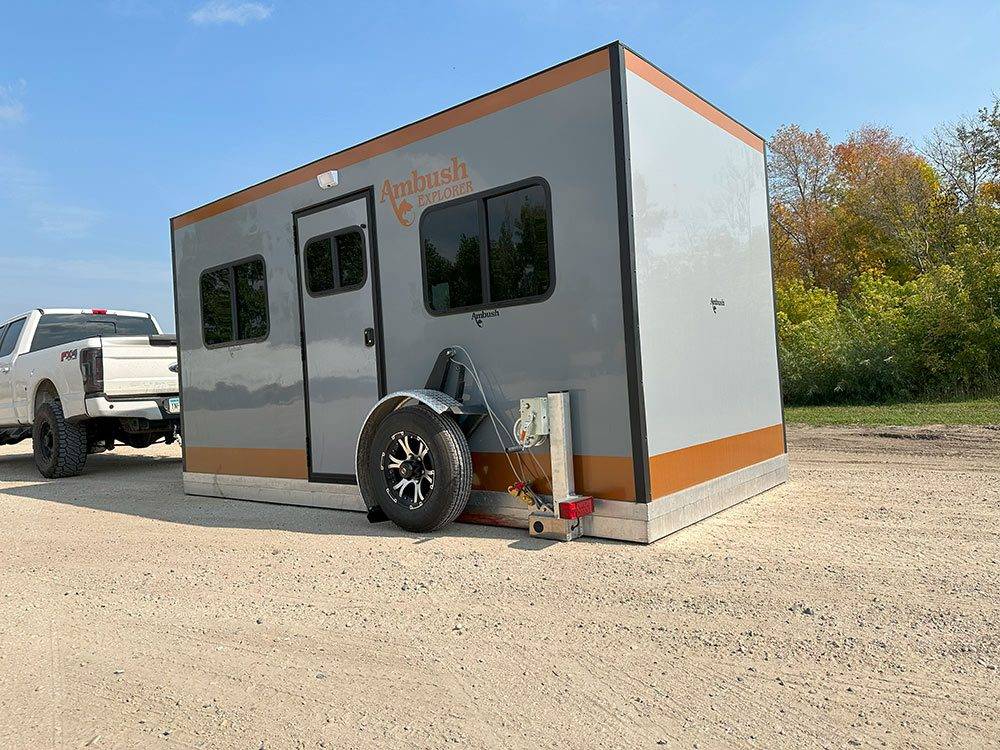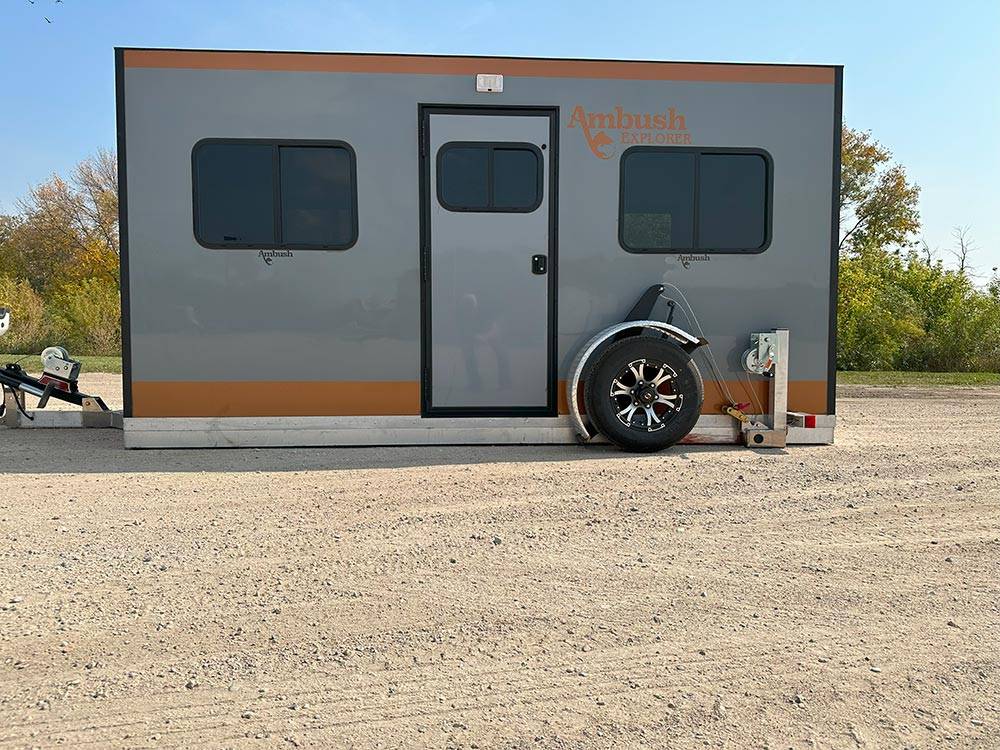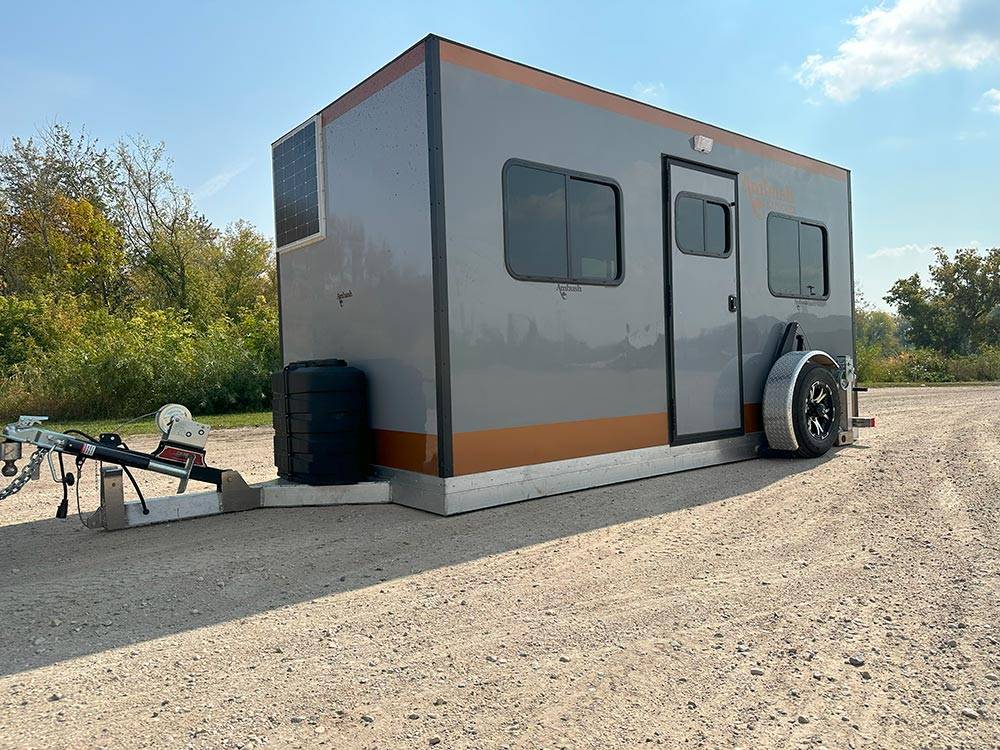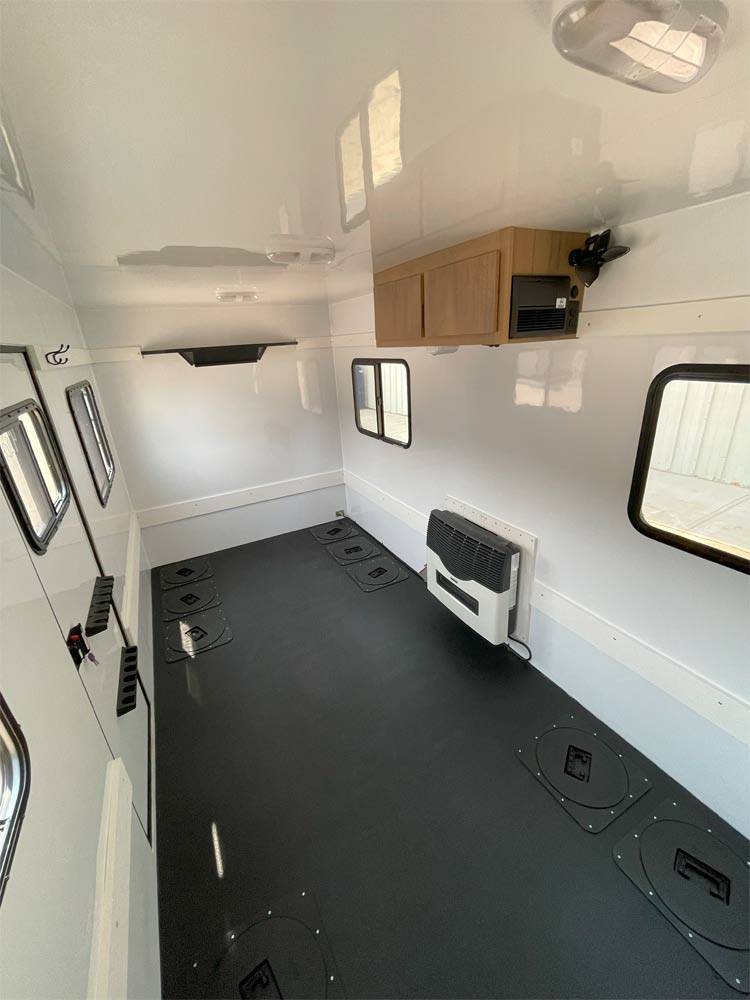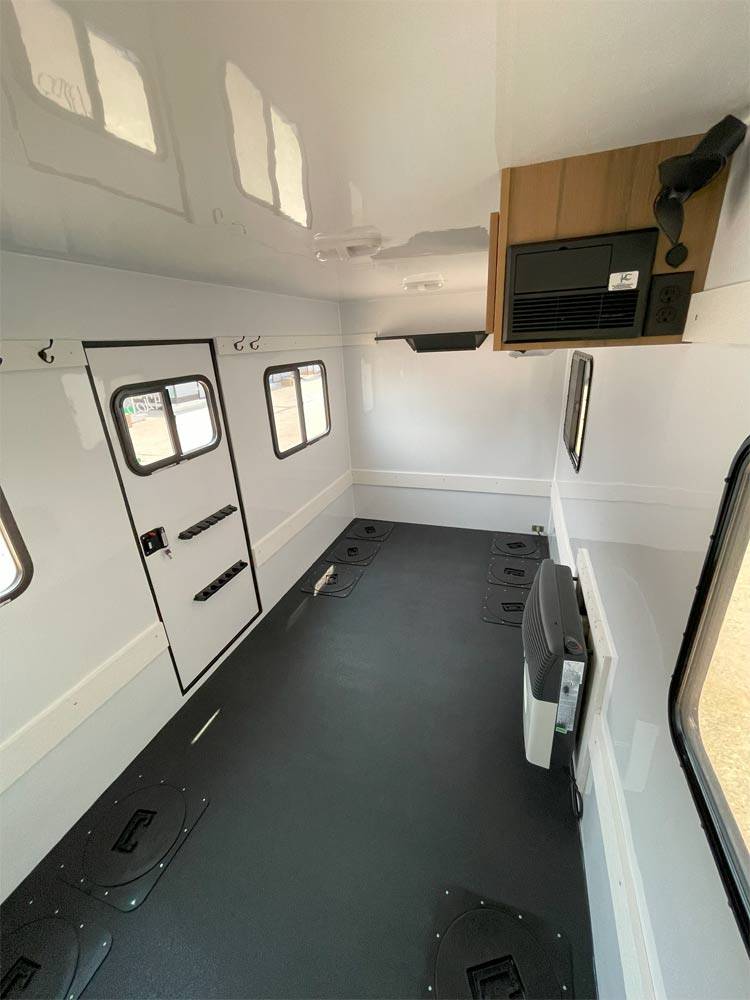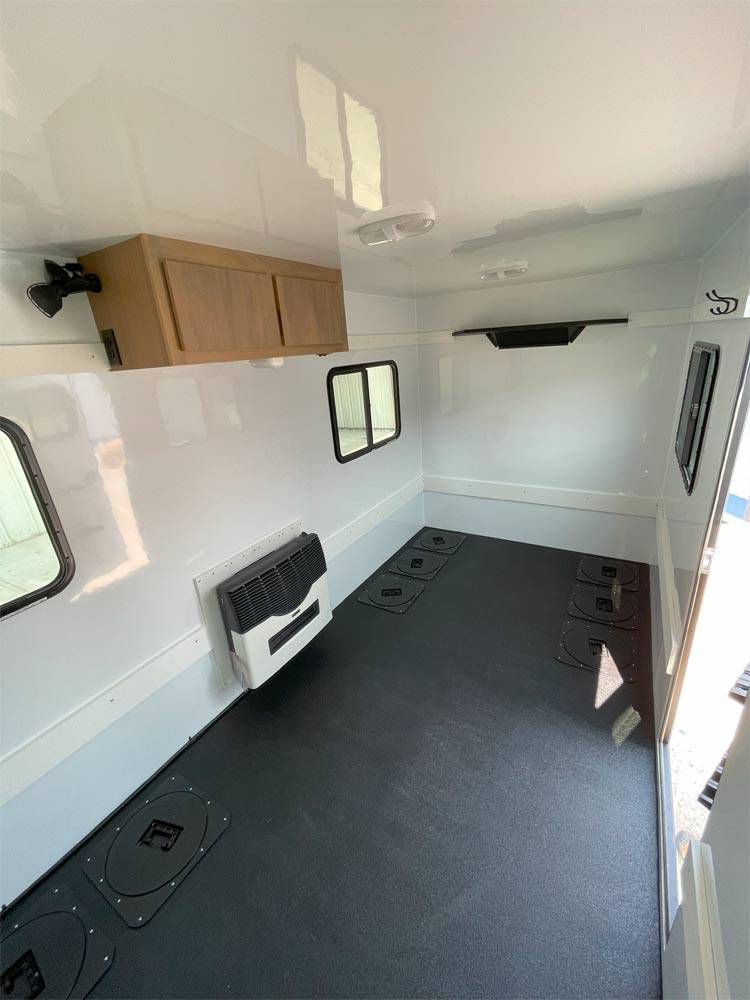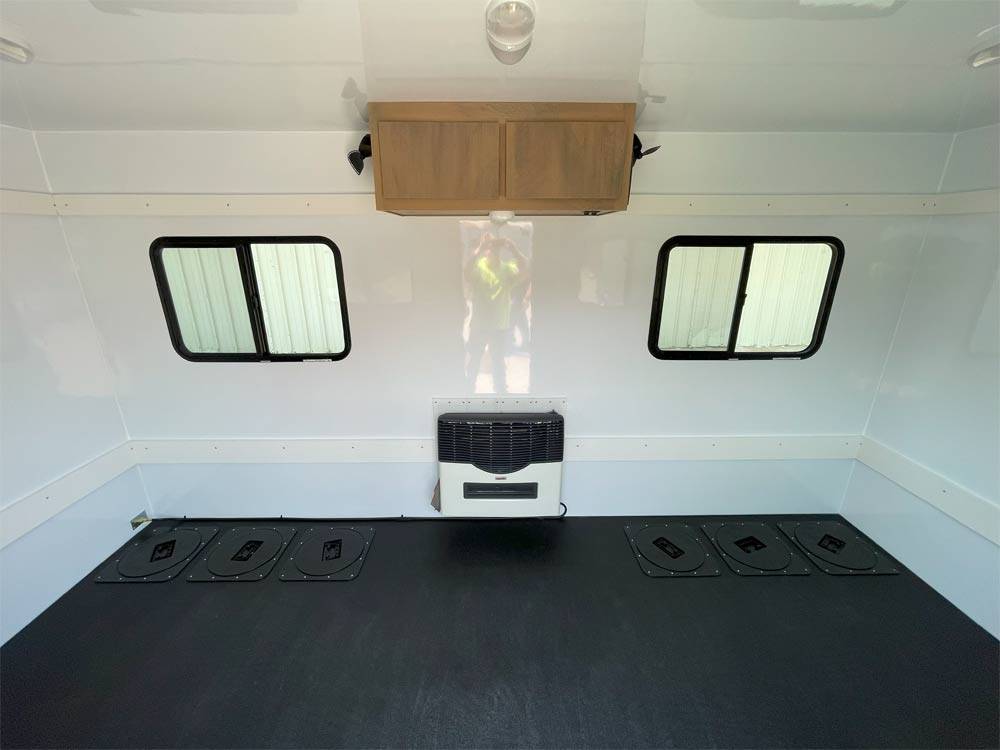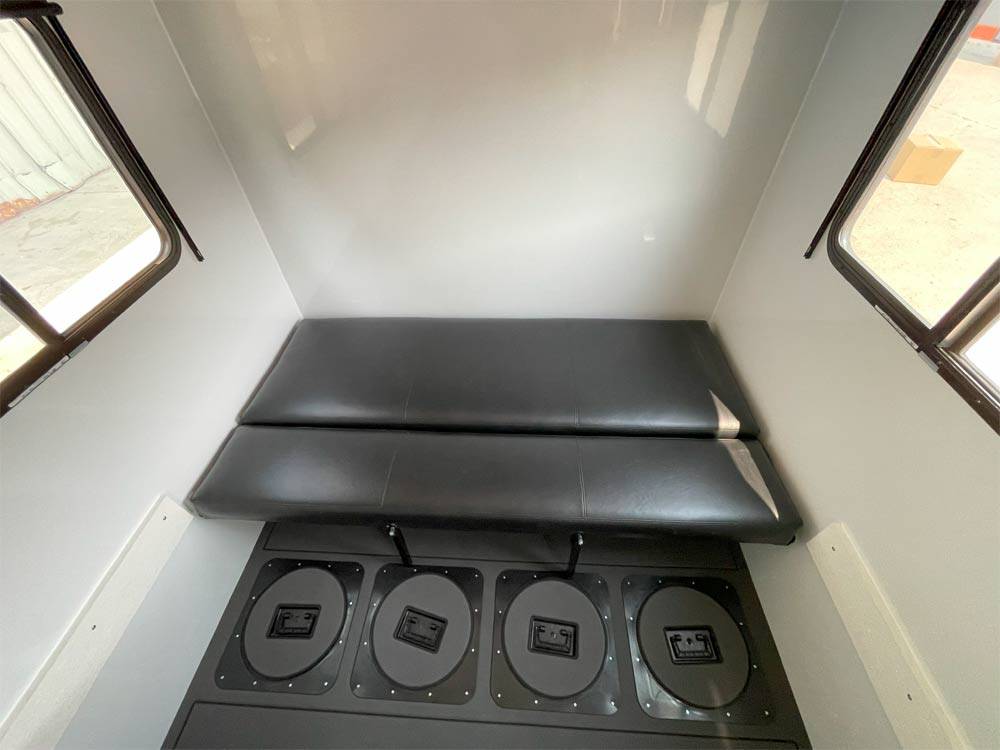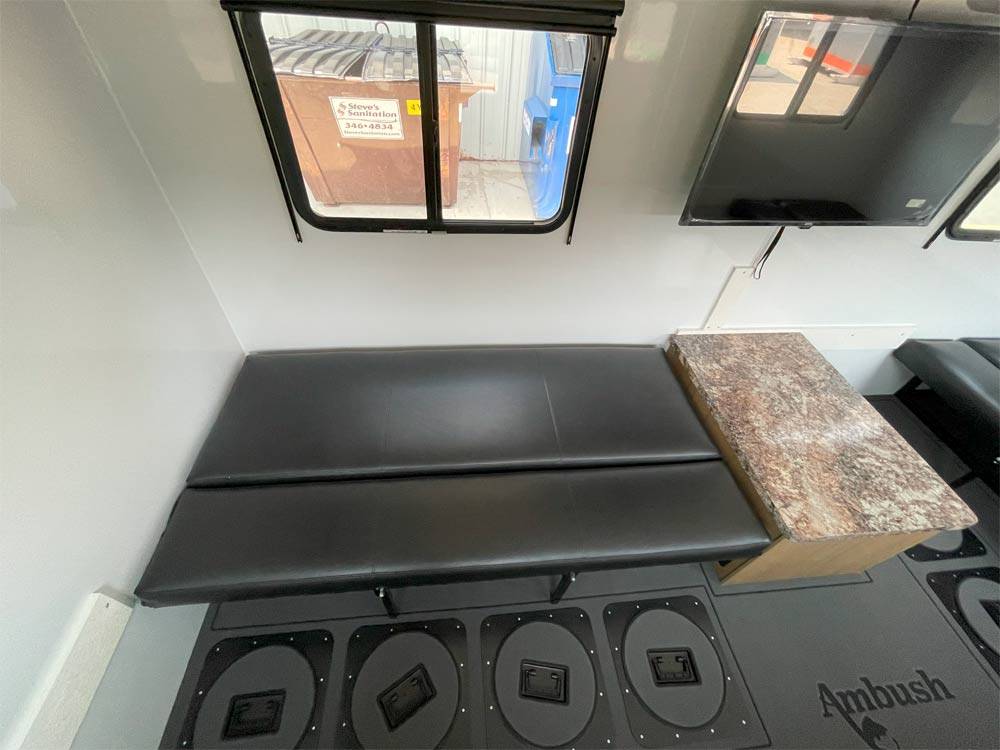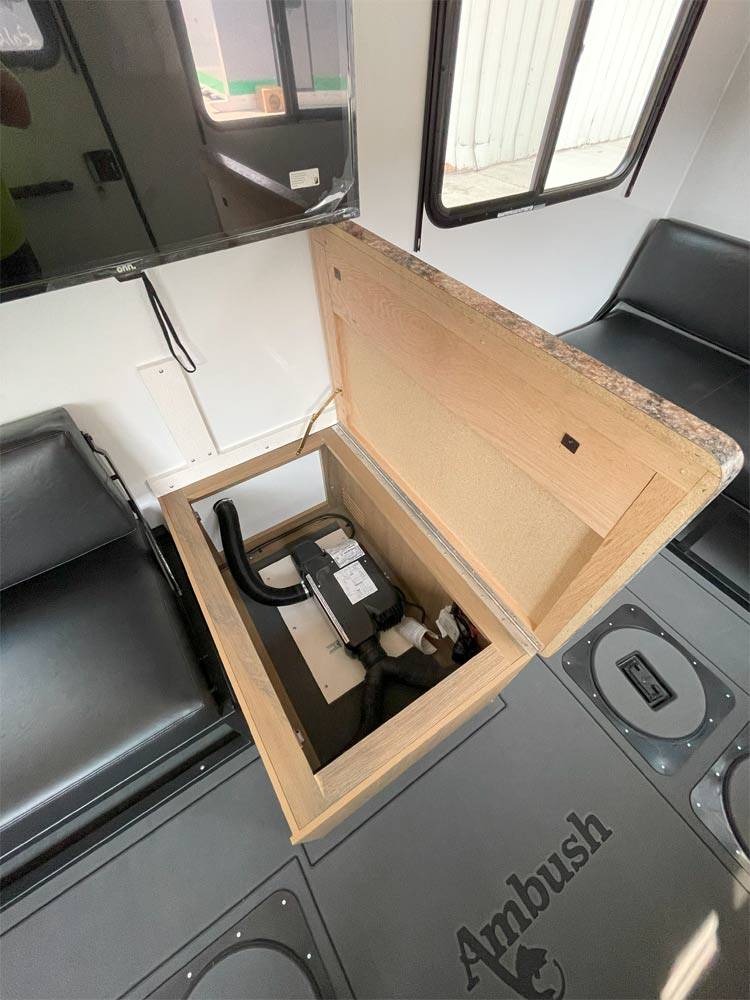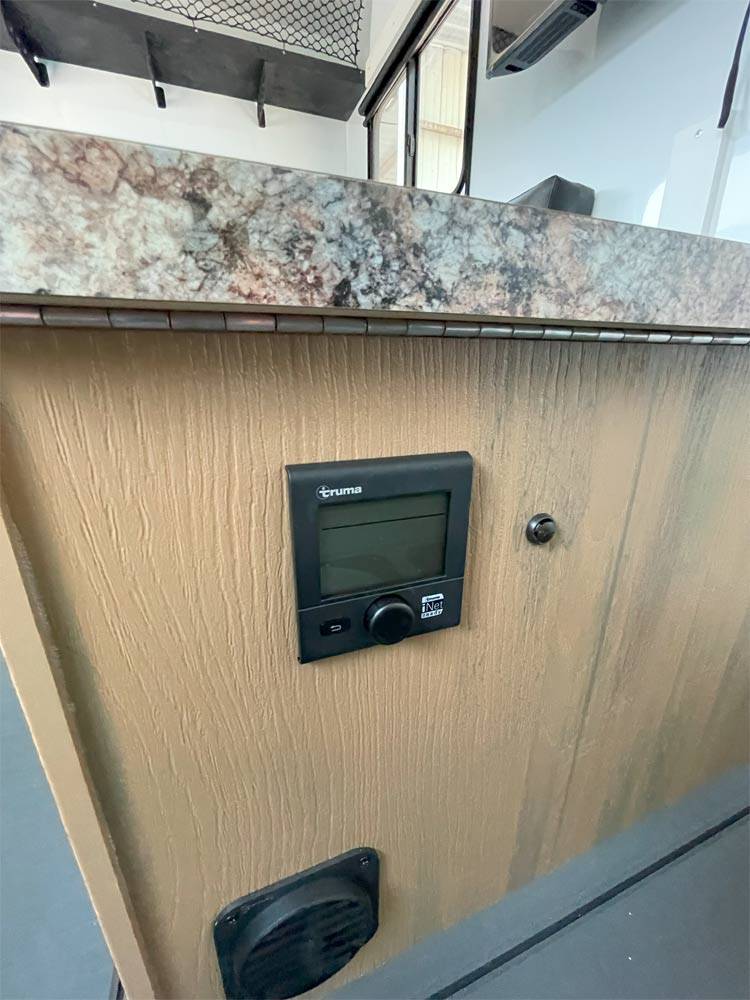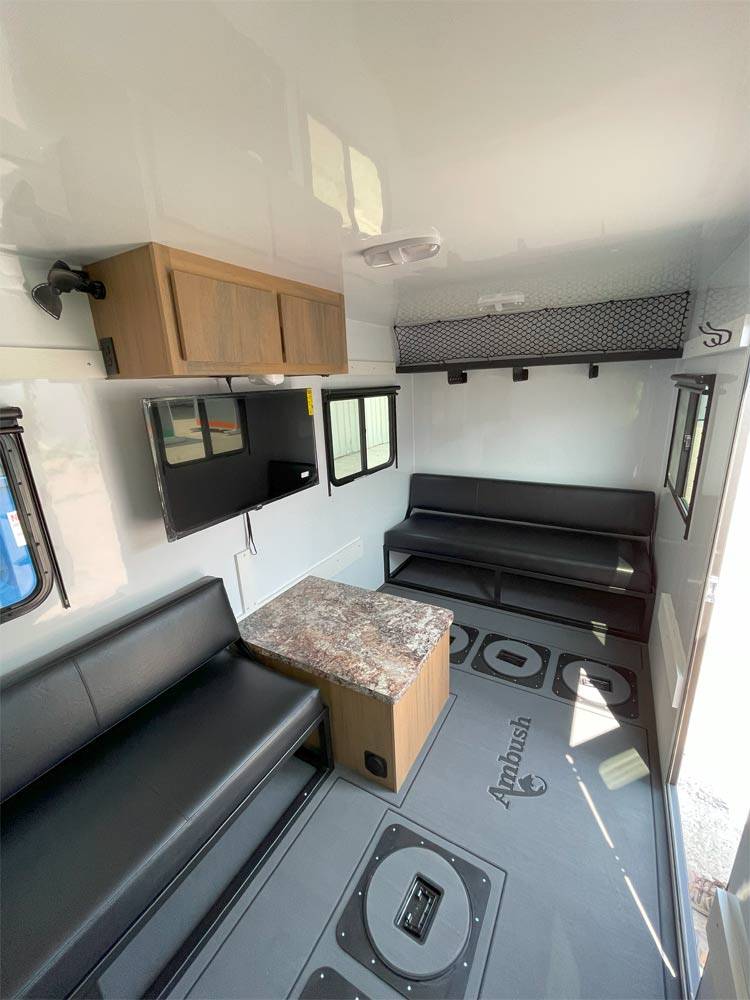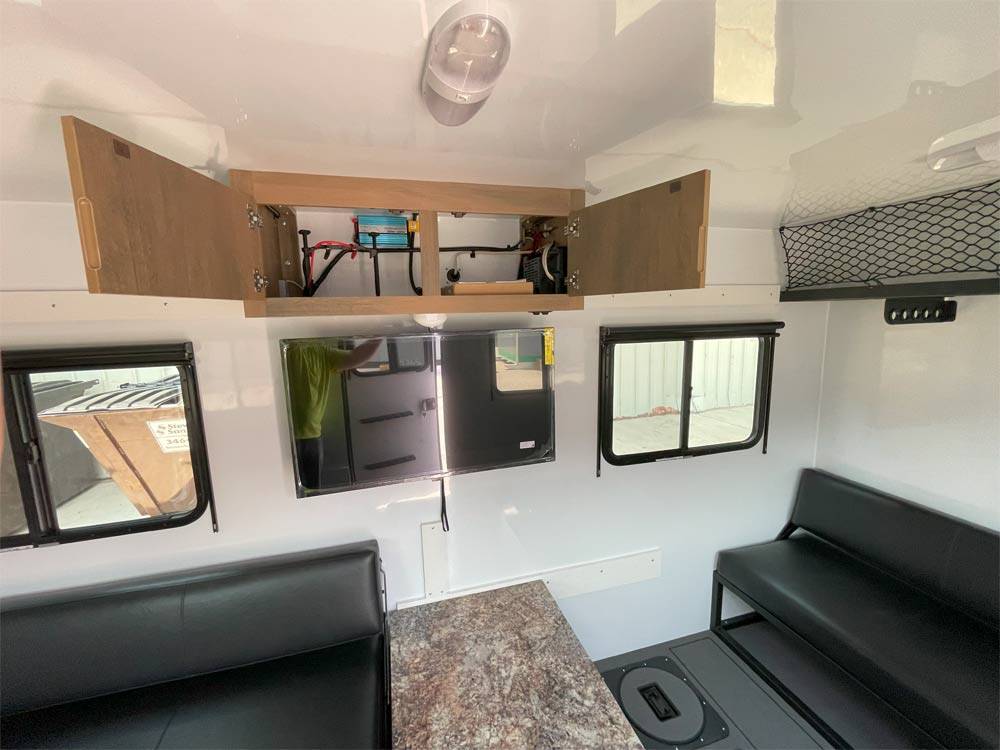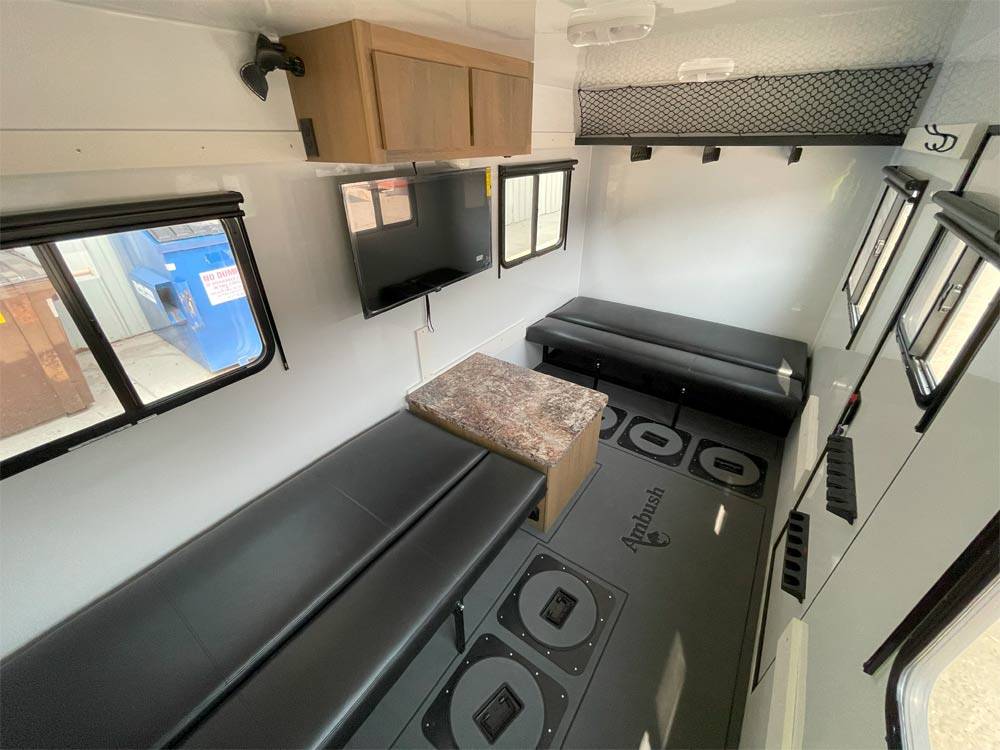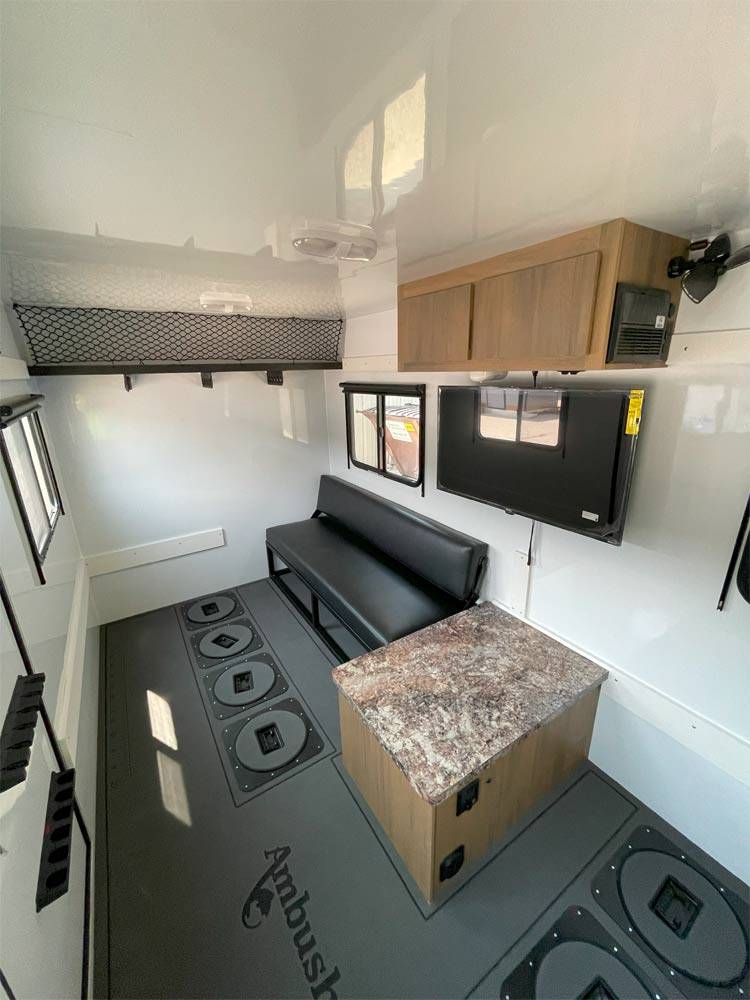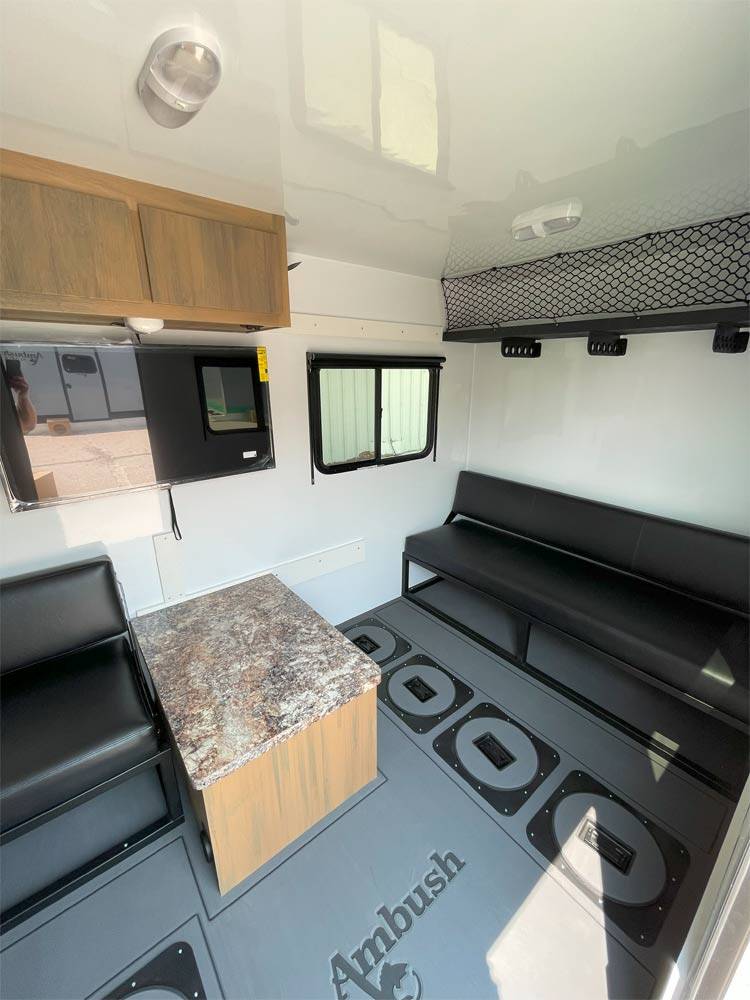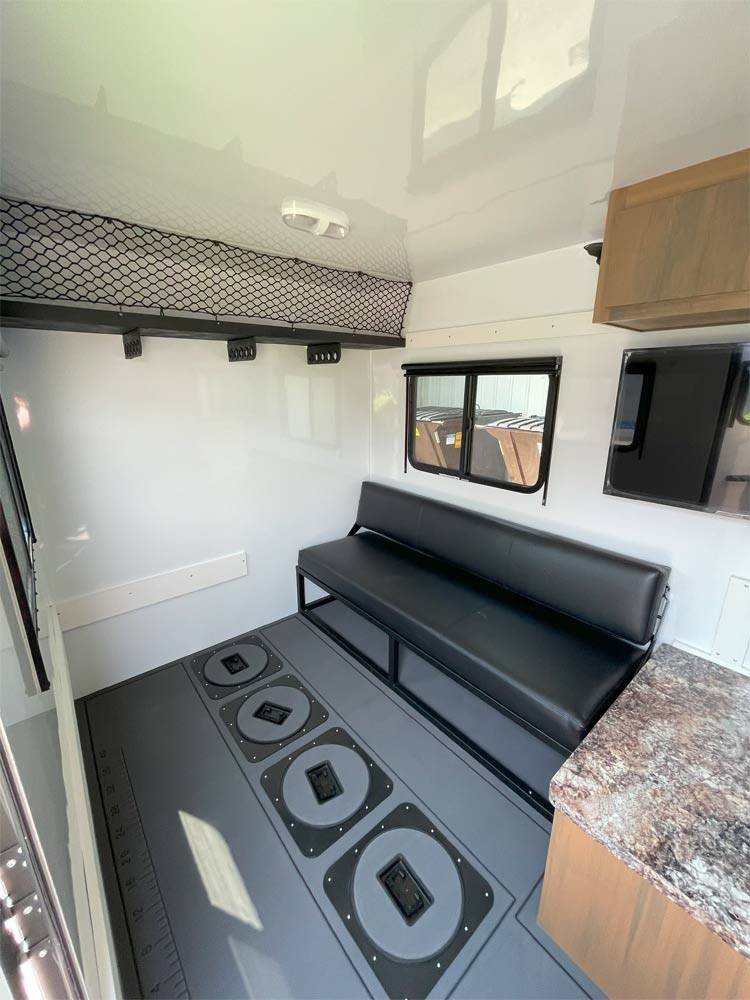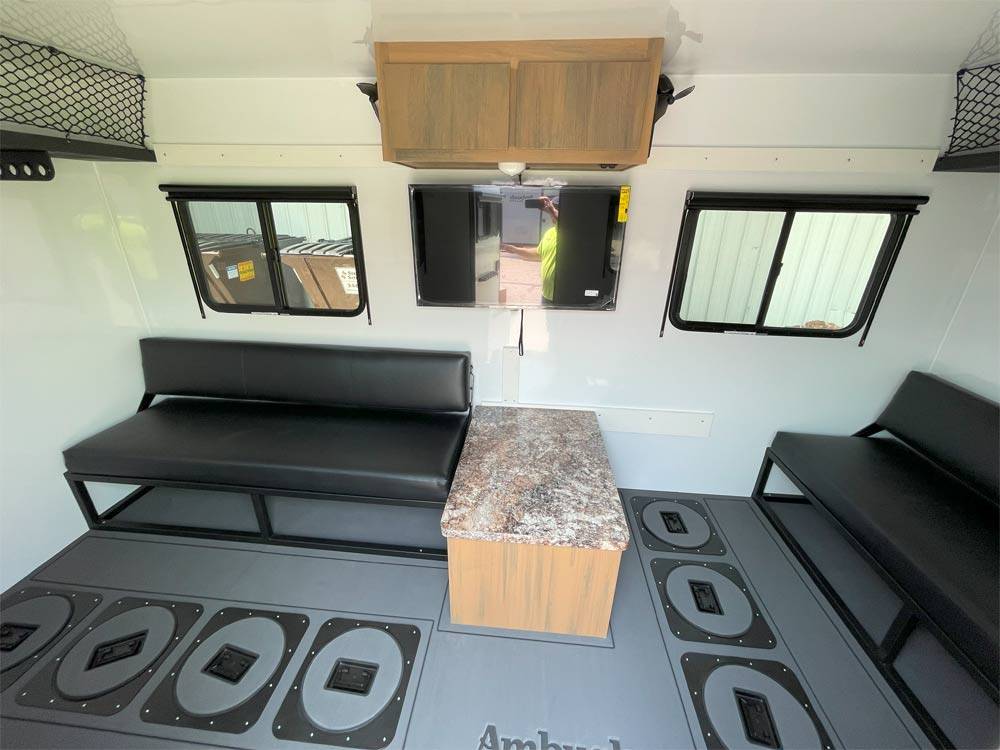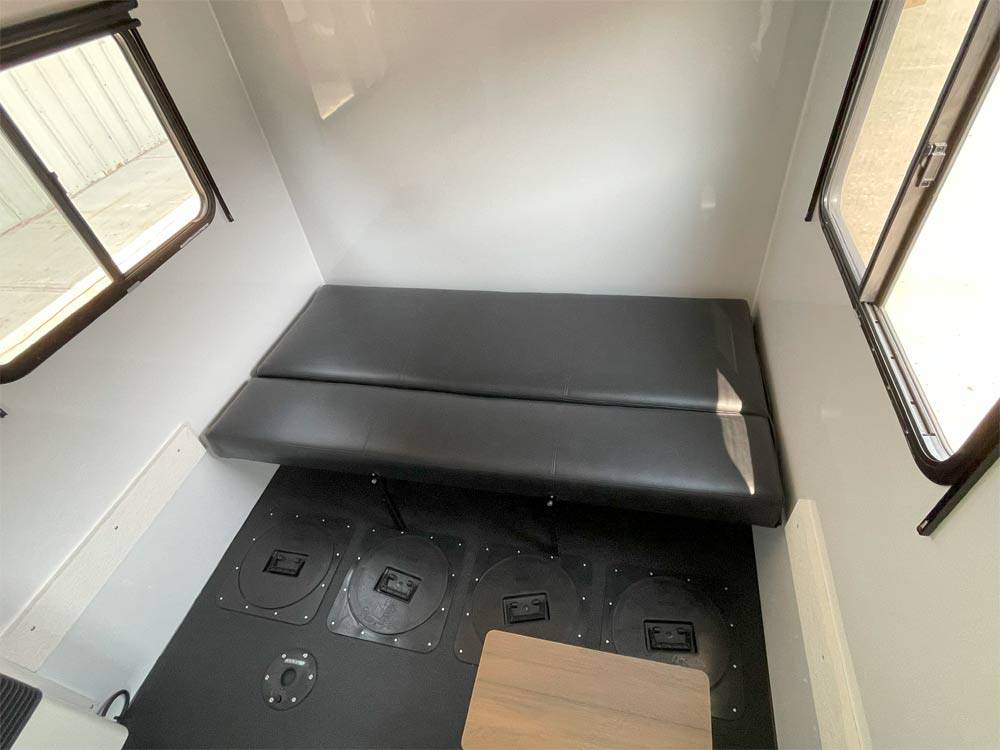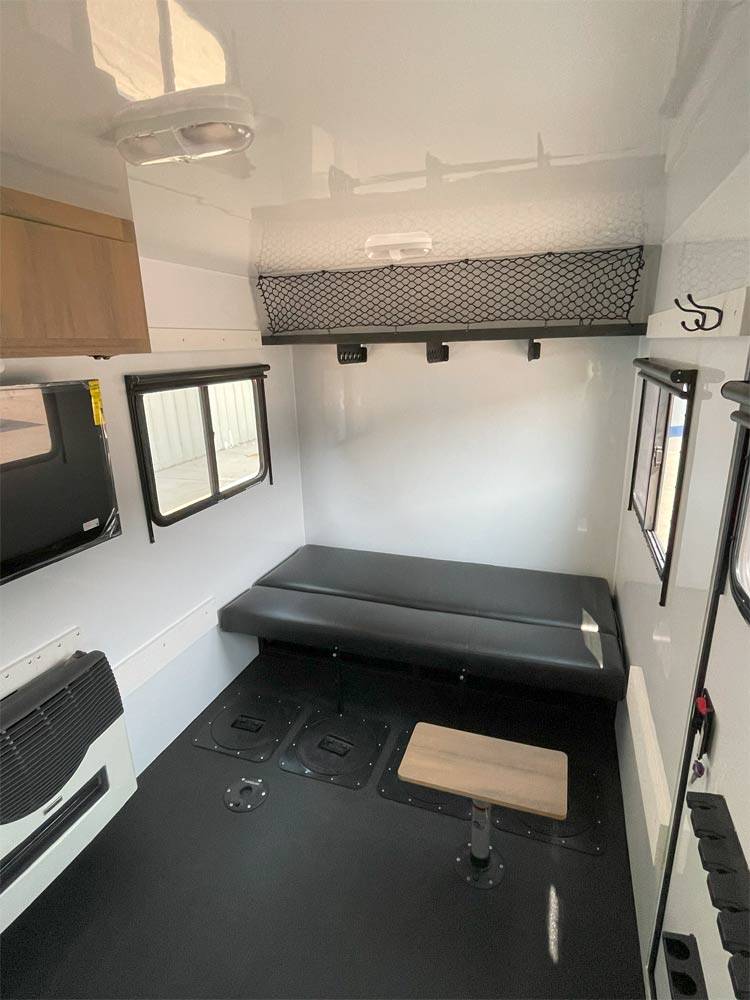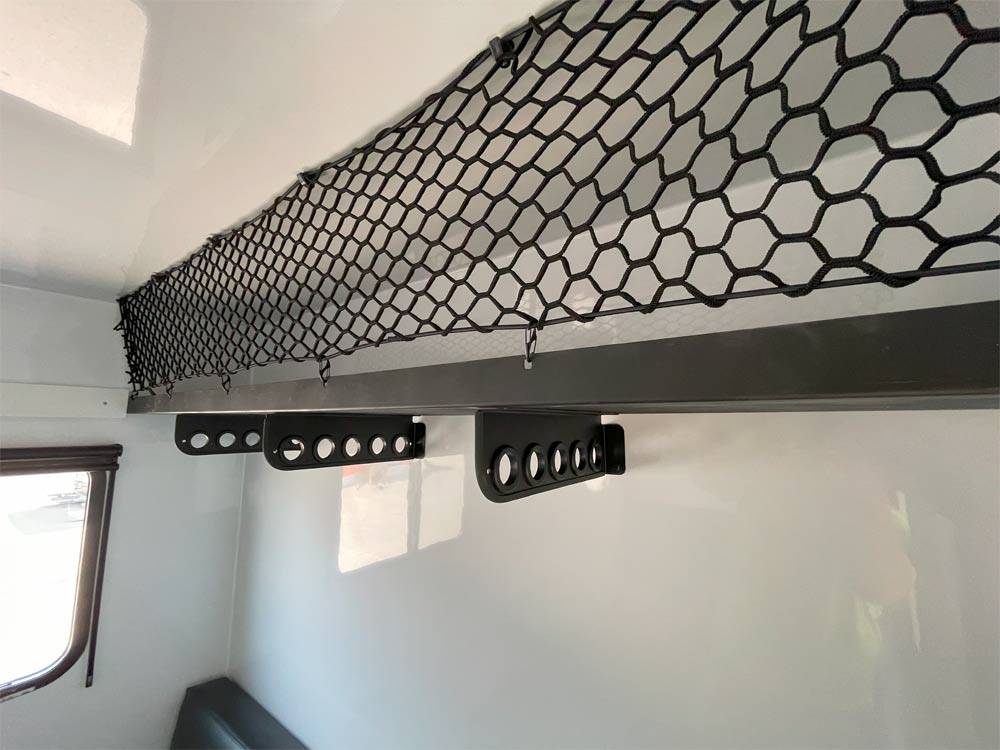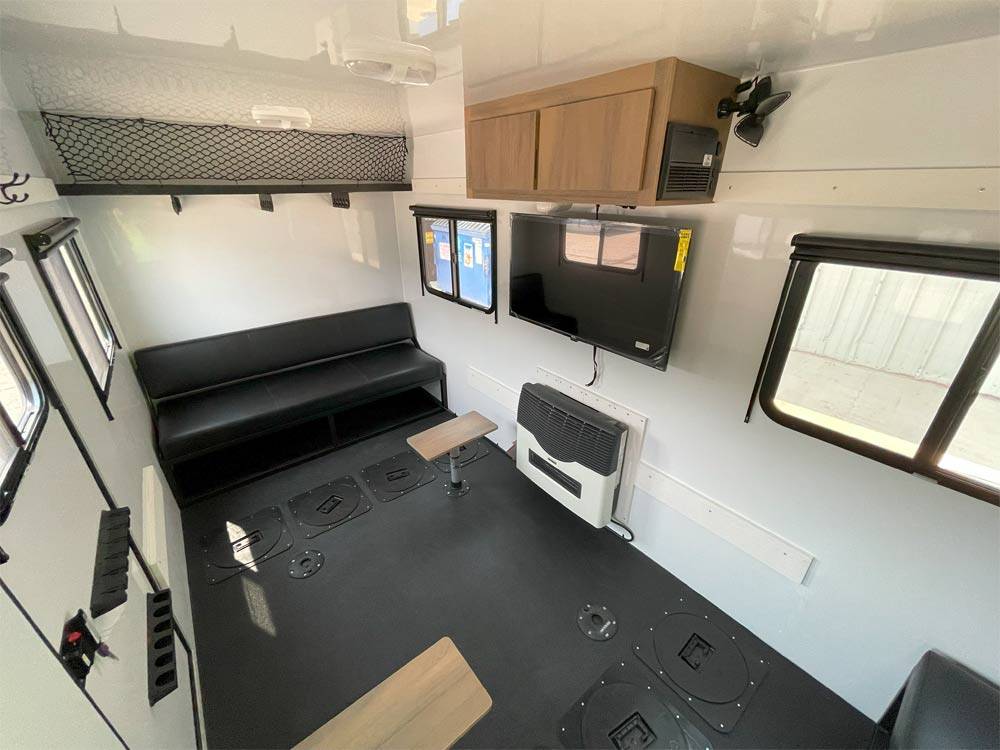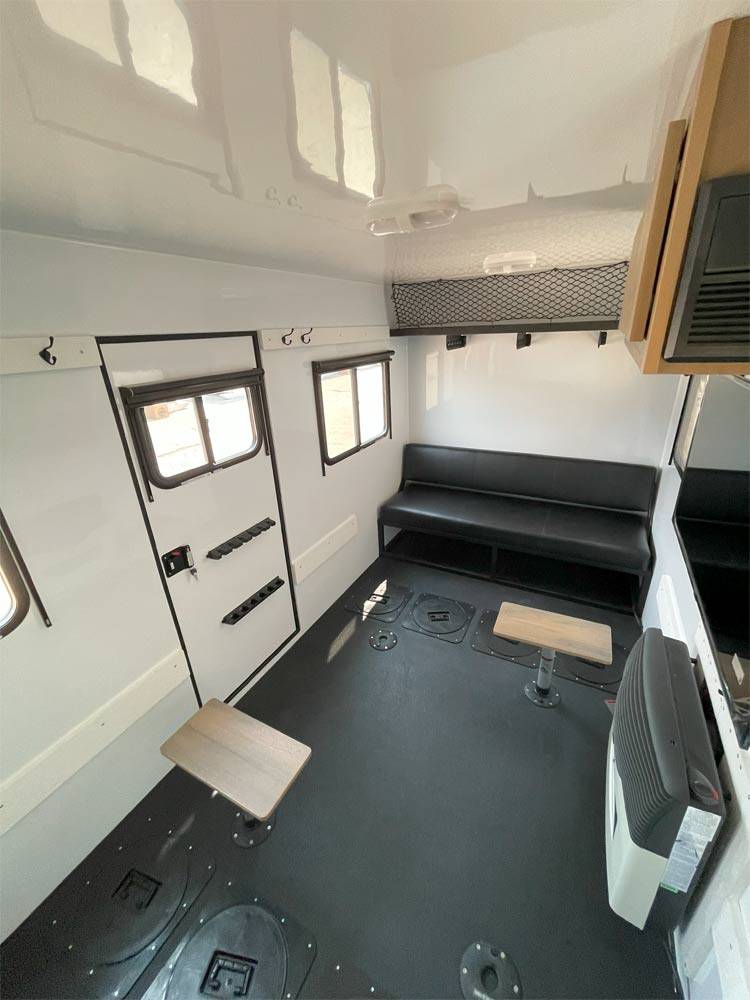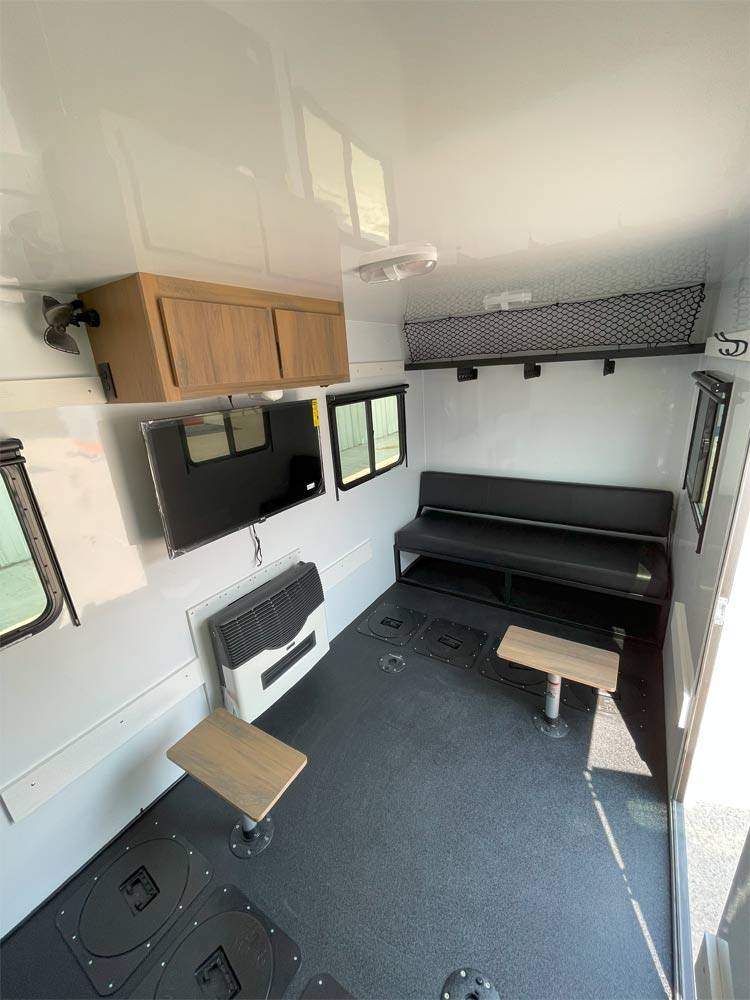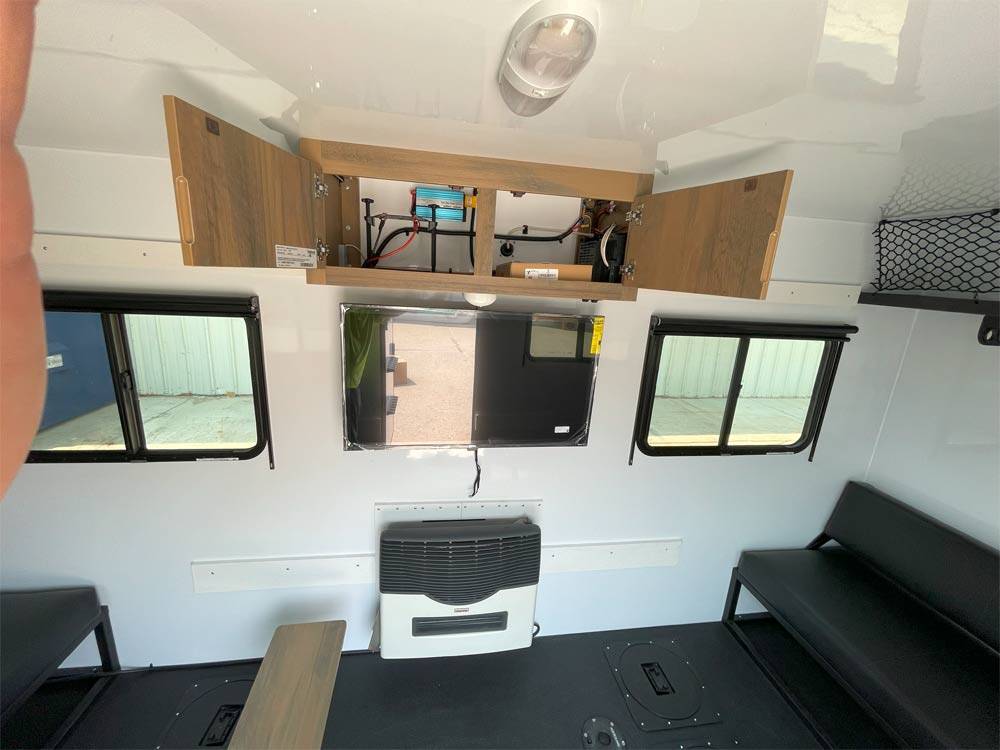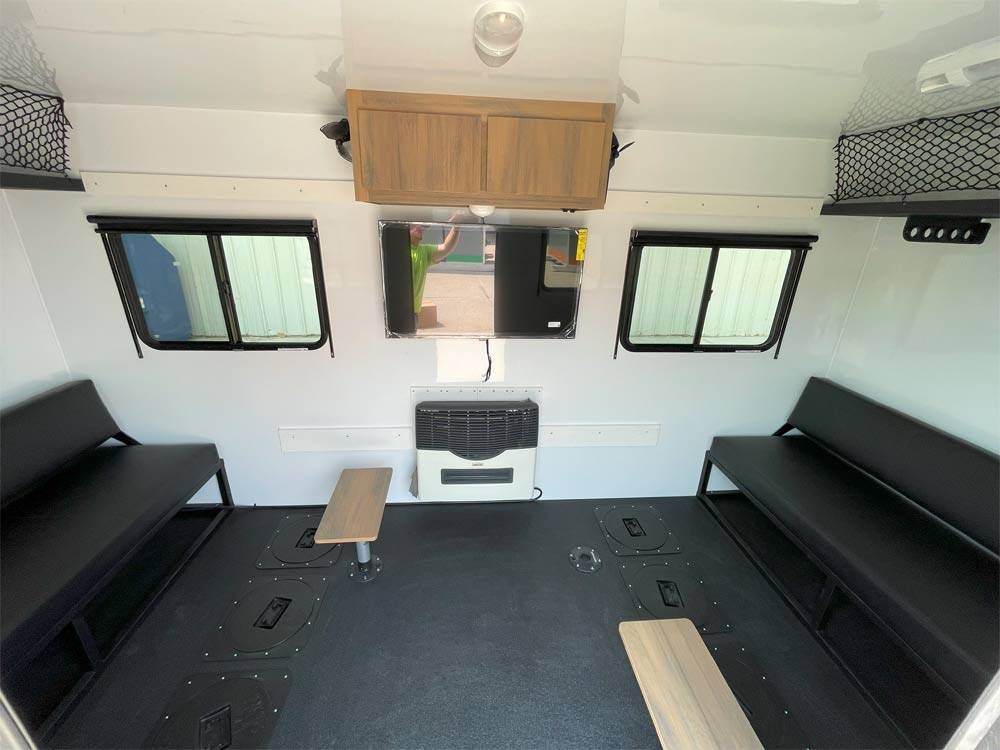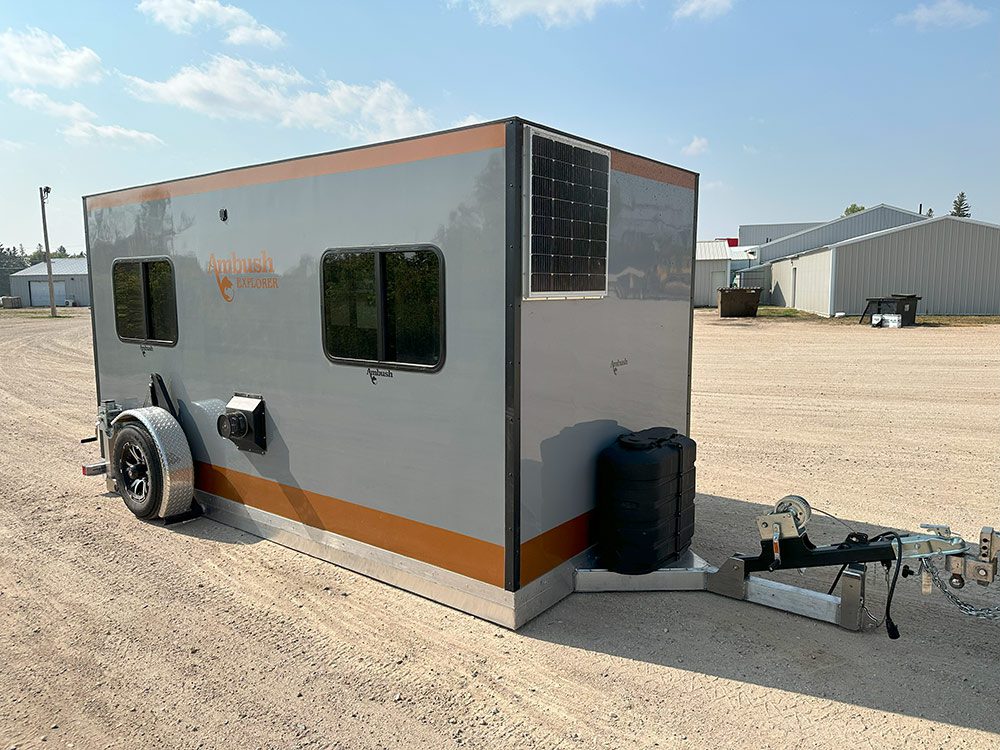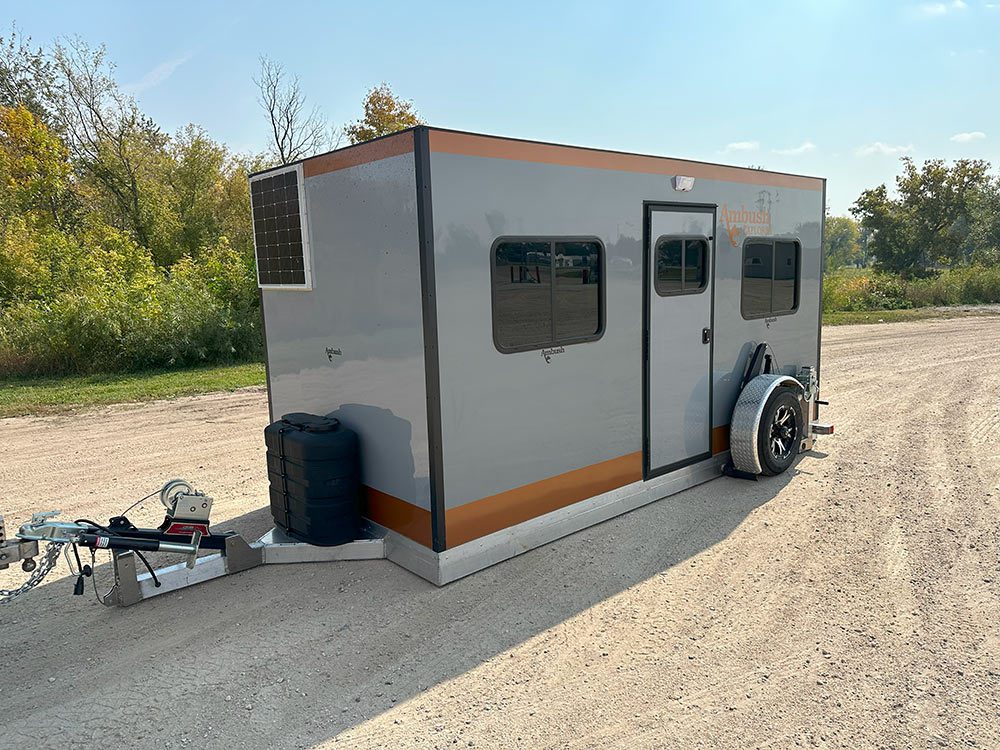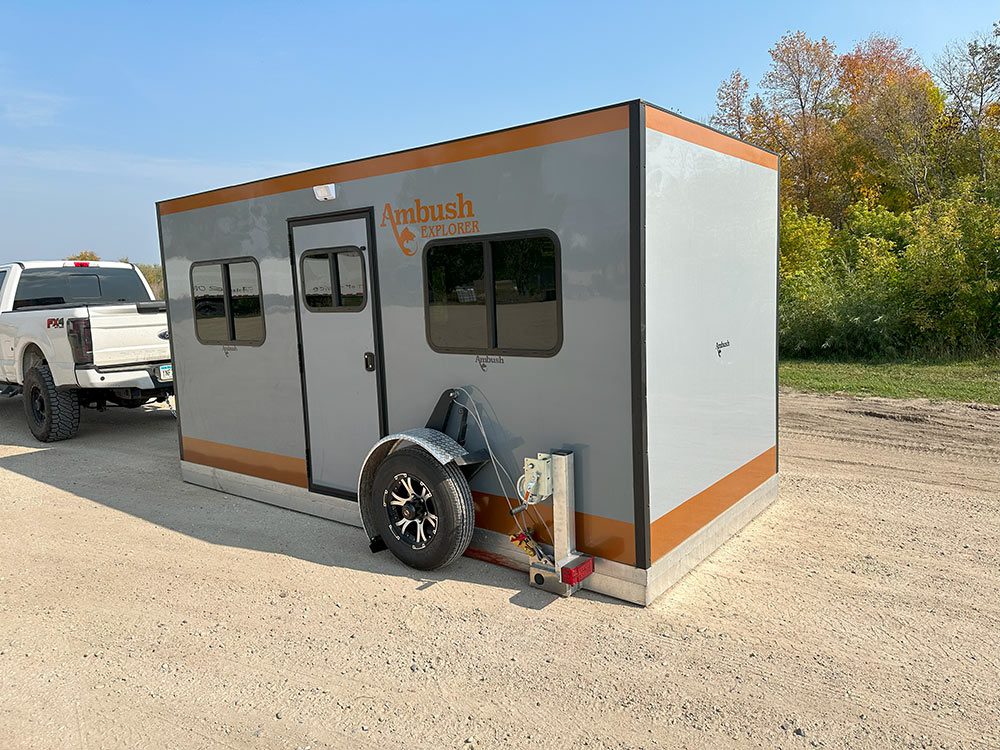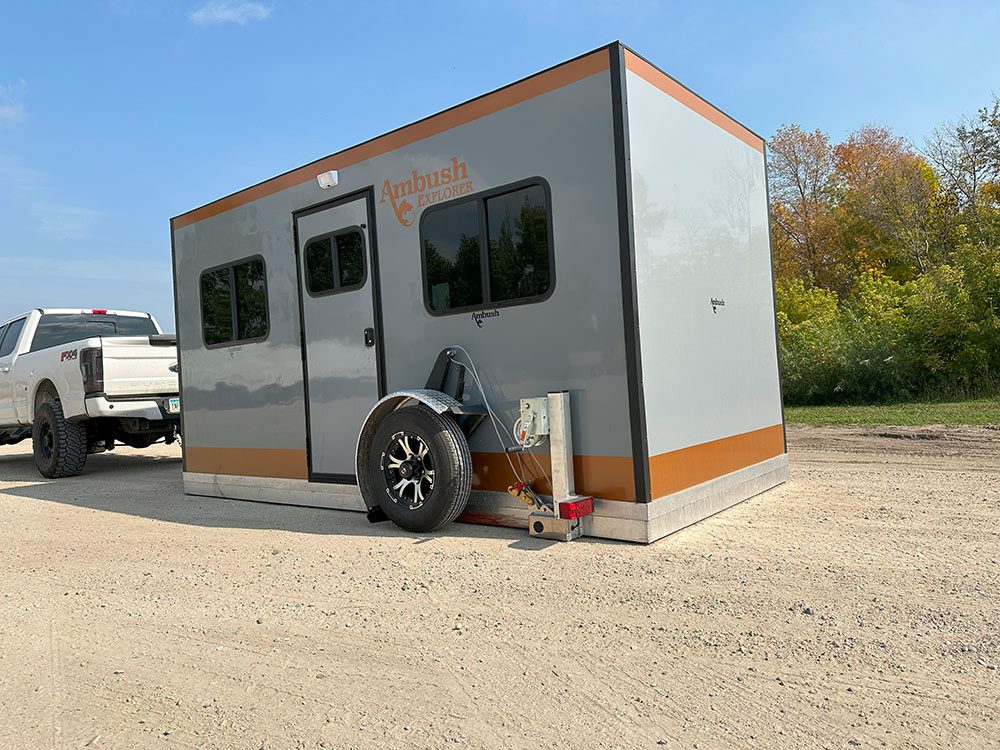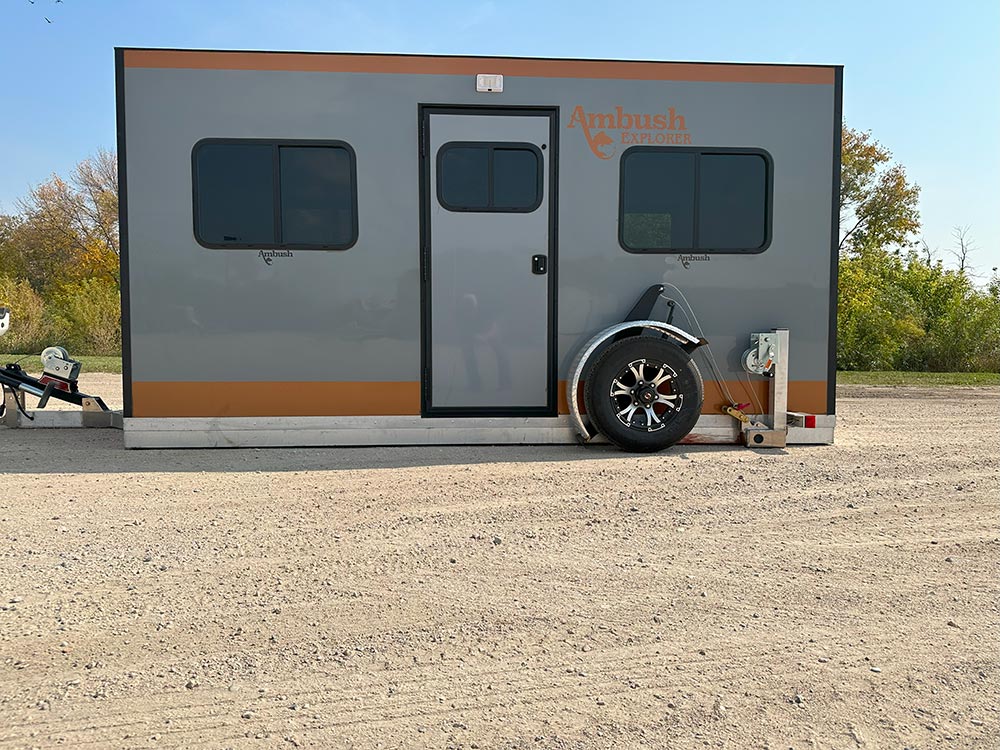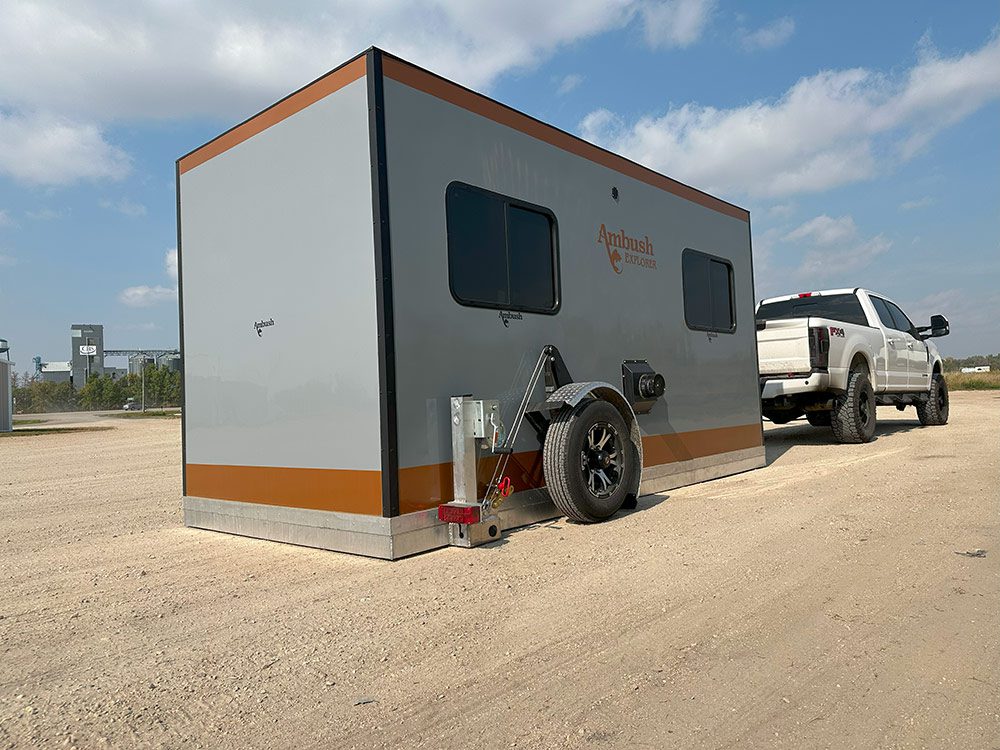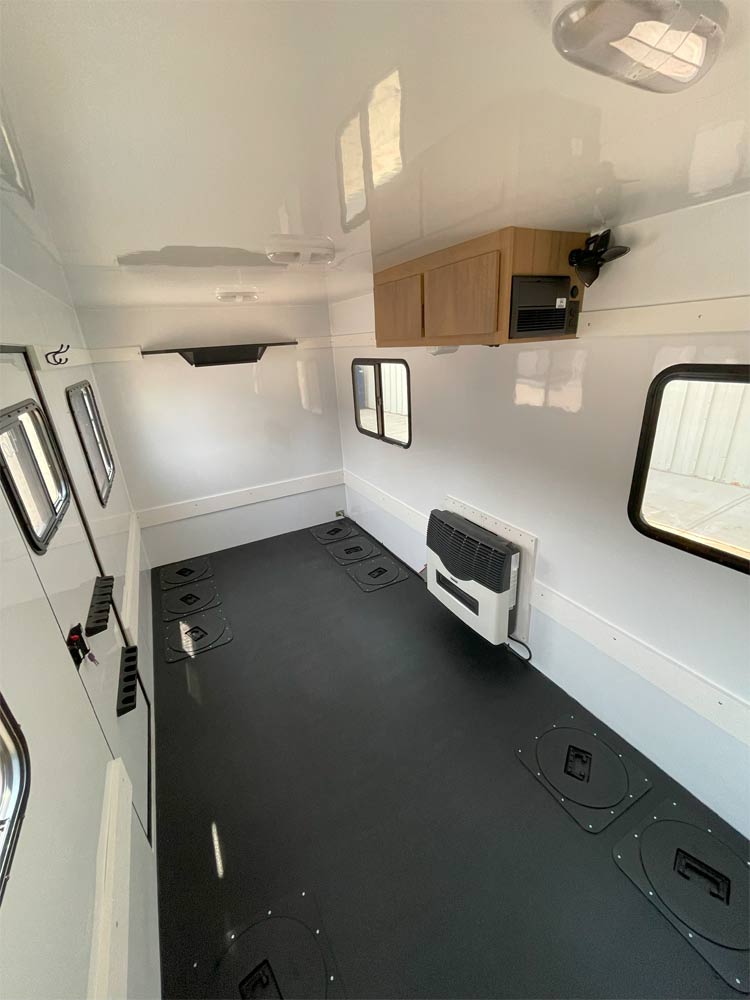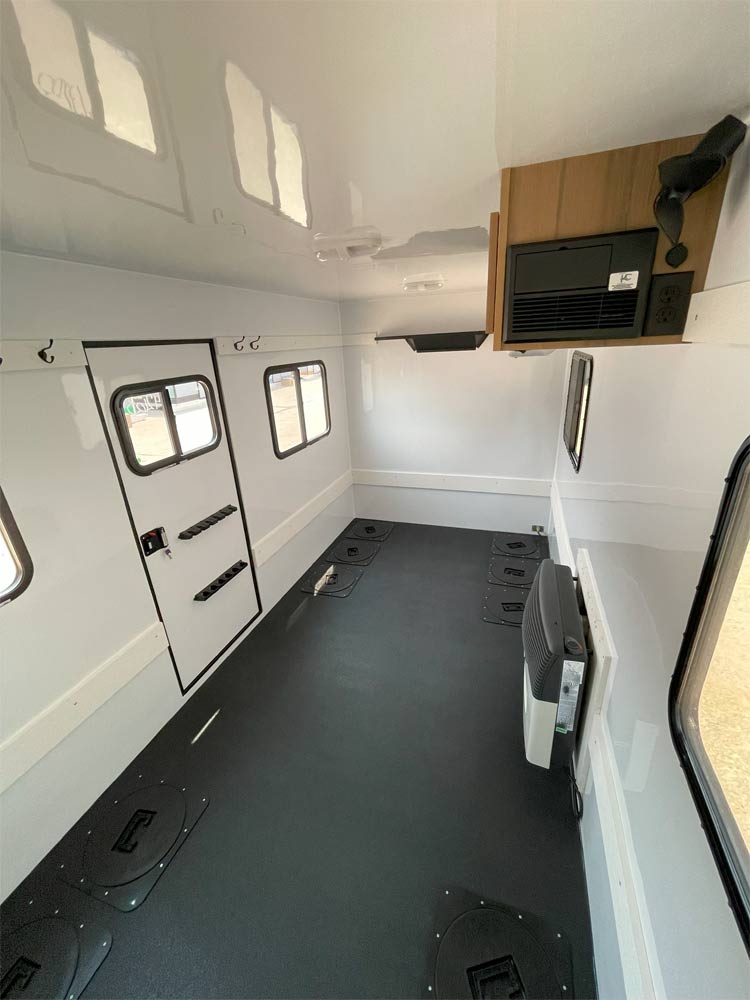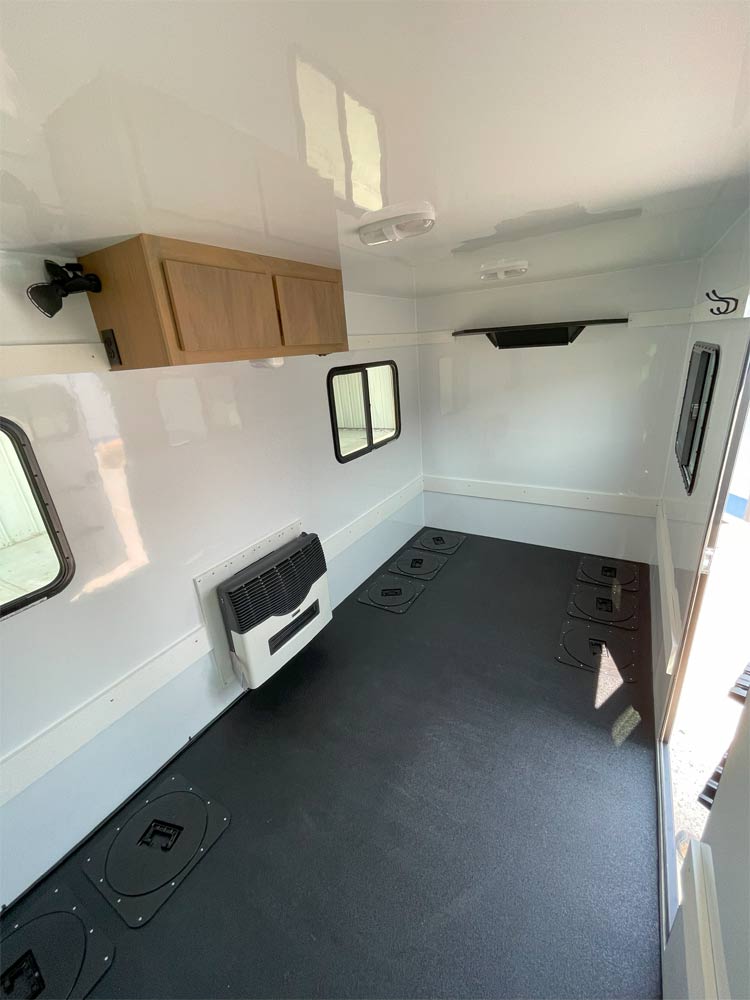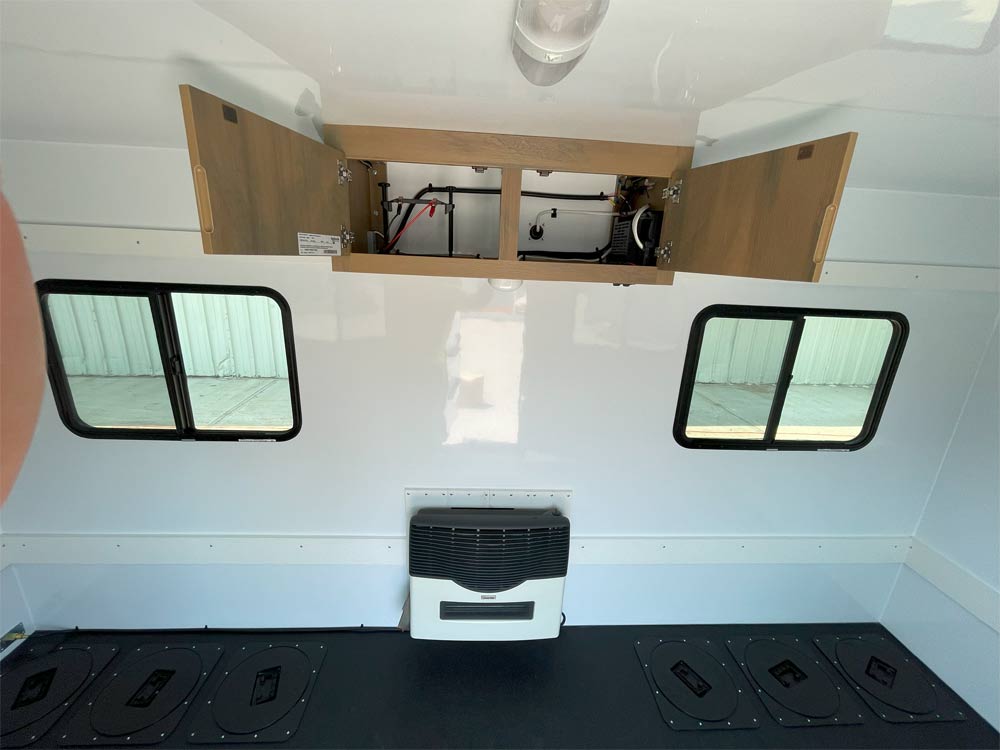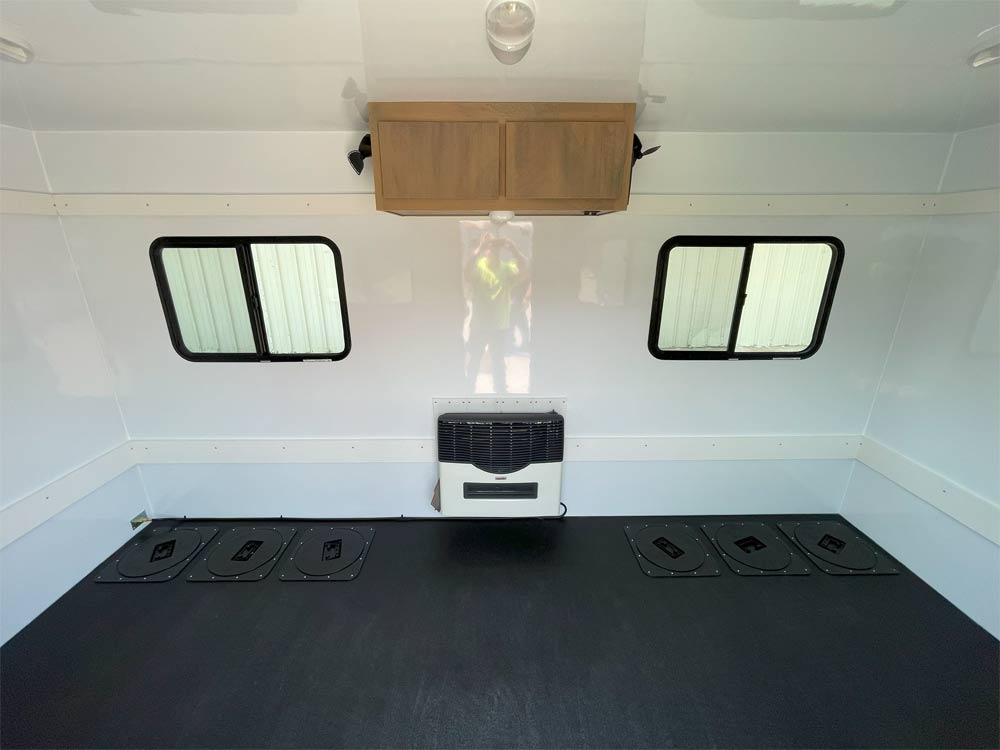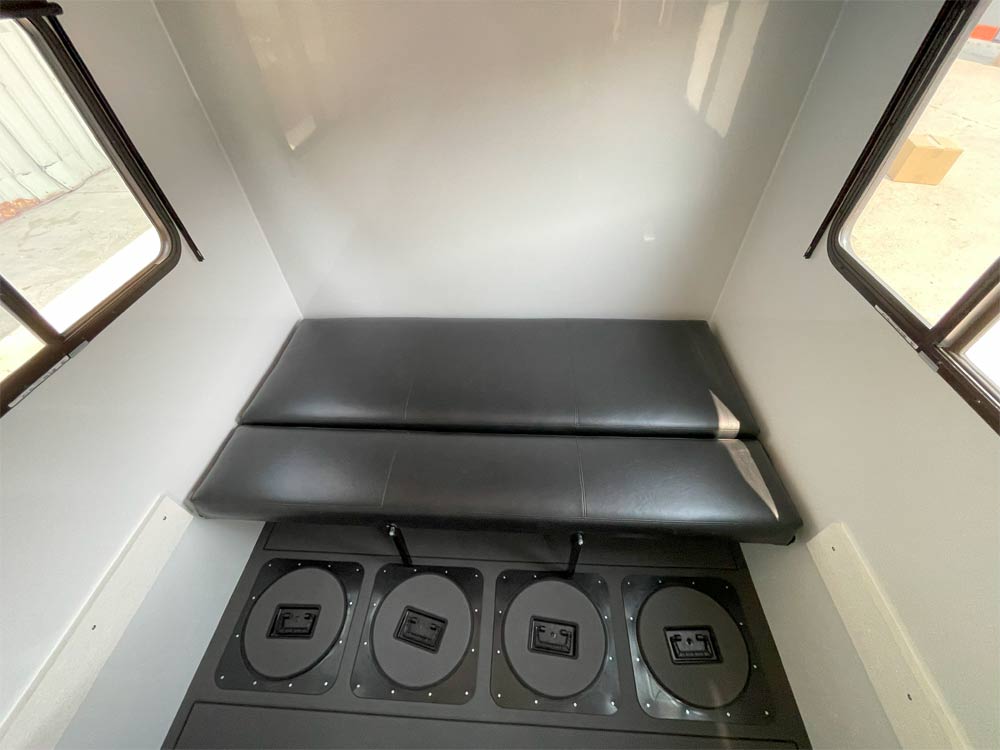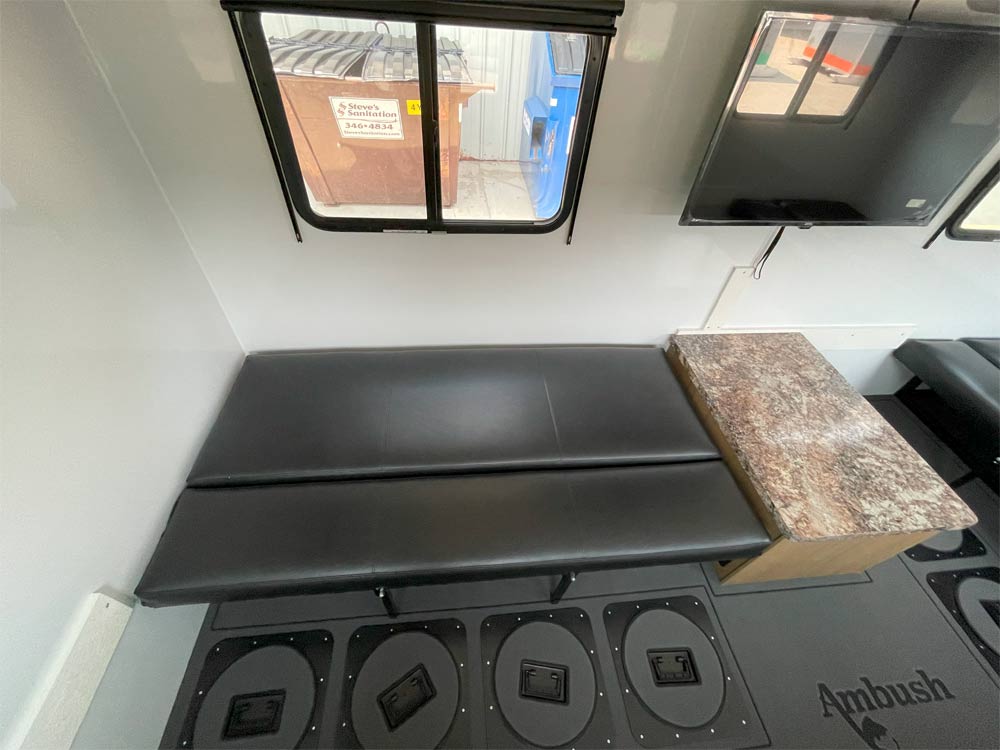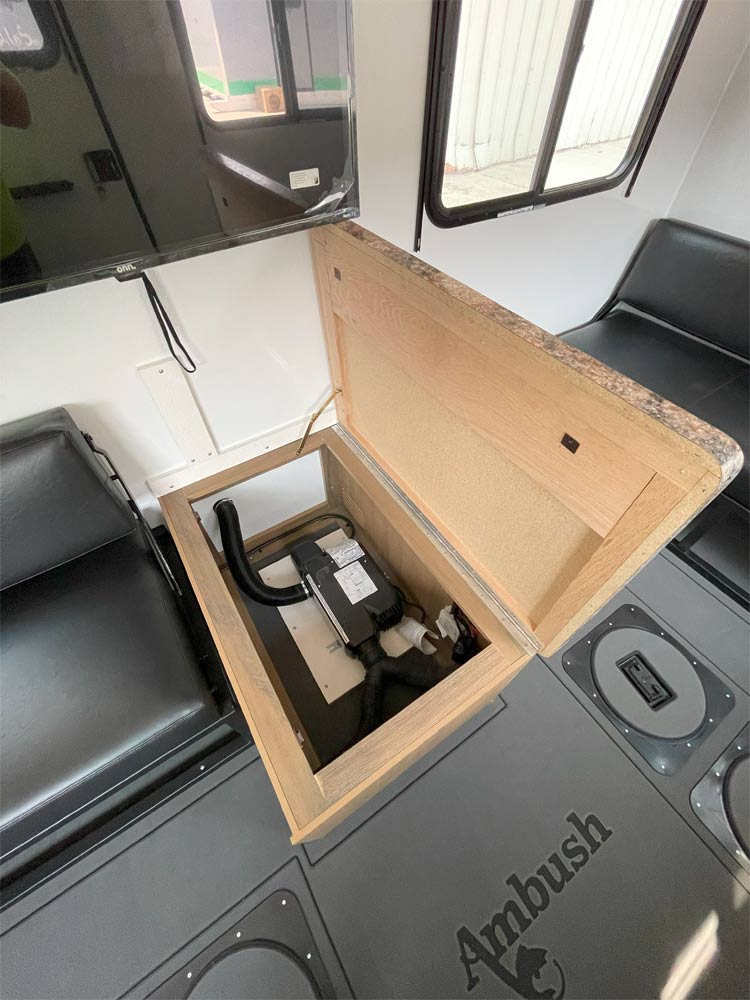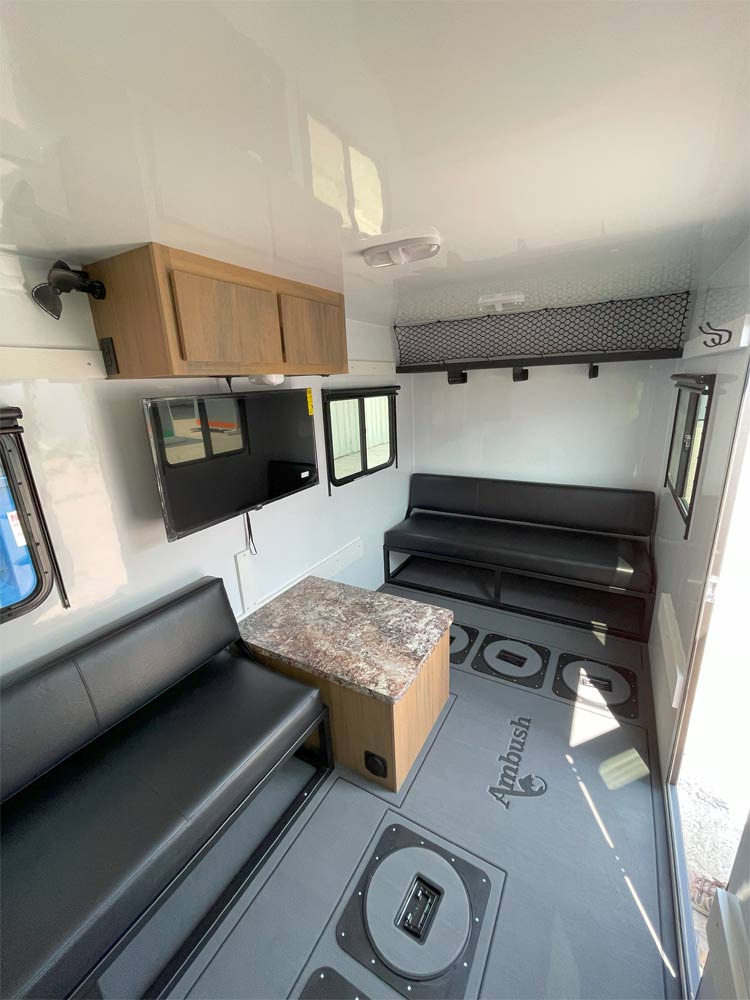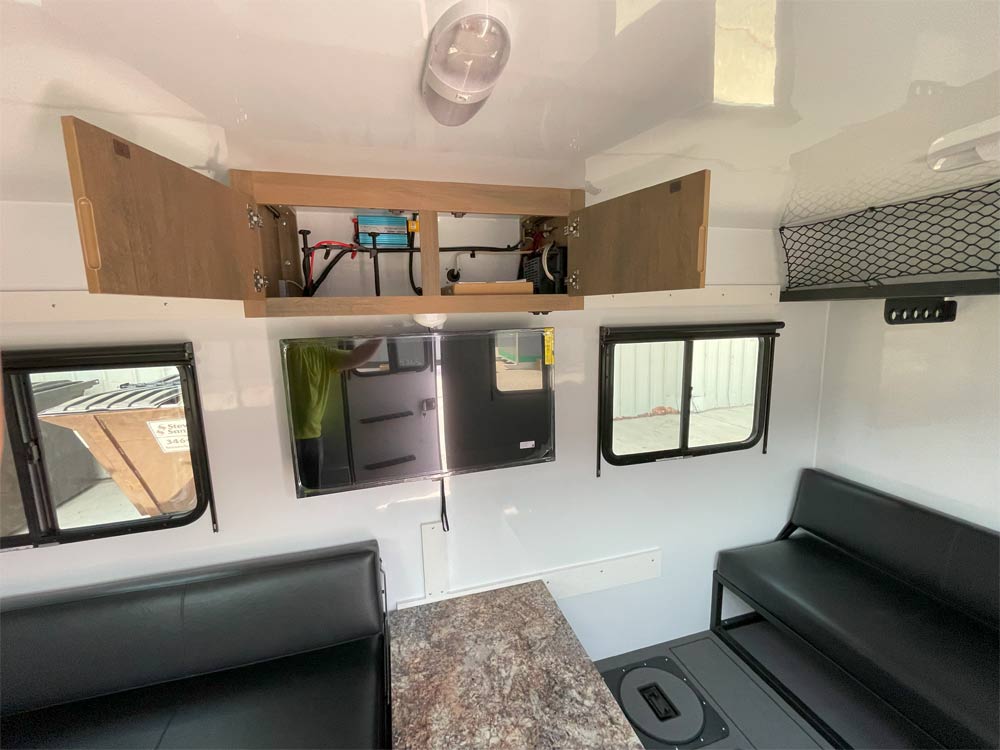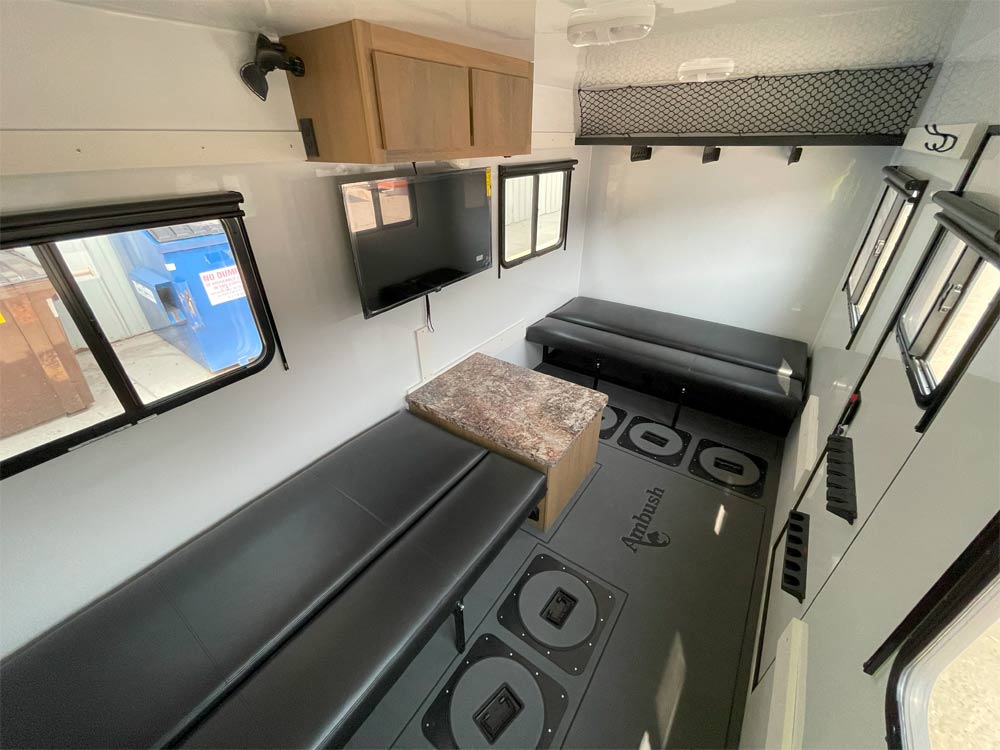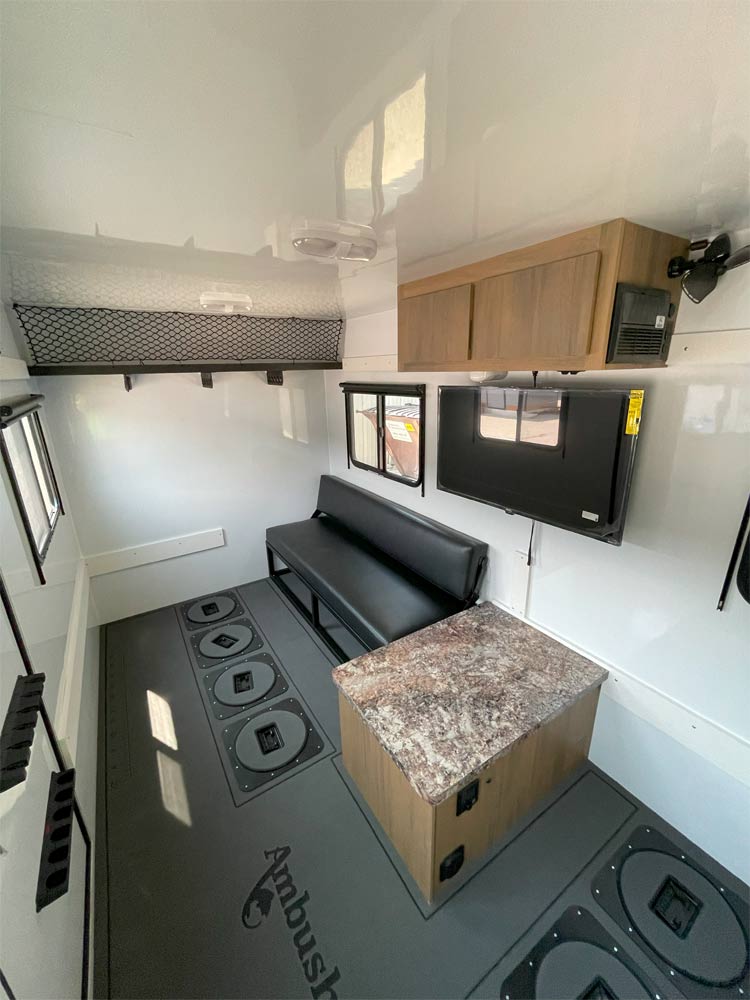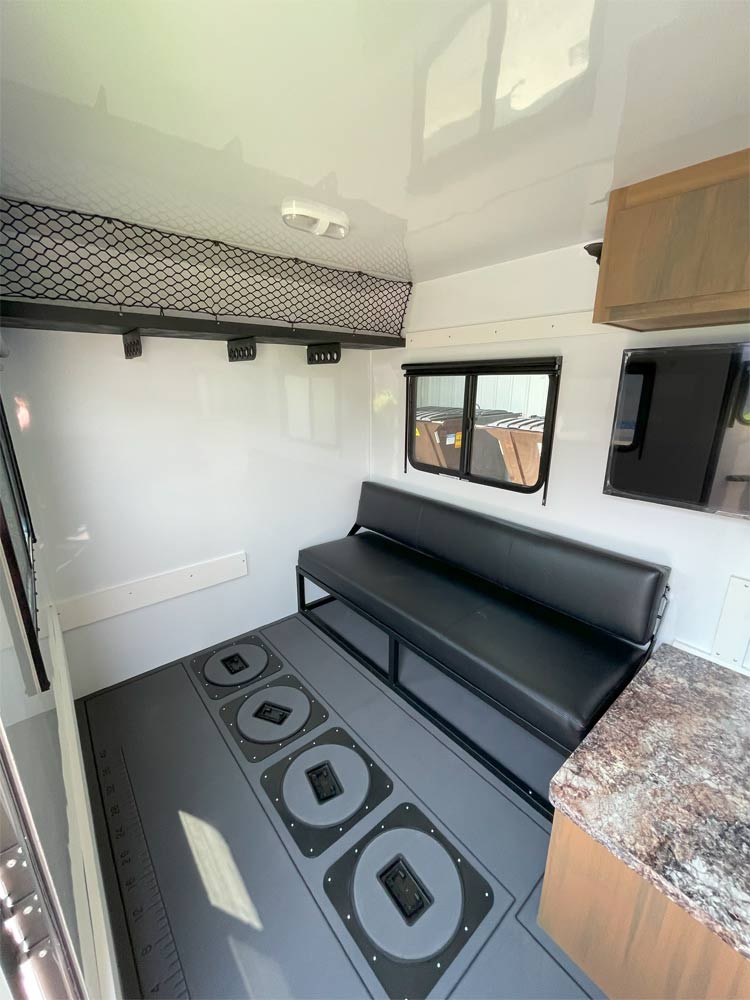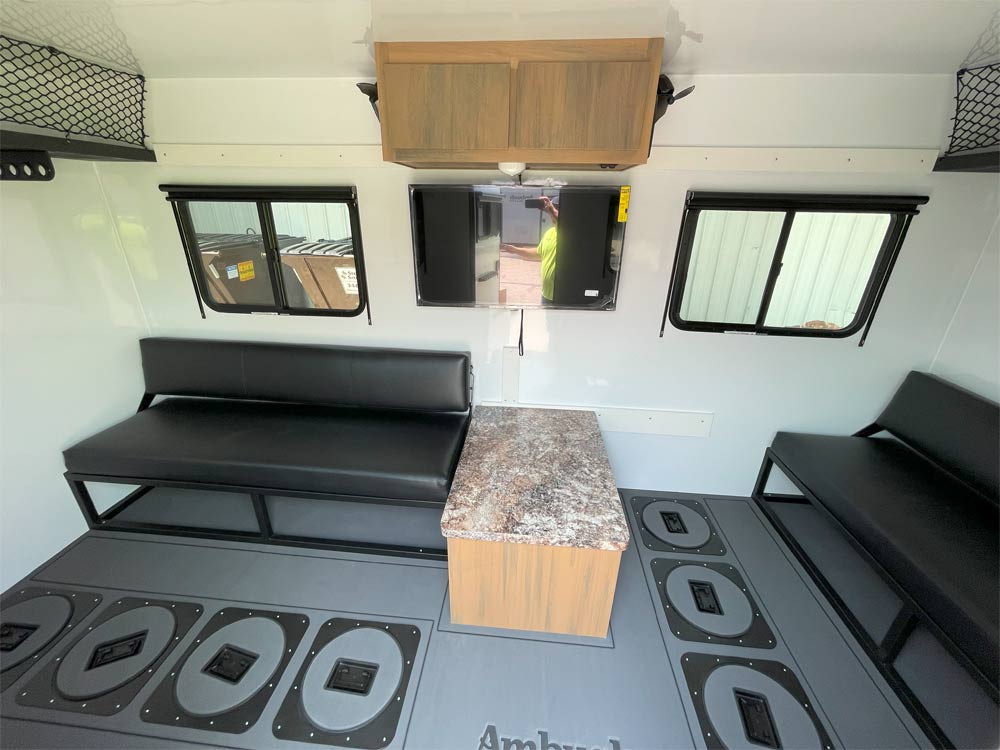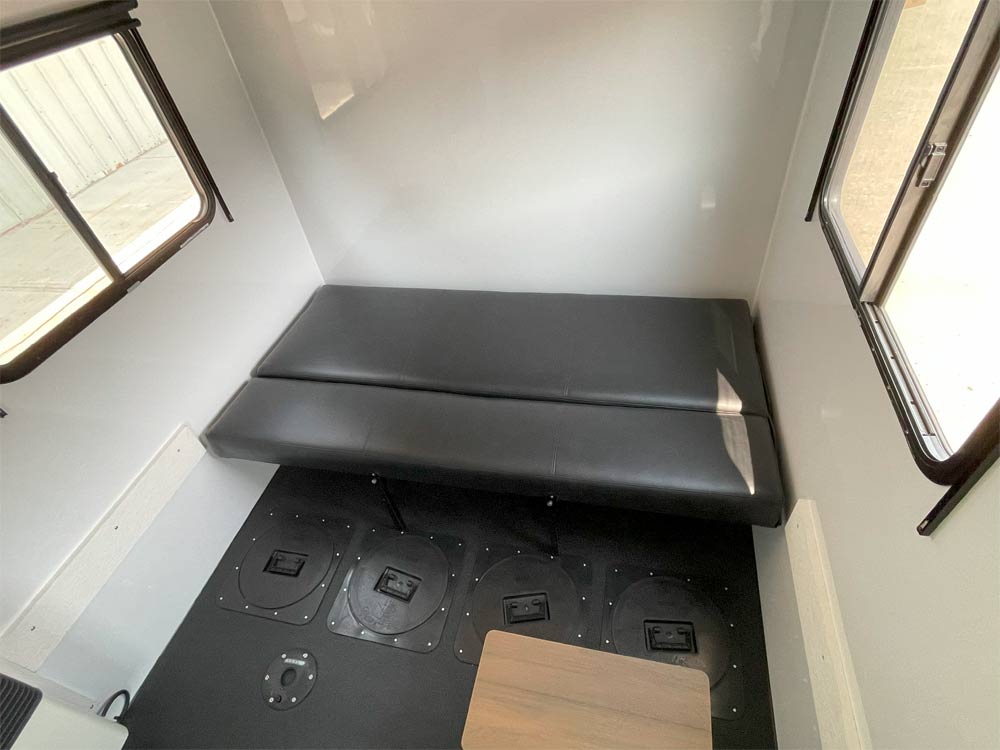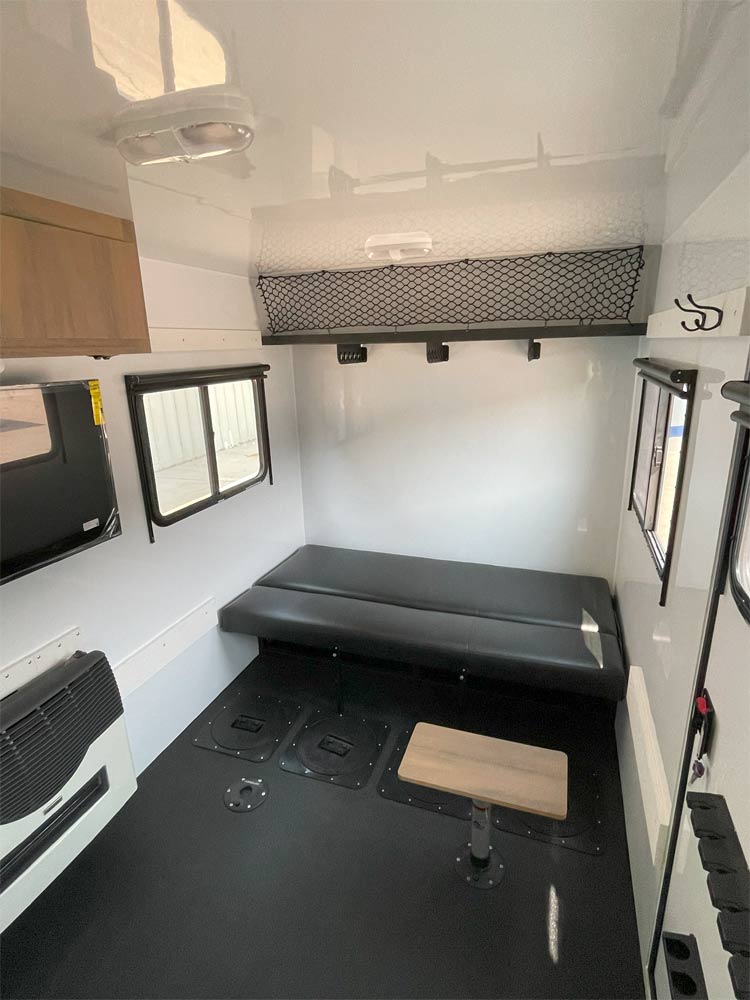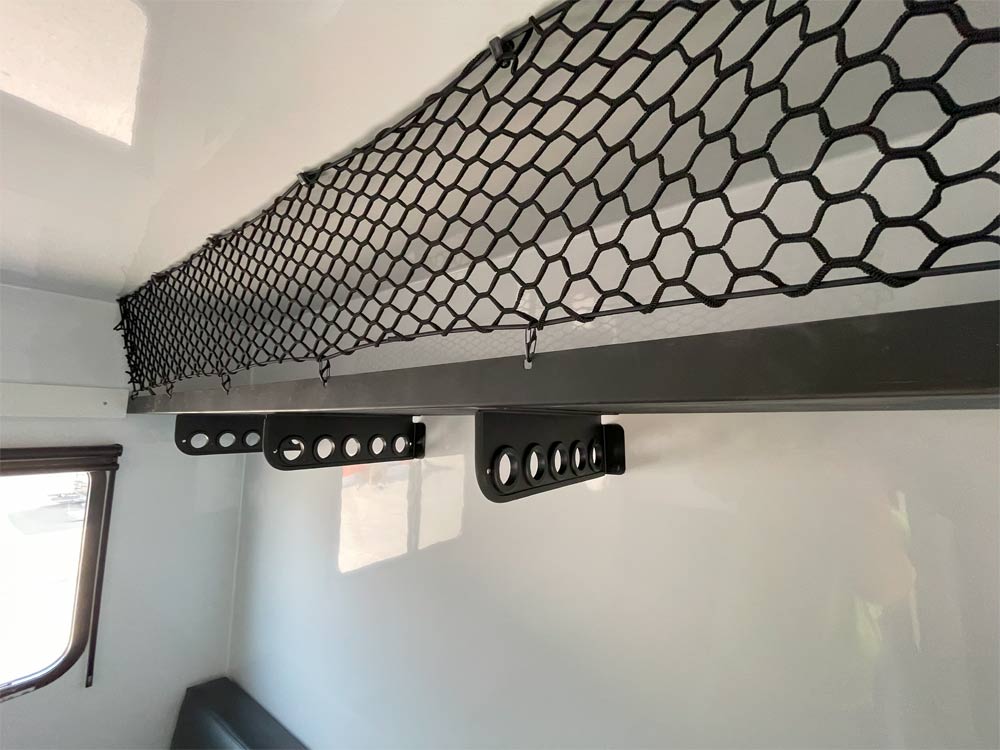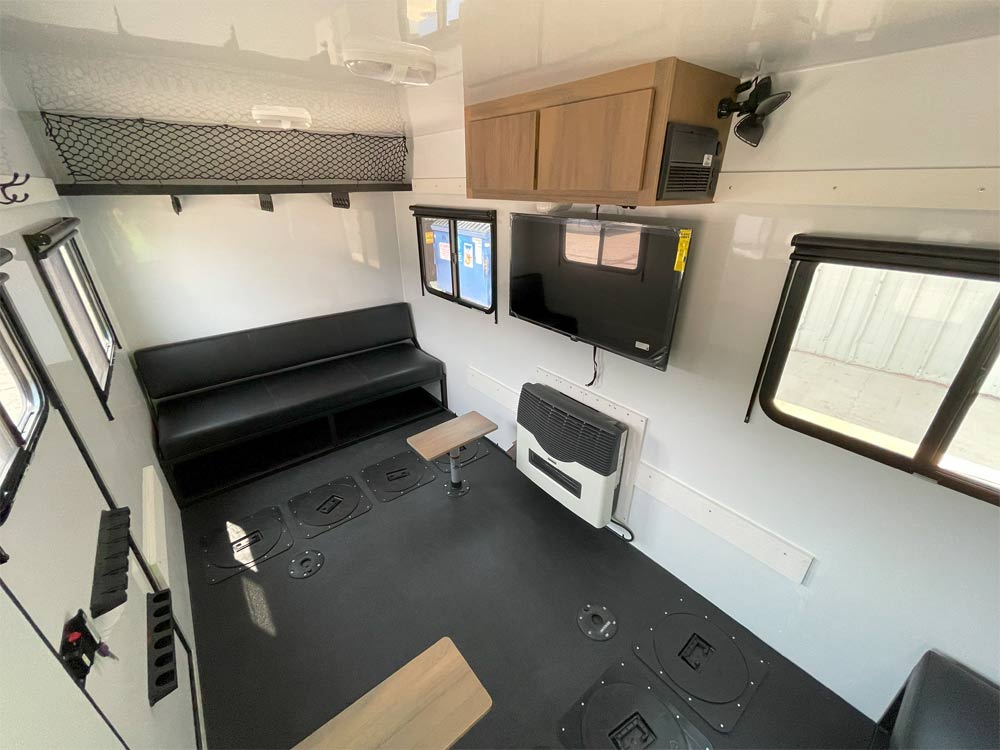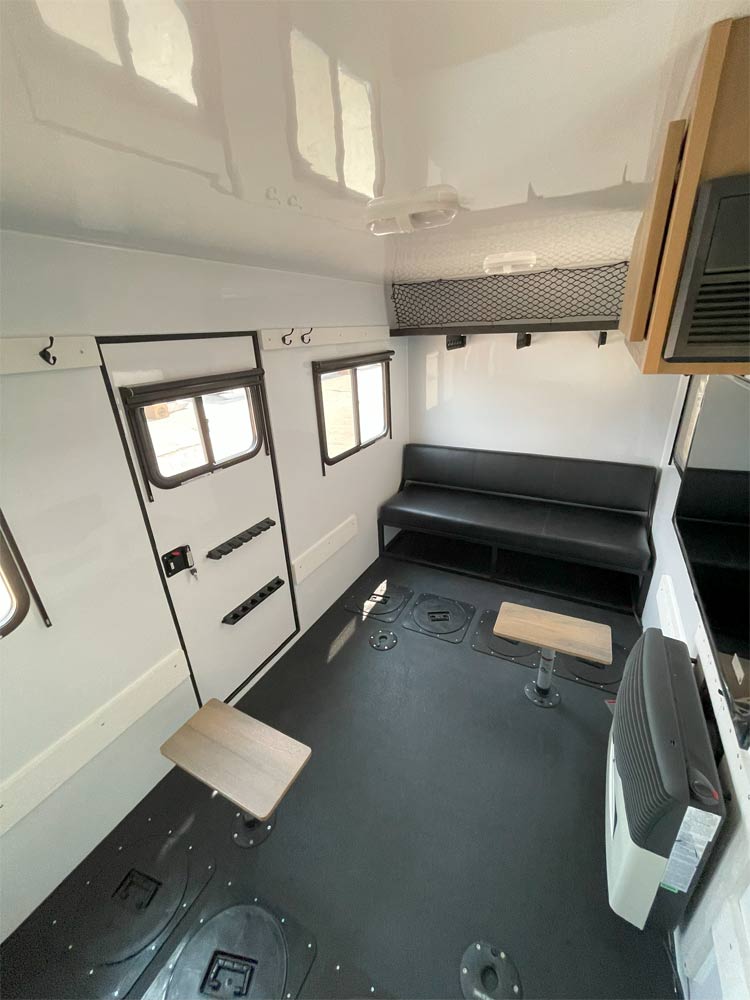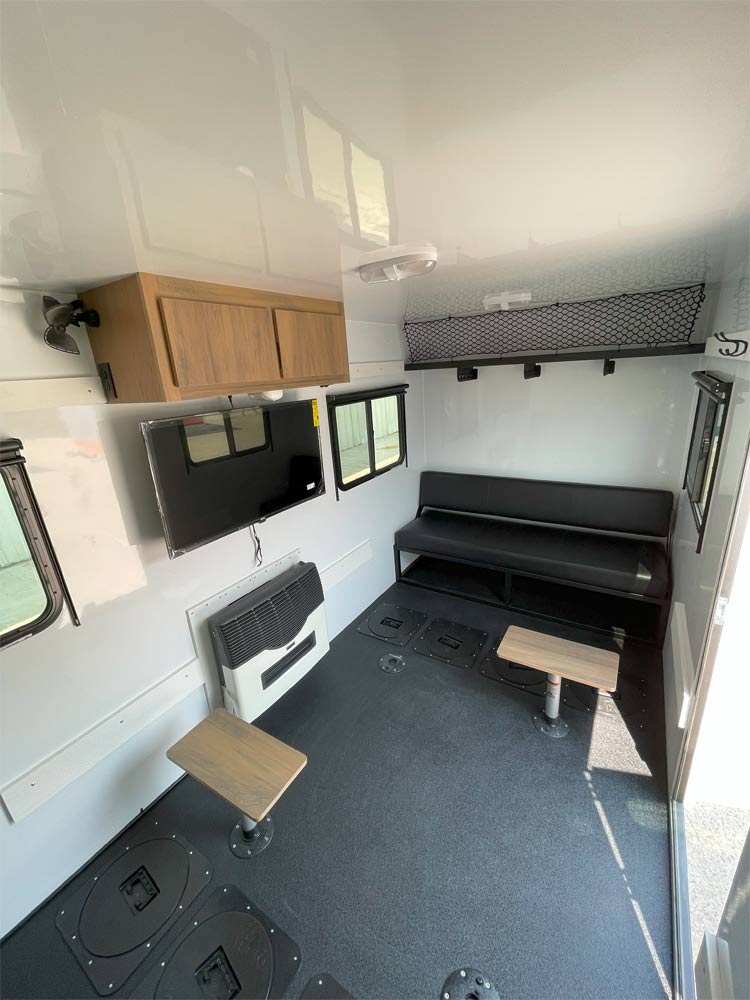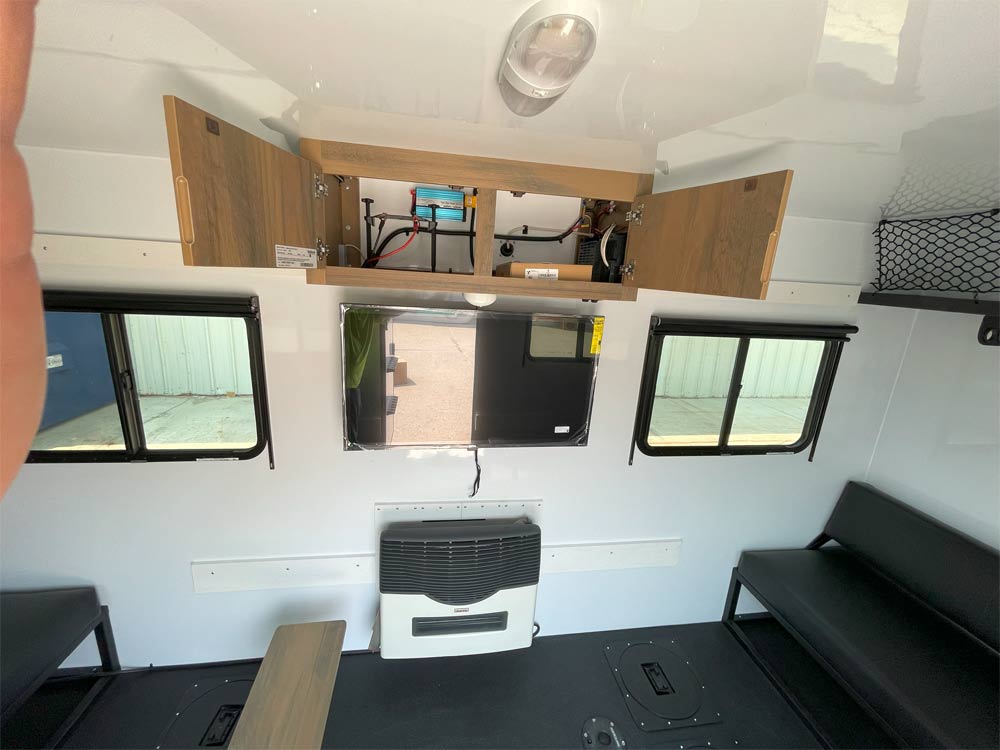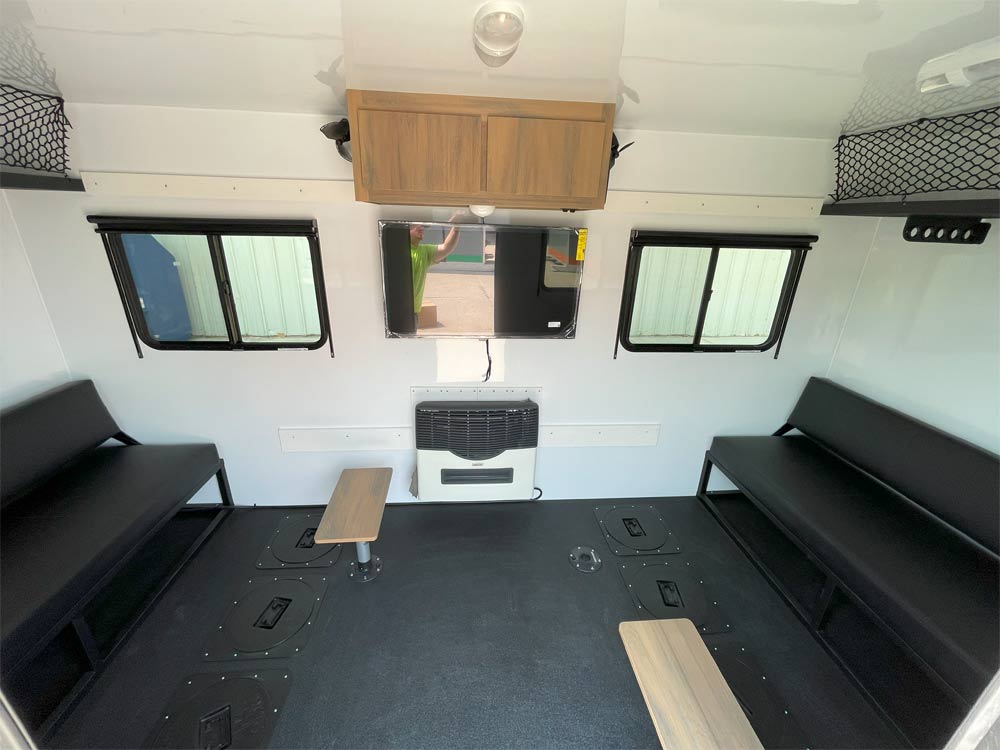 THE
Wood-Free

Ice Fishing Machine on Wheels.
Now you can take your ice fishing adventures on the road with the all new Ambush Explorer.  The Explorer is lightweight, nimble and once you are on the ice, it's easy to crank down and start fishing.
Think of it as an ice fishing RV or a cold weather ice fishing camper.  Whatever you want to call it, the Ambush Explorer is an exceptional wheel house built under our "fishing first" philosophy.  "Fishing First" is an idea that puts everything we do to a test. Do the holes make sense for every seating position?  Does the placement of the benches, shelves and pedestals make for a better fishing trip?  Is the floor non-slip?  Does the insulation hold heat on a -20 degree day?  For these and many other questions, if the answer is not 100% YES, options don't make the cut and are redesigned.  Everything has to be "Fishing First" to be included in our premium ice fishing skid houses and wheel houses.
Built to the same exacting standards as our premium skid houses, the Ambush Explorer is built without wood.  And why is this important?  It's simple, there's no wood in the floor or walls to get wet, grow mold and potentially rot.  Just like our skid houses, the Explorer is built on a one-piece, welded, aluminum frame and mounted on a proprietary chassis assembly.  We know you will love the Ambush Explorer Wheel House and can't wait to see you out on the hard water.
Upgrade your flooring in your wheel house to the unique and durable AquaTraction Flooring.
Adds a visually stunning floor to your wheel house
Slip-resistant
Stain resistant
Premium comfort
Highly Durable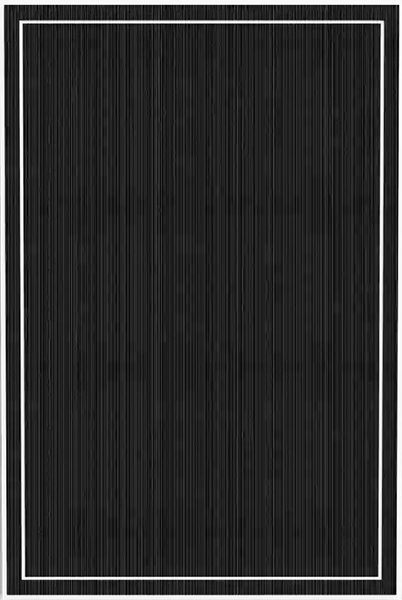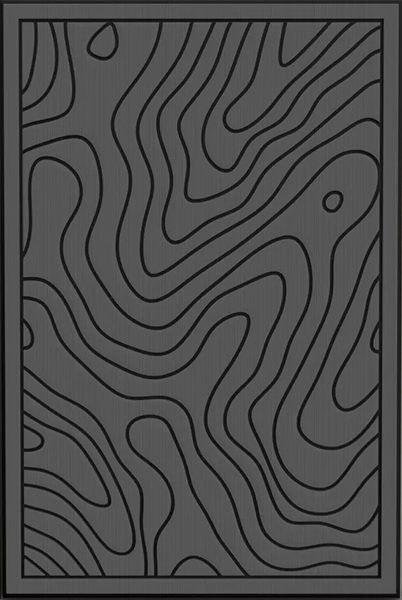 Available configuration options and pricing may vary. Contact your nearest dealer for details.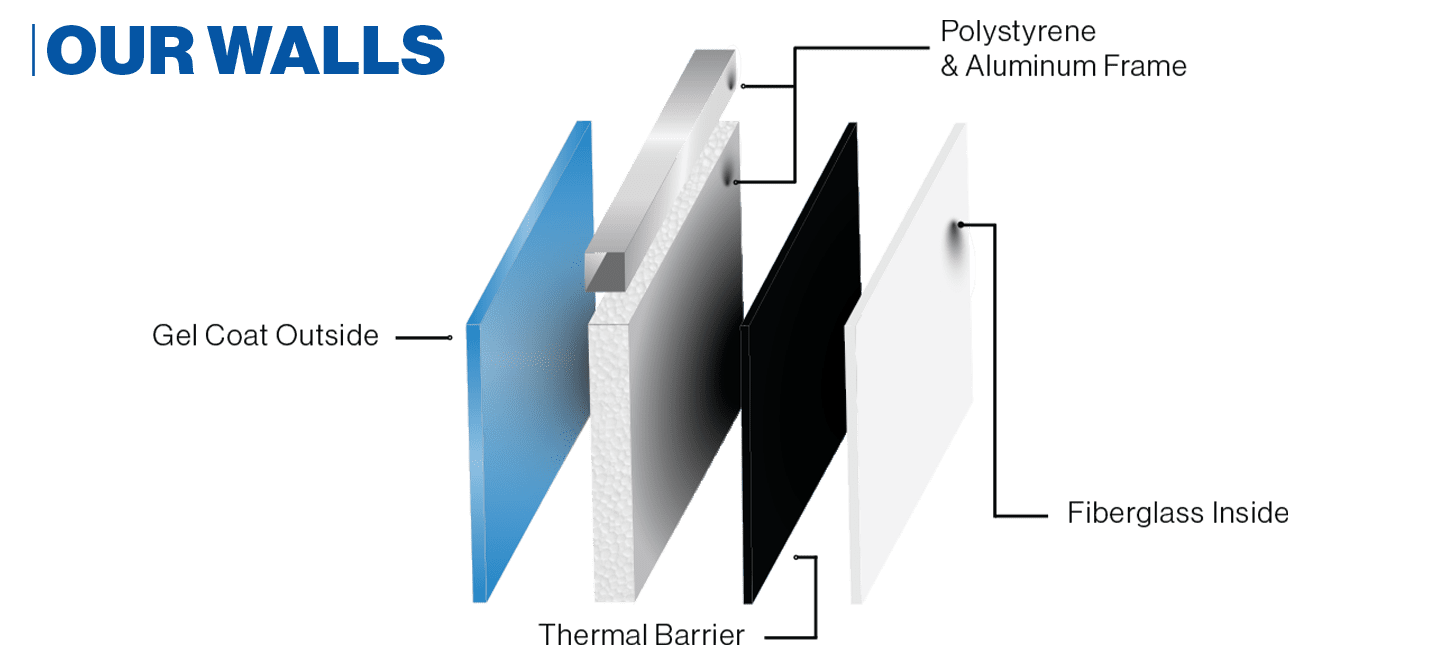 Insulation
In the insulation process for our wheel houses, we apply a fiberglass coating to the interior, integrating a thermal barrier with a polystyrene and aluminum frame. To enhance both warmth retention and easy maintenance, the exterior of the wheel house is wrapped with a gel coat.
Flooring
Our premium wheel houses boast top-notch features, such as slip-resistant composite flooring layered with 1/2″ high-density foam for insulation. They also incorporate an ultra-rigid fiberglass reinforcing panel, a Polystyrene and Aluminum frame, and are encased in corrugated plastic outer layers. The RV-style sliding windows come with screens, while the 30″ wide doors are crafted with an insulated Aluminum Frame and Automotive Grade Weather Sealing for durability and weather protection.
Why Ambush?
Ambush products are designed to forge enduring memories across generations, enabling you to maximize your time in the great outdoors. Each Ambush product is characterized by robust welded frames, laminated panels with securely fastened corners, and a suite of accessories. This ensures that the Ambush wheel house stands out for its exceptional durability, proving resilient during transportation to and from the ice or across various lakes. With Ambush, peace of mind is seamlessly delivered with every Wheel House experience.
"We've Got Your Back" 5 Year Product Warranty
Ambush Outdoor Products warrants Ambush Wheel Houses against functional defects in material or workmanship for a total period of 5 years as described below.
WHAT IS COVERED.
This warranty applies exclusively to the door, windows, side panels, roof and floor when used in the intended manner.
WHO IS COVERED.
This warranty extends only to the original purchaser of the Ambush Wheel House.
WHAT AMBUSH WILL DO.
If parts covered by this warranty incur a functional defect within the period of coverage, Ambush will provide replacement parts, or at its option, provide the material and instruction for restoration.
HOW TO OBTAIN COVERAGE.
Notify Ambush Outdoor Products at 866-259-265 for warranty resolution. Ambush may require inspection or other verification that goods are defective.
WHAT IS NOT COVERED.
This warranty does not cover damage or failure contributed to or caused by:  Mishandling, misuse, use of incompatible solvents or other damaging chemicals, vandalism or accident. In no event shall Ambush be liable for incidental or consequential damages.