Exploring the World of Ice Fishing Shelters: Why the Fish House
Whether you refer to it as an ice shanty, fish house, wheel house, or skid house, the essence remains the same. It's a sanctuary on the ice, providing refuge from the elements and serving as the epicenter of your pursuit of various fish species.
Versatility in Form: From Simplicity to Sophistication
Fish Houses come in diverse forms. From a basic sled with a tent top, to a fully equipped RV requiring truck-towing, the spectrum is wide. Often, the sweet spot lies in between, exemplified by ice fishing shelters like the Ambush line of skid houses and wheel houses.
Crafting Excellence: Meticulous Design at Ambush
Delving into the intricacies of fish house design, every detail is meticulously crafted at Ambush. From hole placement to overall functionality, hours of thoughtful consideration go into every fish house. The Ambush philosophy revolves around fishing first; if something isn't 100% fishable, it undergoes redesign. Owning an Ambush skid house or wheel house means joining an exclusive community passionate about life on the hard water.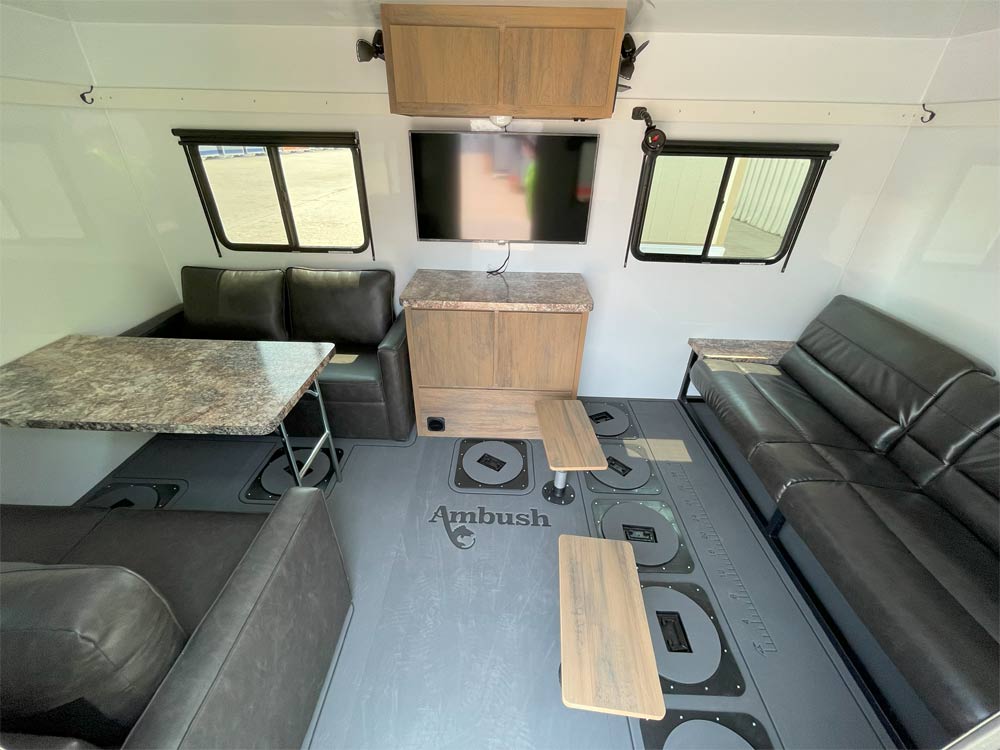 Beyond Catching Fish: The Essence of Ice Fishing
While catching fish is undeniably thrilling, ice fishing transcends the mere act of angling. It's about unwinding, escaping daily routine, connecting with loved ones, and creating lasting memories. Ice fishing becomes an immersive experience in an Ambush fish house, purpose-built for fishing. The tranquility of the ice, coupled with a hot cup of coffee, some beef jerky, the hum of the fish finder, and the anticipation of a zipping drag, defines the epitome of living.
Mornings of Anticipation: The Ice Fishing Ritual
As the cold air hits your lungs in the morning, the promise of a great day on the ice unfolds. Stepping into a fish house for the first time, you sense there's more to life than work; you're hooked on a lifestyle that understands and cherishes the simplicity, peace, and serenity found within the walls of an ice fishing haven.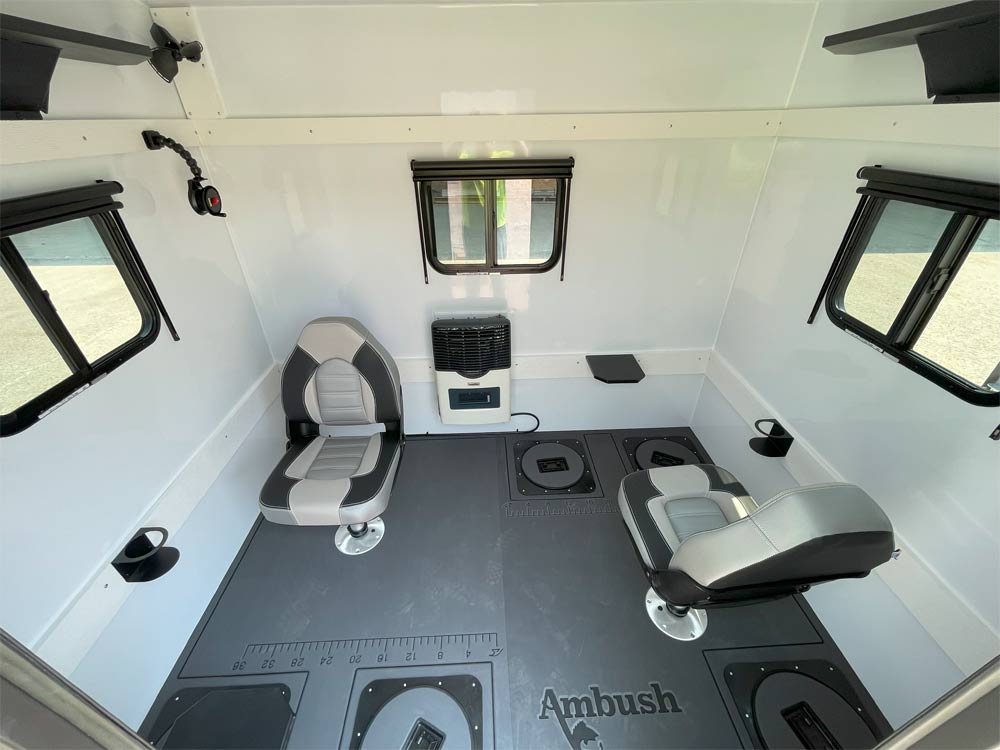 Elevating Ice Fishing with Ambush: Unmatched Features for Fish Houses
Ambush Fish Houses stand out in the realm of ice fishing shelters with a commitment to unparalleled quality and innovation. From a no-wood construction and an all aluminum frame, featuring a finished fiberglass interior and a gel coat fiberglass exterior, to the slip-resistant floor in multiple layouts, Ambush sets a new standard for premium ice houses. The use of seamless Durabond Panels® not only ensures insulation but guarantees a leak-proof design, emphasizing durability. Choosing Ambush means embracing a legacy of excellence, where each detail is meticulously crafted to provide an enduring, top-tier ice fishing experience for your ice fishing adventures.