Ice Fishing Houses
If you are looking to take up ice fishing, Ambush ice fishing skid houses are the answer to everything you need! Sure, taking in the great outdoors while posting up on a sheet of ice with your buddies sounds perfect, but we can take it to the next level. Investing in ice fishing houses is a one-of-a-kind way to enhance your fishing trips. Lightweight enough to be wheeled onto the ice, Ambush ice fishing houses can provide your next fishing trip with numerous benefits.
With two unique ice fishing houses to choose from, Ambush provides reliability time and time again!
The Slayer
A one-of-a-kind skid, the Slayer Skid House is sure to impress. Featuring multiple floor plans and fishing hole layouts, there is plenty of room for the perfect catch. With an aluminum frame that is built without seams or wood, there is no chance for water and other elements to seep in. Our structure is incredibly sturdy as it is built with a single piece welded design. Because a clean look is just as important when it comes to our ice fishing houses, we didn't forget about it! The Slayer boasts a gel coat exterior finish with fiberglass on both the exterior and interior. A slip-resistant floor and a dura bond panel system for extra strength makes for a winning design. Allowing you to get after it earlier in the season, the 6½' x 10' layout is quicker and easier to move than ever.
---
The Stryker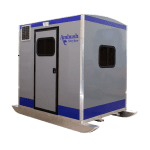 Are you in need of a skid house that you can easily move to new locations and boast an effortless set up? The Stryker Skid House is the one for you! With a strong framework and skis, you can pull this ice house from either direction, maximizing convenience and versatility. Taking you places in deeper snow that a wheelhouse couldn't even dream of, The Stryker is built tough for all circumstances. Multiple hole configurations for ice fishing and four windows make this 5.5' X 7' layout unique and full of character. Built without seams or wood, the fiberglass exterior and interior boast durability with its gel coat finish and tough welding. Coming in at a weight of only 570 pounds, the Stryker is a one-of-a-kind ice house that can get you out on the ice earlier in the season.
So, why should you invest in ice houses? Ambush is here to tell you exactly why – you don't want to miss out on reaping the benefits that a skis house will provide you!
Ice Fishing Houses – the perfect shelter!
Even on the coldest of winter days, ice fishing offers breathtaking scenery that you don't want to miss. What if a storm suddenly rolls in undetected? If a blizzard decides to move in or the temperature drops too low, ice houses provide you with shelter. While waiting for the weather to finally break, you will be protecting yourself from the elements. No more allowing mother nature to cut your ice fishing trip short!
A Periodic Break with Ice Fishing Houses
Although having quick and convenient shelter is nice, ice houses are even beneficial in perfect weather! Having a place to take a break during your trip Is more useful than you'd think. However, because it is ice fishing, the cold will eventually reach you no matter how well you dress. Having an ice house at your reach makes taking a break easy! Whether you want to wrap up in blankets or grab some coffee, you'll be ready for a second round sooner than you think. If you are looking to be on the ice for an entire day, ice fishing houses are a necessity.
Stock Up
If you are wanting to store anything on your trip, ice fishing houses are exactly what you need.  However, with the lightweight nature of an Ambush ice fishing house, you don't want to overload it! Many ice houses come with shelving, hangers, storage compartments, and more for simple access to everything you need. No more having to run back and forth from your vehicle!
At Ambush, we make it our goal to create ice fishing houses that withstand the toughest conditions. Take a look at our options today!