Keeping Warm While Ice Fishing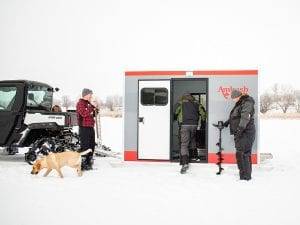 Obviously, fishing in the winter can be a bit cold and maybe even a bit daunting to the beginning ice angler. Keeping warm while ice fishing is super important not only for your safety but for your comfort as well. In this article we will discuss how to stay warm while ice fishing!
Ice Shacks
Firstly, having an ice shack is the best way to start to stay warm. These are made to protect you from the outside elements and keep you warm by heating a smaller space. When it snows, you are protected. When the wind is howling, you can steer clear of it. Ambush ice houses are fantastic options for creating smaller homes away from your main home on the ice.
When it's really cold, the ice house alone will probably not keep you warm and comfortable. This is when a heater comes into play.
Because these skid houses are designed by professionals who actually ice fish, the team at Ambush know all about the struggle of keeping warm while fishing. This can be especially important when ice fishing with children. Because of this, they have integrated two great heating options that work together with the ice shacks and create excellent opportunities out on the ice.  Both do a really good job at heating your skid house, the only difference is cost and how they are vented.
The Empire Heater & Mr. Heater
The Empire Heater is a direct vent heater that Ambush has integrated to fit perfectly with either of their skid ice houses. Keeping warm while ice fishing has never been easier! There is also the Mr. Heater, a ventless heater, that does the job really well.
Propane Tank Mount
Because the heaters are propane-powered, you need somewhere to store the tank. The propane tank holder is attached to the outside of the ice house. This holder keeps it off of the ground and in a secure position.
So, the days of roughing it in the cold while ice fishing are over! Be sure to check with your local dealer and see which heating option is right for you.
If you liked this article, check out this blog on keeping warm while hunting during late season!