The Ambush Explorer Wheel House: Elevate Your Ice Fishing Adventure
When it comes to ice fishing, having the right gear can make all the difference in your experience. The Ambush Wheel House is not just a piece of equipment; it's your key to unlocking the ultimate ice fishing adventure. Allow us to introduce the Explorer Wheel House, a fresh addition from Ambush that perfectly combines Ambush Quality with the enhanced mobility of a wheel house for your ice fishing journeys.
MSRP: Starting at $24,750
The Ambush Explorer ice fishing wheel house is a testament to fishing-first design. Crafted without a single piece of wood, it's a robust structure built for the challenges of ice fishing. Here's why it's the top choice for anglers who demand the best:
Engineered for Durability
Constructed with no wood, the Explorer Wheel House is designed to withstand the harshest conditions. Its seamless Durabond™ panel system ensures that you have a solid and dependable shelter on the ice. No more worrying about wear and tear.
Built to Move
While skid houses are great for hole hopping on the same lake, the Explorer Ice Fishing Wheel House shines when it comes to longer journeys. Imagine venturing to a lake 10 miles away; with the Explorer, you can hook it up to your truck and hit the road – The Explorer comes with a license plate frame for states that require a plate.
Going exploring?  Going on a long trip?  The explorer is for you. Additionally, it eliminates the need for a large trailer to haul your skid house around from lake to lake, though it's essential to note that both serve their purposes effectively.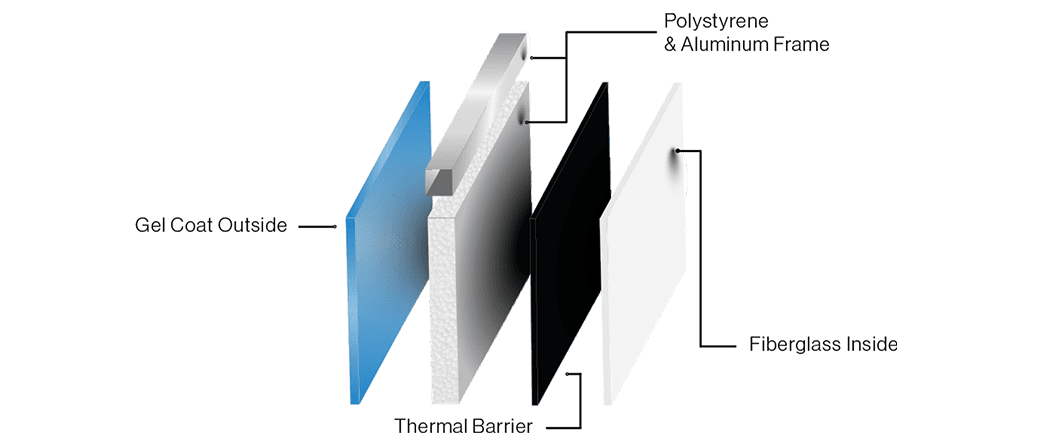 Insulated Comfort
Stay warm and comfortable even in the chilliest of conditions. The Explorer comes equipped with insulated walls that keep the cold at bay. No more shivering on the ice; you'll be cozy and focused on your catch.
Tailored Layouts
Everyone's ice fishing style is different, and the Explorer understands that. With multiple floor layouts to choose from, you can customize your Wheel House to match your preferences perfectly. The Explorer Wheel House offers the same layouts as the Shanty Skid House, one of Ambush's most sought-after skid houses. It's essentially the same ice fishing house, only now it comes equipped with a durable and purpose-built chassis on wheels.
Superior Build
The Ambush Explorer Wheel House boasts an all-aluminum frame, ensuring it's both lightweight and sturdy. You won't have to worry about lugging heavy materials across the ice, making your fishing trips more enjoyable.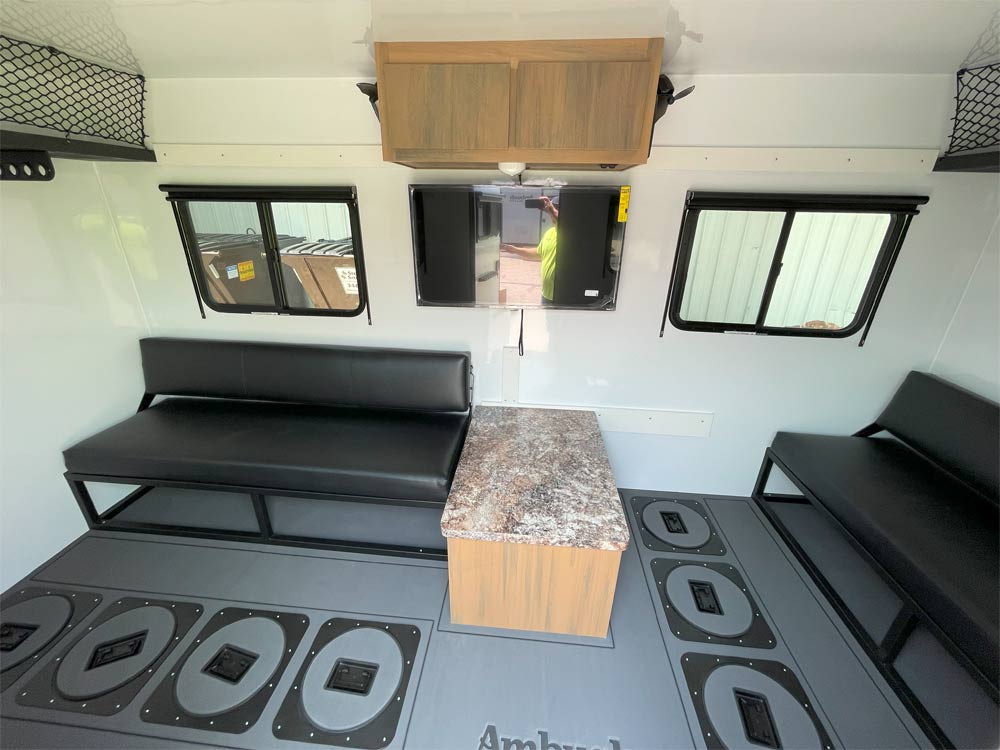 Seamless Interior and Exterior
Inside, you'll find a finished fiberglass interior that's not only easy to clean but also aesthetically pleasing. The exterior boasts a gel coat fiberglass finish, combining durability with a sleek look. With five standard windows, to allow for natural light, you'll have excellent visibility.
Dimensions and Weight
Size: 6.5'X14'
Weight: 1850lbs-2240lbs (depending on floor plan)

Conclusion
The Ambush Wheel House is your ticket to elevating your ice fishing adventures. Whether you're a seasoned angler or new to the icy world of fishing, this Wheel House offers everything you need: durability, comfort, mobility, and customization.
Don't let the cold deter you. Invest in the Ambush Explorer Ultra-Premium Wheel House and embark on unforgettable ice fishing journeys. It's time to make lasting memories on the frozen lakes, and the Explorer is your trusty companion.
Ready to take your ice fishing adventures on the road with the Explorer Wheel House? Find a Dealer near you to experience Ambush quality with the extra mobility of a wheel house on the road.