What is the Ideal Skid House Weight?
Though it seems like a small detail, until you need to move your ice fishing skid house, the weight of a skid house is very important. When considering buying a skid house, you need to pay attention to its weight. You also need to understand the tradeoffs for a heavier skid house vs. a lighter one.  You must factor in all the elements to determine the ideal weight for you.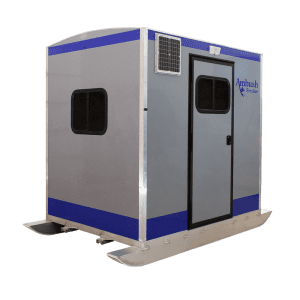 How are you going to haul it?
Are you going to move it a lot?
How many people will you be fishing with?
How far do you have to move the skid house?
When you look at all these factors, you can determine YOUR ideal skid house set up and weight.  If you are going to move your skid house several times, move it a couple of hundred yards each time and it's just going to be you and a buddy, a lighter-weight skid house is probably what you want.
If you plan on moving the skid house once, from your backyard to the ice, over a short distance and you plan on having large ice fishing parties, a larger and heavier skid house is probably what you will end up with.
Now, just because a skid house is lightweight, that doesn't mean it's durable.  It must be built right to withstand the rigors of moving and the cold temperatures.  Durability and quality construction can sometimes add a bit of weight but makes for a longer-lasting unit.
OK Great.  So, is there an ideal skid house weight?
The answer is – kind of.  It's really all about getting the right skid house for you.  However, if you are obsessing about weight and really need an answer, here you go.  We find that a typical, well-built, skid house is going to range between 600 and 900 pounds.
Our Ambush Skid Houses are the perfect fit because we don't sacrifice quality to save on weight.  Our ice fishing skid houses feature a sturdy all-aluminum frame and fiberglass interior. These materials are durable and very light when comparing them to other skid house construction techniques with wood and steel.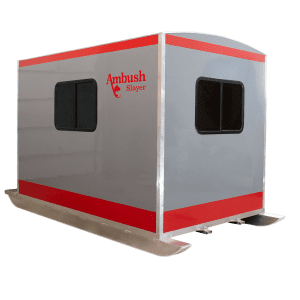 The Slayer Skid House measures 6.5' x 10' while weighing only 880 pounds and the Stryker Skid House measures 5.5' x 7' and weighs only 620 pounds.  Of course, when looking for a larger skid house, like our Slayer, you will have to sacrifice some weight to gain more space.
When you purchase a lightweight skid house, you can maximize your ice fishing season. You can pull light skid houses onto the lake sooner and you can fish longer when spring comes. The next time your buddies must leave the lake because their ice fishing wheelhouse or permanent shelter is too heavy, you can wave at them as they drive by and head home for the season.
Never, and we mean NEVER take risks on the ice.  Always, make sure you check the ice thickness before getting on the ice!
To find the perfect, lightweight Ambush Skid House? Find a dealer near you!