Best Fish and Venison Recipes for the Holidays
With the holiday season upon us, why not surprise your family and friends with something special for Christmas dinner? If you're looking for a unique, delicious recipe to make with some of your recent catches or hunts, then you've come to the right place. In this blog post, we share our favorite venison and fish recipes that will add new flavor and flair to your Christmas table.
Venison and Cheese Holiday Appetizers Recipe 
Raised Hunting is one of the best, heartfelt shows on outdoor television. Thus, this recipe comes straight from the Holder's kitchen. Karin Holder shows us this must-have appetizer for entertaining. This venison loin and cheese on toast recipe will make an inviting addition to your holiday spread, because of it is perfectly delicious and shareable.
Serves: 6
Prep time: 20 minutes + marinating time
Cook time: 15-20 minutes
Ingredients:
1 deer loin
1/3 cup soy sauce
1/3 cup teriyaki sauce
1/3 cup Worcestershire sauce
Splash lemon juice
Brown sugar
Salt and pepper
Pam
Sourdough baguette
Butter
Crushed garlic
Horseradish Havarti cheese, sliced thinly
Green onion, white parts sliced lengthwise
Directions:
First, marinate a deer loin for 2 hours in 1/3 cup of soy sauce, 1/3 cup of teriyaki, 1/3 cup of Worcestershire sauce, a splash of lemon juice, heaping spoonful of brown sugar, and some Slap Ya Momma seasoning.
After 2 hours, remove the loin from the marinade and allow it to rest at room temperature for 30 minutes.
Next, sprinkle loin with salt and pepper, and then spray loin with Pam.
Prepare the grill; a two-zone hot charcoal fire is preferable. Toss applewood onto the fire before cooking. If using wood chips, soak in water for 30 minutes before adding to the heat.
Sear loin on both sides over direct heat for 3 to 4 minutes per side. Next, move the loin to the indirect heat side of the grill and cook for an additional 5 to 6 minutes per side.
Pull the loin off the grill and allow it to rest for 10 to 15 minutes before slicing.
Slice sourdough baguette into pencil-thin width.
Heat butter and a lot of crushed garlic, and then slather it onto bread and broil until golden.
finally, slice loin thinner than a pencil. Place a very thin slice of horseradish Havarti cheese onto the bread, and then the meat (use all the juice), and top with a slice of green onion.
Blue Cheese-Herb Stuffed Elk Tenderloin Recipe
If you're craving something truly delicious and unique, this elk recipe is the way to go! this is because the combination of tenderloin cooked in buttery fat served with a generous helping of blue cheese will tantalize your taste buds. You'll be wowed by its balanced flavor – not too overpowering but still oh-so-savory!
Serves: 2
Prep time: 10 minutes
Cook time: 25 minutes
Ingredients:
1 pound elk tenderloin or venison loin
Kosher salt, to taste
Freshly cracked pepper, to taste
2 tablespoons of butter, softened
2 ounces blue cheese, crumbled
1 shallot, minced
1 to 2 teaspoons chopped fresh chives
3 cloves garlic, minced
¾ teaspoon dried rosemary
tablespoon olive oil
Directions:
First, preheat oven to 350 degrees.
Next, combine softened butter, blue cheese, shallot, chives, garlic, and rosemary. Then remove all silver skin from the tenderloin and butterfly lengthwise, and then season the inside with salt and pepper. Fill with the blue cheese mixture, roll into a log and be sure to secure snugly with cooking twine. Then season the outside of the loin with salt and pepper.
Lastly, Heat olive oil in a large skillet over medium-high heat. When oil is hot and slightly smoking, quickly sear the tenderloin for a nice crust all around.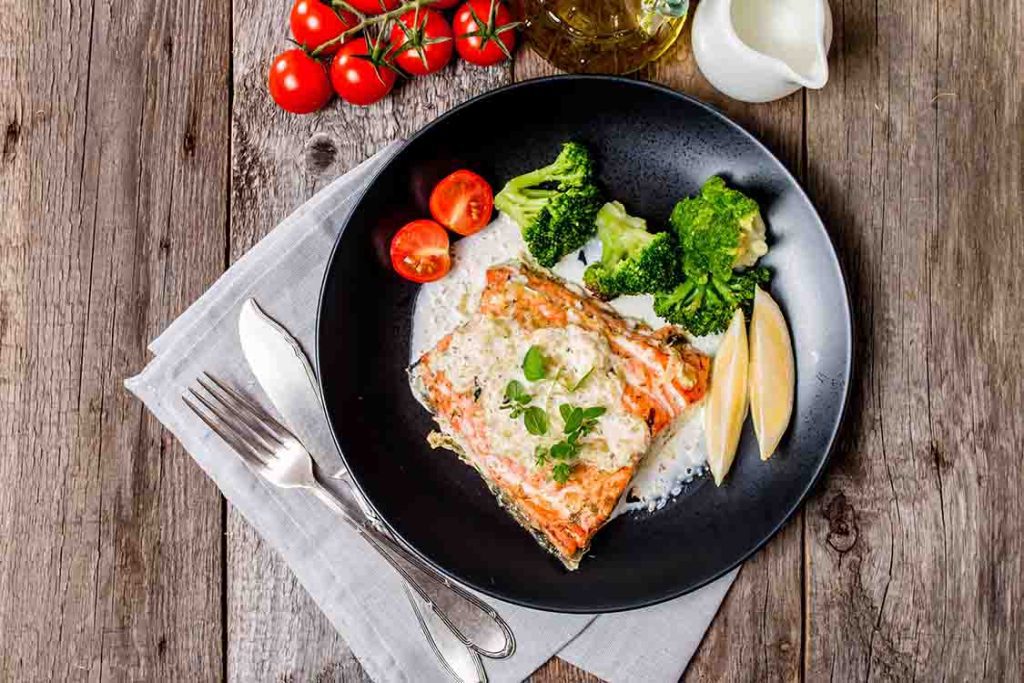 Creamy Tuscan Salmon Recipe
Because it's Pan-fried Tuscan salmon, smothered in a luscious garlic butter spinach, and sun-dried tomato cream sauce, you won't believe how easy, fast and simple it is to cook salmon this way! These pan-seared salmon filets are juicy and tender on the inside with perfectly crisp edges. You'll never want a regular salmon recipe again after trying this one! This Tuscan salmon recipe is low-carb and Keto friendly, and therefore great for hosting those with different dietary needs.
Serves: 3
Prep time: 10 minutes
Cook time: 20 minutes
 Ingredients:
3 salmon fillets
2 teaspoons olive oil
2 tablespoons butter
5 cloves garlic, finely diced
1 small yellow onion, diced
1/3 cup (80ml) vegetable broth
5 ounces (150g) jarred sun-dried tomato in oil, drained of oil
1 3/4 cups heavy cream
Salt and pepper, to taste
3 cups baby spinach leaves
1/2 cup grated Parmesan
1 tablespoon fresh parsley, chopped
Directions:
First, to make the Tuscan salmon recipe: Heat the oil in a large skillet over medium-high heat. Then, season the salmon filets on both sides with salt and pepper, and next sear in the hot pan, flesh-side down first, for 5 minutes on each side, or until cooked to your liking. Once salmon filets are cooked, remove them from the pan and set aside.
Next, in the same pan, melt the butter in the remaining cooking juices. Then add in the garlic and fry until fragrant (about one minute). Next, Add onion and stir fry until translucent. Add the sun-dried tomatoes and fry for 1-2 minutes so they release their flavors. Finally, pour in the vegetable broth, and allow the sauce to reduce slightly.
After that, reduce heat to low, while adding the heavy cream, and bring to a gentle simmer while stirring occasionally. Next, Season the cream sauce with salt and pepper to your taste.
Then, add in the baby spinach and allow to wilt in the sauce, and then add in the parmesan cheese. Allow the cream sauce to simmer for a further minute so that the cheese melts through.
Finally, add the grilled salmon filets back into the pan; sprinkle with the parsley, and then spoon the sauce over each filet. Serve the creamy Tuscan salmon over steamed veg or cauliflower rice for Keto dieters, or rice or pasta for non-Keto.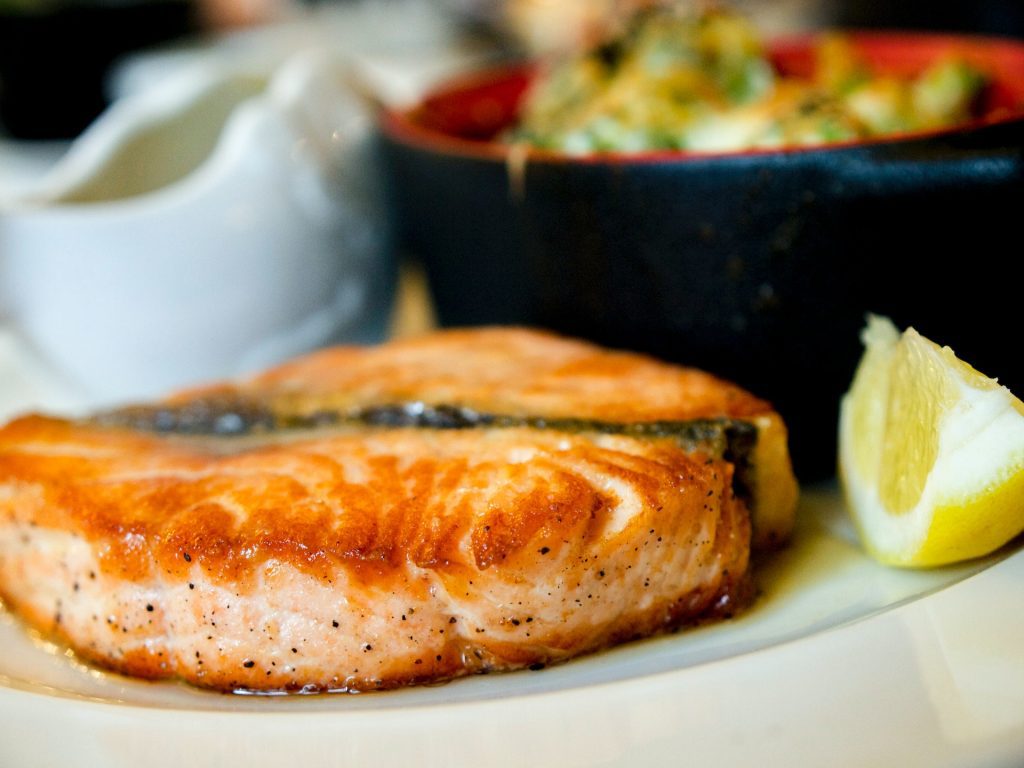 Miso Marinated Whitefish Recipe 
Make a sophisticated, yet simple, dish like the pros! Impress your friends and family with this classic Japanese recipe that uses homemade miso sauce. Great for an untraditional Christmas dish or for any night of the week, because it's just too good to pass up. It's time to take on some mouth-watering miso-marinated fish!
Serves: 3
Prep time: 10 minutes
Cook time: 10 minutes
 Ingredients:
2–3 white fish fillets of your choice (catfish, bass, pan fish, or trout)
2 tablespoons neutral oil
3 tablespoons white miso paste
2 tablespoons rice wine vinegar
2 tablespoons brown sugar, packed
2 tablespoons light soy sauce
2 teaspoons toasted sesame oil
2 teaspoons sriracha
Directions:
To begin, mix all marinade ingredients in a shallow dish. Use a wire whisk or fork to combine well.
Dry your fish fillets well with paper towels. Move the fillets to the shallow dish of marinade. Coat each fillet on both sides with the marinade, then cover tightly with plastic wrap or press parchment paper over the marinating fillets and refrigerate for 8-12 hours.
When you're ready to prepare the fillets, remove from the refrigerator and allow the fillets to come up to room temperature for about 15 minutes. Remove the fillets from the marinade and let some of the excess marinade drip off of the fillets. This is because you want to keep the flavor in the fish, but also remove any extra marinade that may burn.
Next, heat a large cast iron skillet over medium-high heat. Add 2 tablespoons neutral oil. If your fillets have skin, place them in the pan skin side down so that they crisp up. Sear on each side for 4 minutes. The sugars in the marinade will create beautiful caramelization, which brings delicious flavor. But left unattended, those sugars will go from caramelized to burnt in just a minute. So keep an eye on the fish as it sears.
Lastly, when the fish is cooked through, then serve it with steamed white or brown rice and sautéed vegetables.
Cooking a wild game dish for Christmas dinner is a unique way to show off your skills as a hunter or angler, and it's sure to impress your guests. You may even turn a family member or friend onto venison that they didn't think they'd like. With a little planning and these tips, you can create a delicious holiday meal that everyone will remember. Merry Christmas!